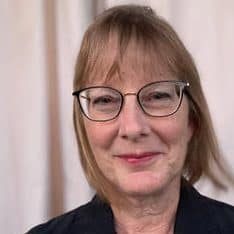 Marjorie Anderson
Dark Sisters: Assistant Stage Manager
Marjorie has worked for many years in opera, dance, and theater, including Portland Opera, Oregon Ballet Theatre, Oregon Children's Theatre, Lucinda Childs, and Laura Dean Dancers and Musicians. She is also a Teaching Artist with the Right Brain Initiative and is Resident Designer at Grant High School.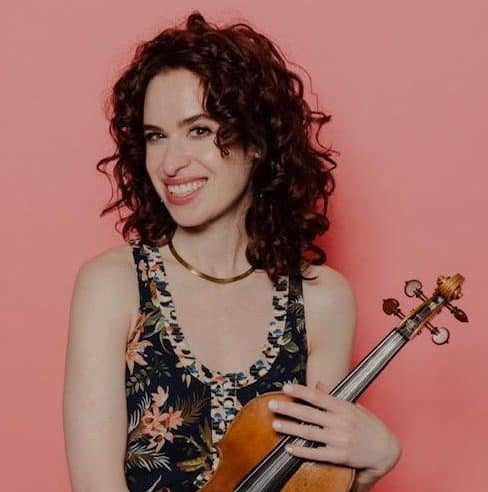 Lucia Atkinson
The Royal Shepherd: Violin/Concertmaster & Dark Sisters: Violin
Lucia Atkinson is a Portland-based freelance violinist who enjoys performing everything from chamber music to rock concerts. She is a tenured violinist with the Portland Opera and a frequent performer with the Oregon Symphony, with which she has served two seasons as acting member. She is a founder of the duo Fifth Mirror, and regularly performs with ensembles ranging from jazz to new music to ballet. She has recorded on five Oregon Symphony albums, as well as on records such as Music for Jazz Quintet and Strings with the Barry Deister Quintet, Dick Titterington's jazz album To Those Who Have Gone Before, and The Decemberists' album Her Majesty the Decemberists. She has performed several live shows for All Classical KQUAC FM in Portland, and spent many summers playing with various ensembles including the Oregon Bach Festival, the Astoria Music Festival, Summerfest and the Sunriver Musical Festival. In addition to performing with established organizations in town such as the Oregon Ballet Theater, Third Angle New Music and 45thParallel, she also has enjoyed playing with touring groups of all different genres, such as Belle and Sebastian, Dessa, and Weird Al. Lucia holds a Bachelor of Music from Rice University where she studied with Sergiu Luca, and a Master of Music and Artist Diploma from SUNY Purchase, where she studied with Laurie Smukler. She is an instructor of violin on the faculty at Lewis & Clark College.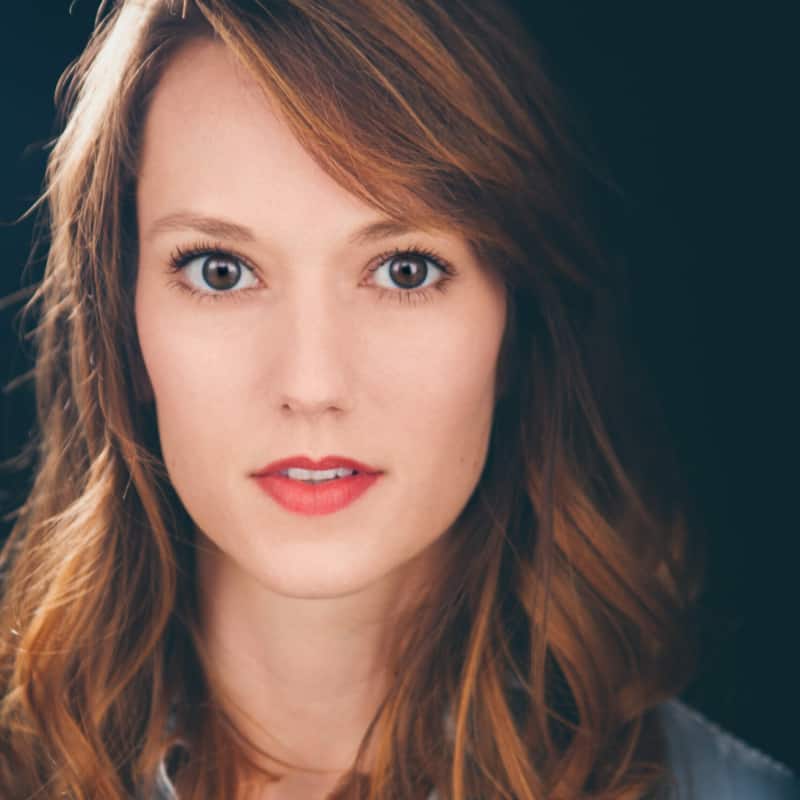 Sarah Beaty
Dark Sisters: Presendia
Mezzo-soprano Sarah Beaty has been hailed as "the model of bel canto clarity and brilliance" (Cleveland Classical). Her versatile voice showcases a wide range of repertoire, with a specialty in contemporary opera. Sarah is "mesmerizing" and "sings with a purity of sound that filled the room with an array of colors" (Cleveland Classical). Her "warm musicality" and "vitality" (The New Yorker) captivates audiences across the country in her adventurous performances.
She recently moved to Portland from Los Angeles, where she was a frequent soloist with the LA Philharmonic, including in a landmark new production of Meredith Monk's Atlas directed by Yuval Sharon, John Cage's Europeras 1 & 2, and Hindemith's Mörder, Hoffnung der Frauen under the baton of Esa-Pekka Salonen. In 2022 she had another triumphant performance with the LA Phil of Louis Andriessen's De Staat, conducted by John Adams. Highlights of the 2021-22 season also included Sarah's debut with Eugene Opera as Second Lady in Die Zauberflöte, her debut with Long Beach Opera in Philip Glass's Les Enfant Terribles, Bach cantatas with Portland Baroque Orchestra, and the commercial release of an album on the Naxos label featuring Margaret Brouwer's 12-tone song cycle Declaration.
Sarah is an inaugural Company Member with The Industry, Yuval Sharon's experimental opera company in LA. She has collaborated with them on multiple world premieres including Hopscotch, Galileo, Bonnie and Clyde, and Invisible Cities, the 2014 Finalist for the Pulitzer Prize. A champion of new music, Sarah is in demand by composers to bring their work to life for the very first time. She has premiered works by Pulitzer Prize winning composer Ellen Reid, Chris Cerrone, Margaret Brouwer, Marc Lowenstein, Andy Akiho, Andrew McIntosh, and Victoria Bond, among others.
Since moving to Portland, she has been a soloist with Cappella Romana, In Mulieribus, Resonance Ensemble, and the Eugene Symphony. Although her specialty is contemporary opera, Sarah is also passionate about early music. Her interpretation of Hildegard's songs and hymns were praised as "sung with blinding luminosity" (LA Times). She is a graduate of the Manhattan School of Music and teaches private voice lessons from her studio in Milwaukie.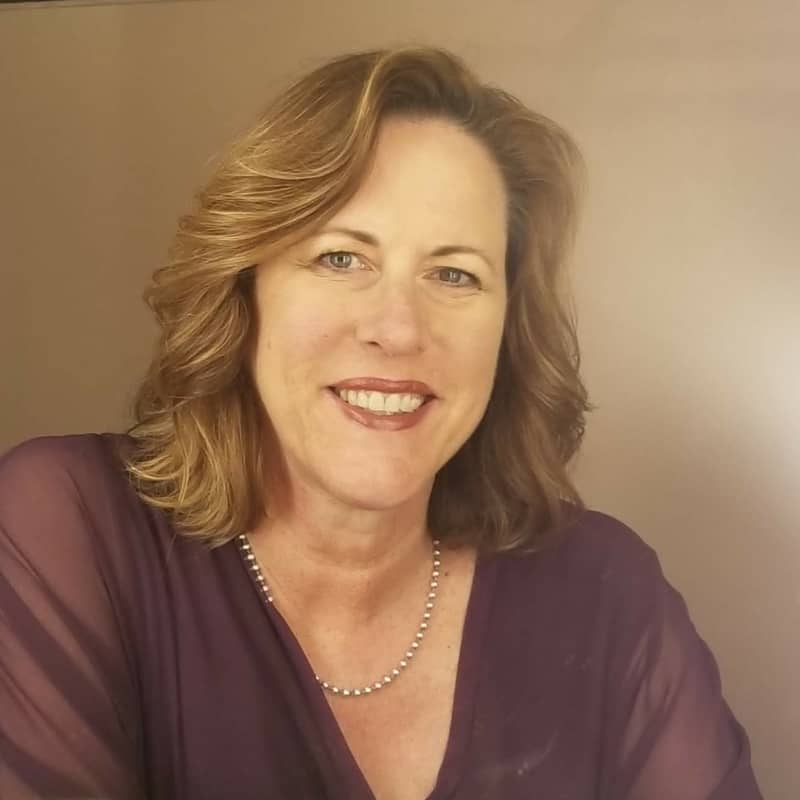 Sara Beukers
Hair and Makeup Designer
Sara has designed wigs and makeup for theatre, opera and dance companies all over the country including Portland Opera, Oregon Ballet Theater, Opera San Jose, Indianapolis Opera , Orlando Opera , New Orleans Opera , Tulsa Opera, Ft. Worth Opera, Chautauqua Opera, The Wildwood Festival, The Western Opera Theatre Tour, TheatreWorks, Marin Theatre Company, The Willows Theatre Company, San Jose Stage Company, Diablo Light Opera Company, and the Aurora Theatre. She has also worked for the San Francisco Opera, San Francisco Ballet, Mark Morris Dance Group, Spoletto Festival USA and on several films and television shows including Metal Lords, Wild, Grimm, Shrill and Leverage.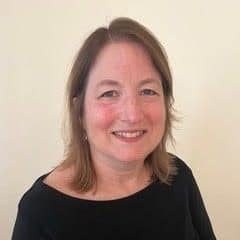 Margaret Bichteler
The Royal Shepherd & Dark Sisters: Violin
Violinist Margaret Bichteler is currently concertmaster of the Portland Opera Orchestra. Trained in the Suzuki Method, she also maintains a teaching studio in Southeast Portland. Margaret received her BM and MM from Indiana University, including a Performer's Certificate for her Master's recital. Her teachers included Franco Gulli and Yuval Yaron. She was a member of the Oregon Symphony from 1988-1989 before winning a position in the San Francisco Symphony, where she played for ten years. Now enjoying a more varied lifestyle, she is married to OSO clarinetist Todd Kuhns, and together they have three children.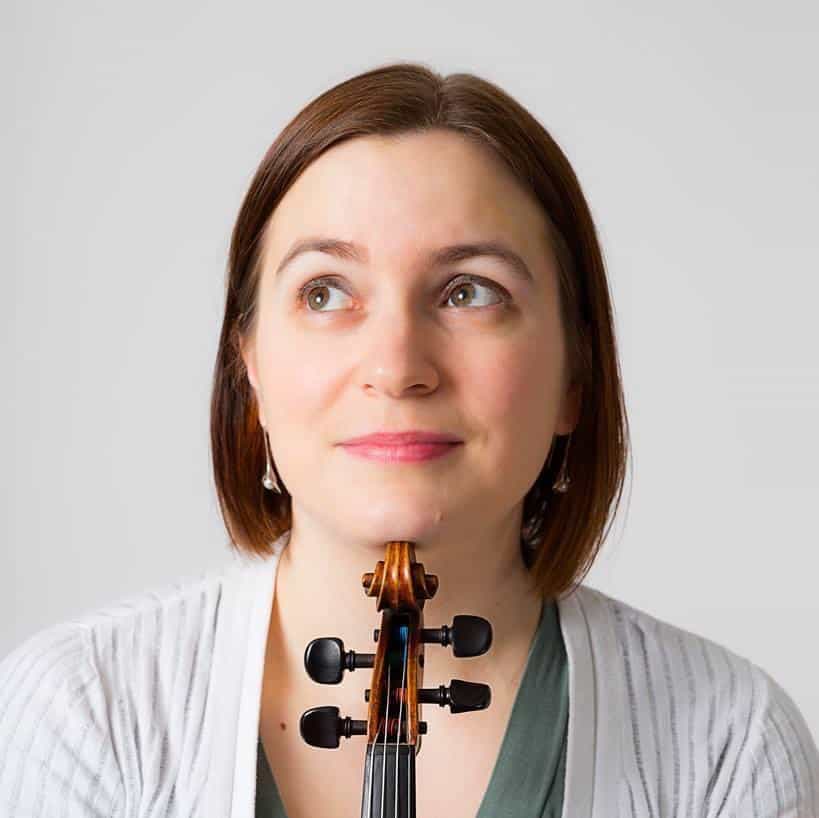 Casey Bozell
The Royal Shepherd: Violin
Charismatic violinist and presenter Casey Bozell offers performances and music experiences which engage and inspire audiences across the Pacific Northwest. Her bold and colorful playing "draws out strong emotions" (The Linfield Review) and casts new light on traditional repertoire. As a presenter, Casey shares a magnetic enthusiasm for music which, when coupled with her approachable and cheerful personality, widens and deepens audiences and their connection to classical music. Casey is the concertmaster of the Newport Symphony and is also a member of the Portland Opera Orchestra and Oregon Ballet Theater. Recent solo engagements include appearances with the Newport Symphony, Beaverton Symphony, Linfield Chamber Orchestra, and the Central Oregon Chamber Orchestra, as well as guest artist recitals at the University of Northern Colorado, Eastern Oregon University, and Linfield College. An adept chamber musician, Casey is a founding member of the Hammers and Bows piano trio and Element String Quartet.
Committed to exploring new possibilities for her instrument within the context of what it means to be Oregonian, Casey has commissioned six new compositions by talented local composers. Among her world premiere performances are compositions by Thomas Barber, Amelia Bierly, Douglas Detrick, and Nora Ryan. Her series of classical music performance/presentations, "Casey on Classical," offers a fast and fresh new take on the concert experience, combining entertainment with education and audience-centered design for maximum delight. These fascinating shows cover a wide variety of intriguing topics cherry-picked from the world of classical music, and broken down in inventive, relatable ways. As the Newport Symphony News noted, "Her enthusiasm was infectious…(and she) had no difficulty holding my attention."
Casey is the host of Keep Classical Weird, a new podcast exploring the kooky and bizarre stories in the world of classical music. New episodes are available every Friday, and can be downloaded at www.keepclassicalweird.com or wherever you find podcasts.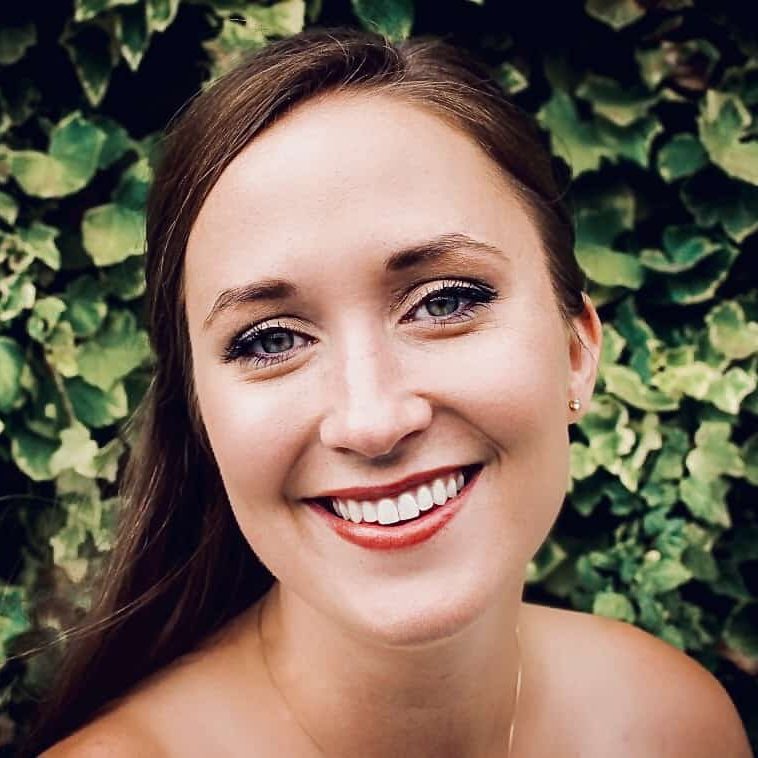 Kari Burgess
Dark Sisters: Surtitle Manager and Operator
Kari Burgess is an expressive lyric soprano from Portland, Oregon who made her OrpheusPDX debut in the 2022 production of L'Orfeo. She is enthusiastically involved with the Portland Opera Chorus and has appeared in shows such as TOSCA and the premiere of JOURNEYS TO JUSTICE. As a soloist, her most recently performed roles have been Foreign Princess in RUSALKA with LAH-Summer Opera workshop and Donna Anna in DON GIOVANNI with Opera Bend. She has also appeared with Opera Theater Oregon as The Water in THE LITTLE PRINCE and alongside Cascadia Concert Opera as Sandra for the premiere of TANGO OF THE WHITE GARDENIA. Her favorite roles performed include Countess Almaviva in LE NOZZE DI FIGARO with the Astoria Music Festival and Pamina from DIE ZAUBERFLÖTE with The Muses Project in Hotsprings, Arkansas. Other notable roles performed include Mimì in LA BOHÈME, Micaëla in CARMEN, and Rosalinda in DIE FLEDERMAUS.
Ms. Burgess holds a B.M. in Voice Performance from the University of Oregon and a M.M. from California State University Northridge. Kari is based in Portland, Oregon where she maintains a private studio in voice and piano.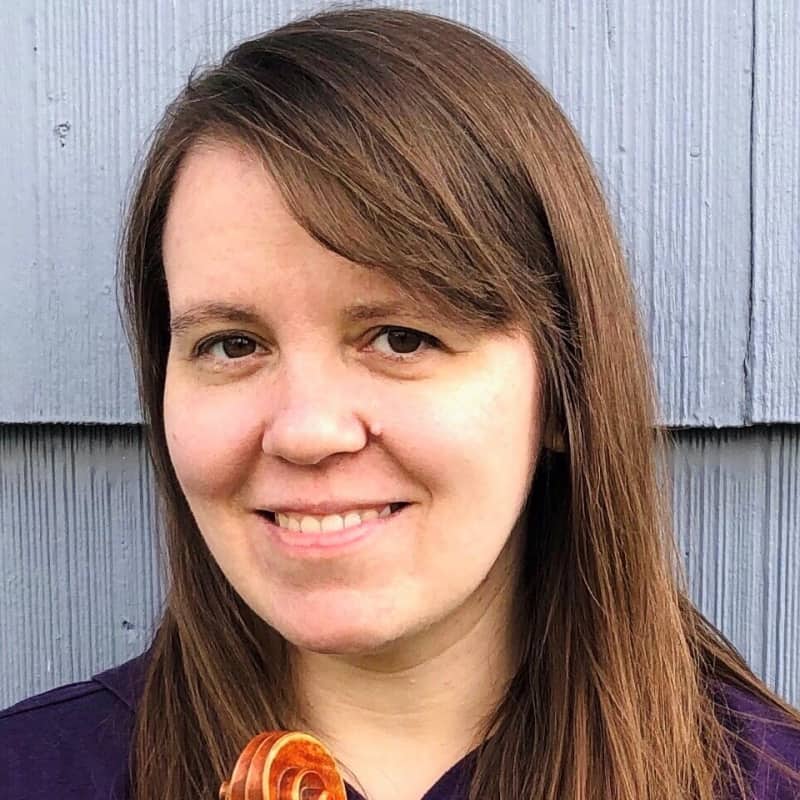 Pamela Burovac
The Royal Shepherd & Dark Sisters: Viola
Pamela Burovac is an active violist in northwest Oregon, where she regularly plays with Portland Opera, the Eugene Symphony, and the Oregon Mozart Players, in addition to often appearing with the Oregon Music Festival and Eugene Concert Choir. Prior to moving to Oregon in 2018, she lived in Michigan, where she played with the Lansing Symphony Orchestra, Southwest Michigan Symphony Orchestra, and West Michigan Symphony. She holds a B.A. in Music Education and a B.A. in Music Theory from the University of Washington, after which she completed an M.M. at Kent State University in Viola Performance, with an emphasis on chamber music, as well as Orchestral Conducting.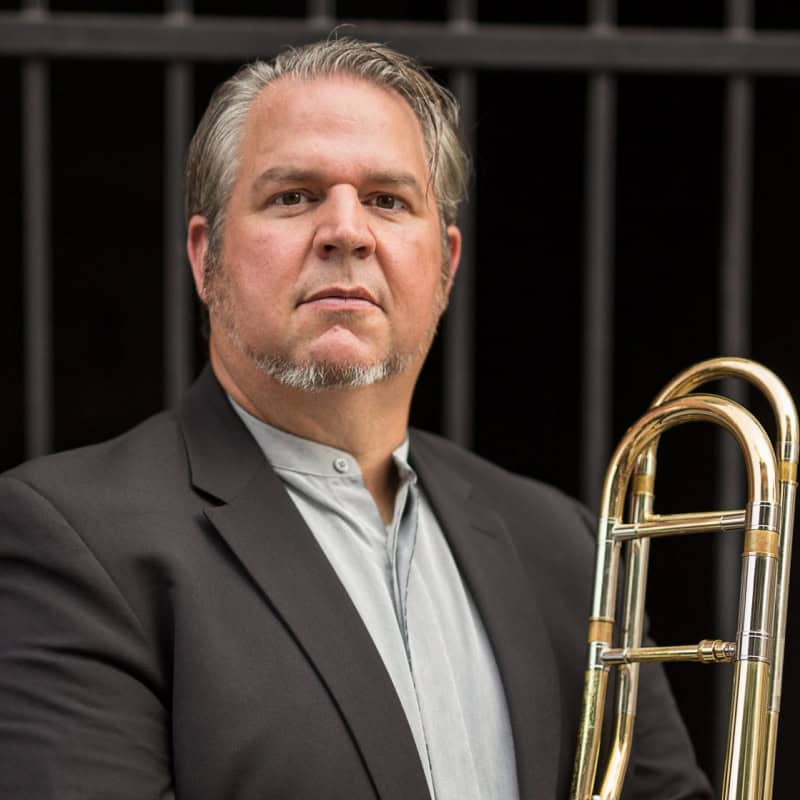 Lars Campbell
Dark Sisters: Trombone
Trained in both the classical and jazz repertoires, trombonist Lars Campbell performs with the Oregon Symphony and Oregon Ballet Theater orchestras, as well as plays many of the national touring Broadway shows that pass through Portland. He is a co-founder of the Rose City Brass Quintet and Portland Jazz Orchestra and remains a sought-after clinician in brass pedagogy. His conducting has taken him to premiere Darrell Grant's chamber jazz opera Sanctuaries in 2021 with Third Angle New Music, as well as conducting other stage works. In the collegiate setting, he is the Director of Instrumental Music at Clackamas Community College, where he conducts the Wind Ensemble and directs the Jazz Ensemble.
His discography includes appearances on Rose City Brass Quintet's Disquiet, Storm Large's Le Bonheur, Pink Martini's Hang on Little Tomato, and Portland Jazz Orchestra's Good Morning, Geek. His compositions have been played by orchestras, wind bands, and small ensembles across the country, and are published by Rose City Brass Publishing.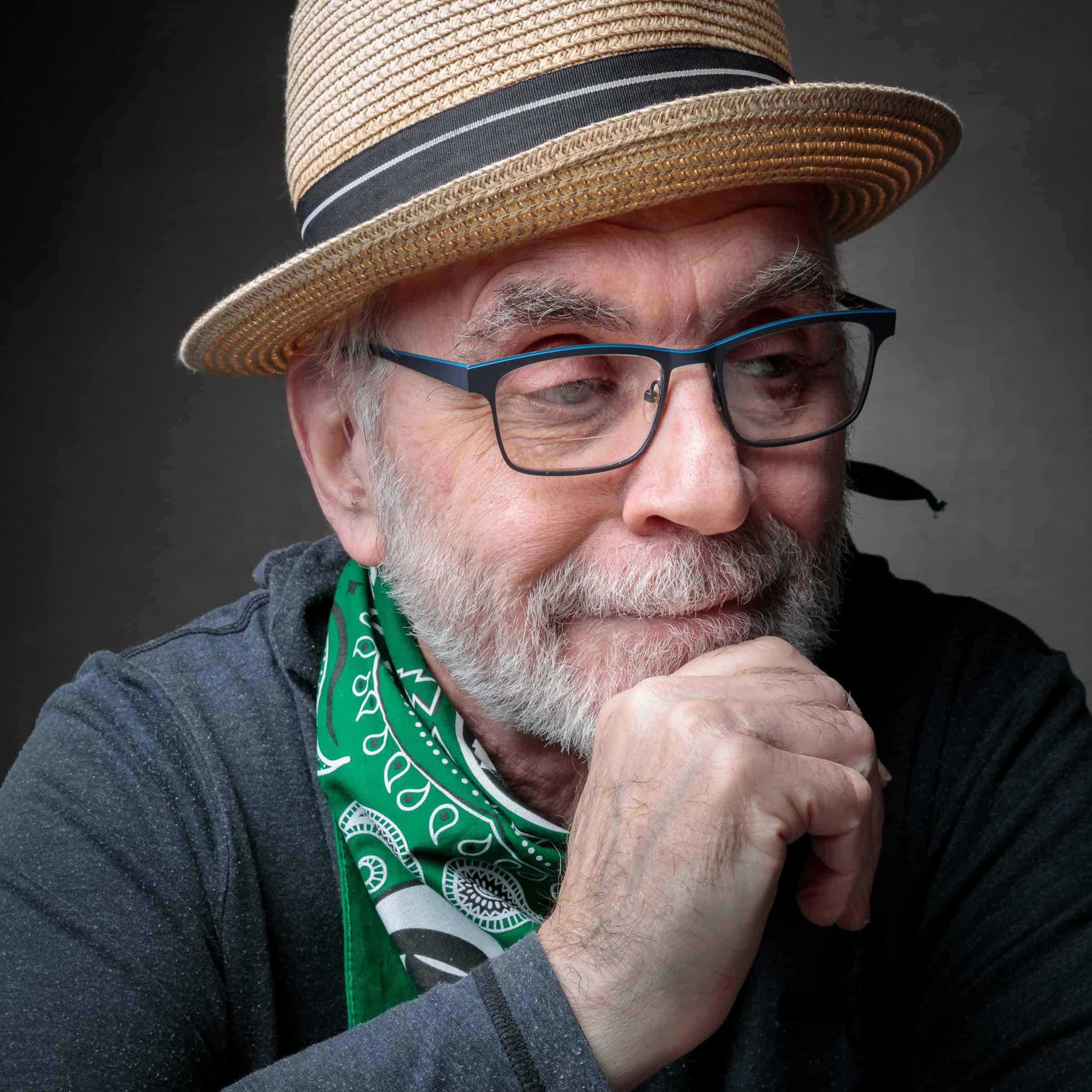 Owen Carey
Production Photographer
Owen Carey is best known for his forty plus years shooting theatrical productions for over thirty companies, including Portland Center Stage, and over 3 decades shooting for both Artists Repertory Theatre and Oregon Childrens Theatre; as well as his promotional and advertising images for hundreds of productions. He has been called "an actor's best friend" and "King of the Headshots." He is delighted and grateful to be the production photographer for Orpheus|PDX.
Originally from New York City, his roots are in fine art photography; where he's studied with Peter Moore at the New School, and assisted experimental filmmakers like Michael Snow in the early 70s. Back then, he could be found at photo galleries and museums, talking with and learning from, some of his photography heroes, reading the history of photography, or pounding the NY streets with his Pentax or Leica, then developing the results in his home darkroom.
In 1974 he moved to Portland to play drums and sing in a band; and get away from those NY inspirations, to find his own photographic "voice." His images and portraits have appeared on many book covers, CD covers, albums and promotional materials for hundreds of musicians.
His commercial and advertising clients include Nike, Jantzen Sportswear, US Bank, the Oregon Lottery, and all four of the local network stations.
His editorial portraits can be found in Portland Monthly and Willamette Week; and his fine art work has been exhibited nationally.
…and he thanks his wife for everything.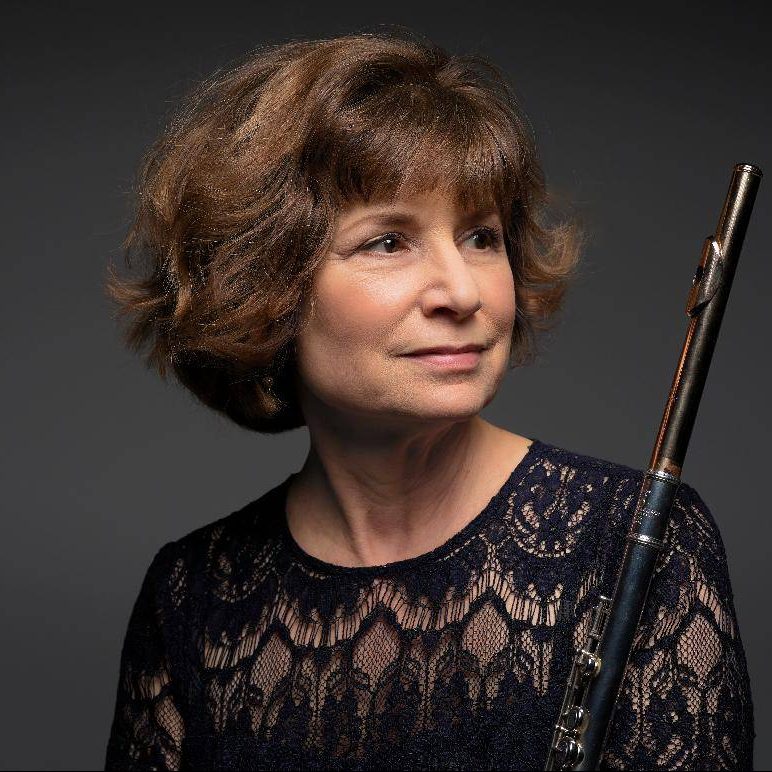 Sydney Carlson
The Royal Shepherd: Flute
Flutist Sydney Carlson is Professor of Music and Coordinator of Graduate Studies for the School of Music and Theater at Portland State University where she has worked with students from the United States, Brazil, Korea, and China.
Dr. Carlson holds degrees from the Eastman School of Music, East Carolina University, and the University of Houston. Sydney is a member of the Portland Opera Orchestra and frequently performs with the Portland Ballet Orchestra and Oregon Symphony and is a former member of the Houston Grand Opera Orchestra. Sydney has performed and taught in Europe, Canada, South America, Mexico, and China.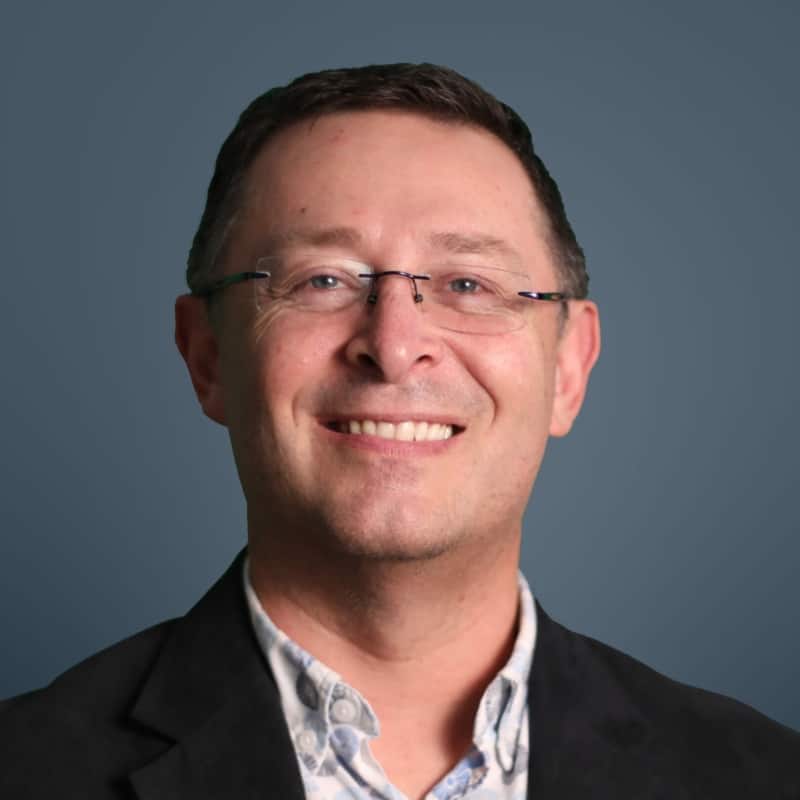 Kendall Carr
The Royal Shepherd & Dark Sisters: Ensemble
Kendall's love for theater began when his Mom took him to a production of HMS Pinatore. He was involved with music and band all through his school years. He made it onstage after friends in the Portland Opera Chorus introduced him to an opportunity to be a supernumerary for Carmen. This is his first production with OrpheusPDX and his sixth opera production.
David Cohen
The Royal Shepherd: Stage Manager
David S. Cohen Is thrilled to be working with such talented artists and creators on this OrpheusPDX production. David has worked on Broadway, Off-Broadway, around the nation, and right here in Portland. David is also a show-caller and deck manager for large-scale corporate events, trade shows, and industrials. Some show and client highlights include the opera, NOLI ME TÁNGERE at The Kennedy Center, The 1st National Tour of SUMMER: The Donna Summer Musical, TedX, Yahoo, Instagram, Black Rock, Intel, Regeneron, the International Science and Engineering Fair, and His Holiness the 14th Dalai Lama's Teaching Visit to the U.S. Many thanks to my family and all the creative, talented folk who came together to make it.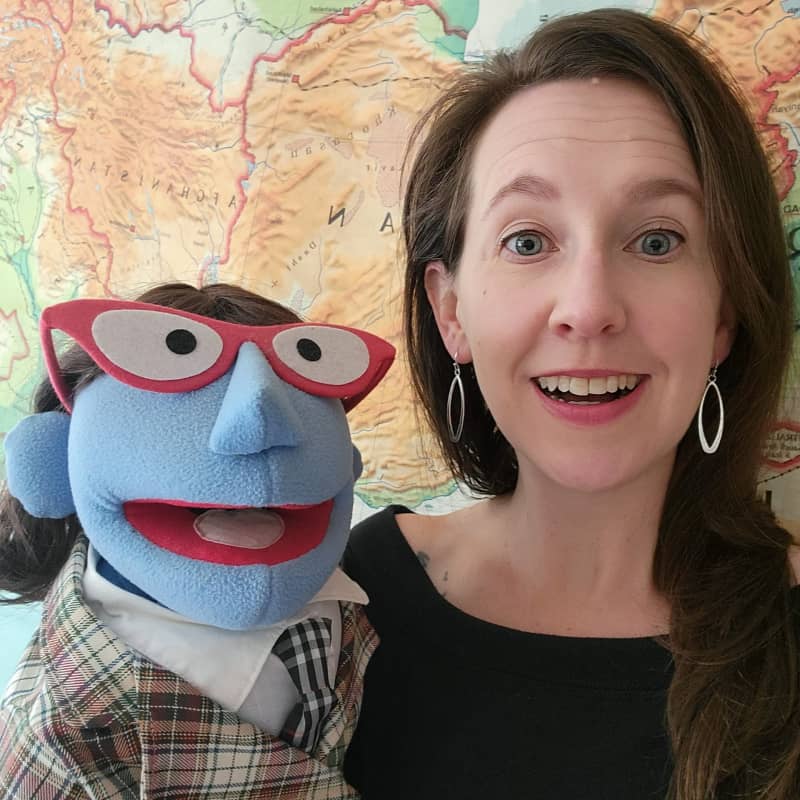 Jessica Crawford
Music Librarian
A Maryland native, Jess received a Master's in Clarinet Performance (along with two Bachelor's degrees) from Syracuse University in Syracuse, NY, before relocating to Portland in 2005. Jess began her career as the music librarian at Portland Opera, where for nine seasons she prepared scores and parts, helped manage the orchestra, drafted contracts, ran supertext, coordinated auditions, and assisted with the young artist program. She has also worked for Portland Baroque Orchestra, Oregon Symphony, Oregon Ballet Theatre, Chamber Music Northwest, Atlanta Opera, and Pink Martini. She spent several years as a music editor for Oregon Catholic Press, and then made a leap into a new medium: Stop motion animation. Currently, she is the puppet wrangler on Guillermo del Toro's PINOCCHIO. She spends her spare time paddleboarding, hanging out with her dog, Toby, and her horse, Cookie, puttering in her (chronically overgrown) garden, and attempting to play through every Legend of Zelda game in order of release.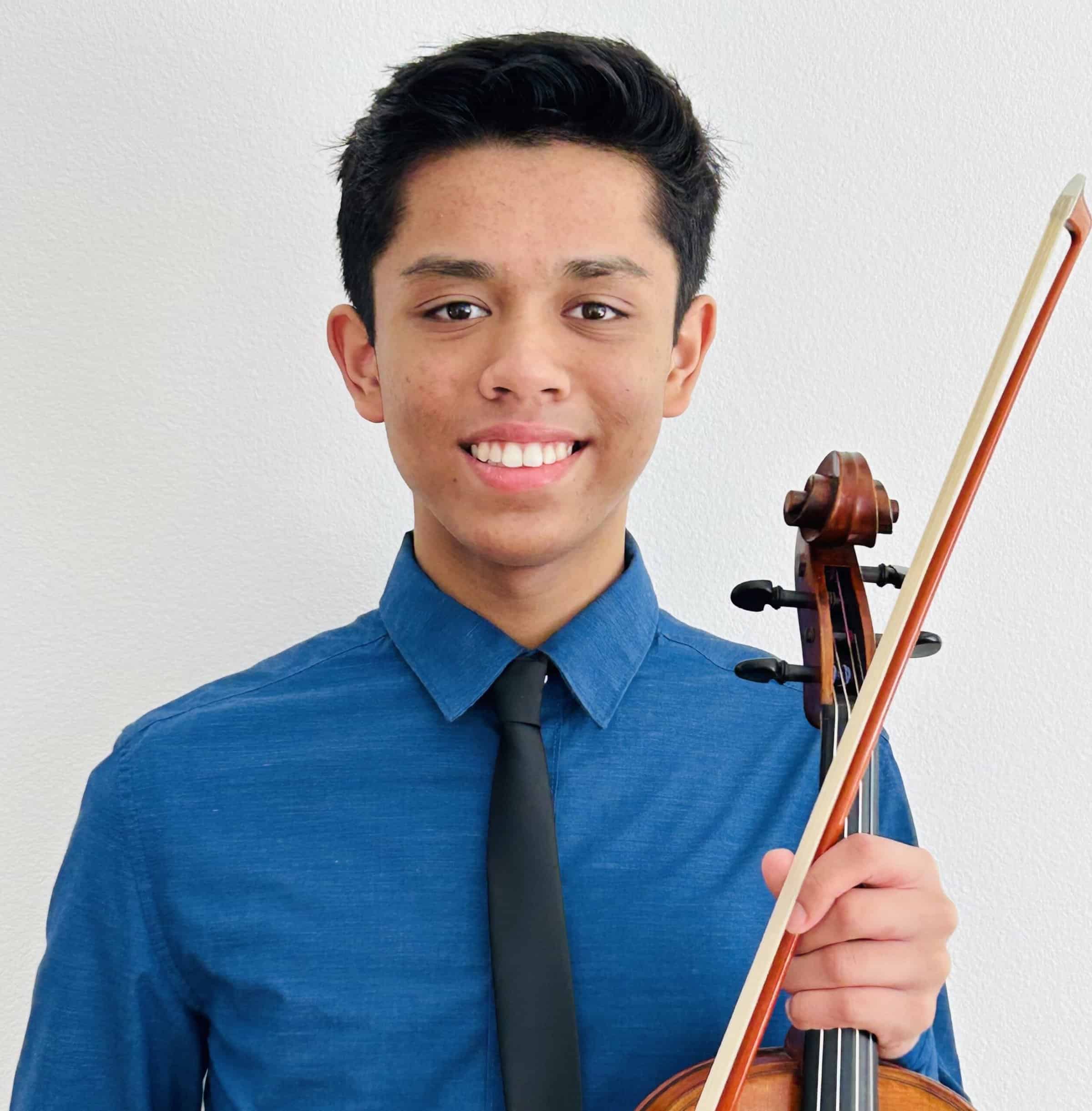 Luke D'Silva
The Royal Shepherd: Viola (The Pathways Program)
Luke D'Silva is a sophomore at Westview High School. His musical journey began at 6 years old with the violin. Three years later, he decided to play the viola with Andrea Hawkins as his teacher. Luke joined the Young String Ensemble of the Portland Youth Philharmonic (PYP) as the Assistant Principal Violist and became the Principal Violist the following year. Luke is currently the Co-Principal Violist of the PYP Orchestra and its string ensemble Camerata PYP. Since 2021, Luke has been a member of The Back to Bach Project. In summer 2022, he attended the Oberlin Viola Workshop led by Professor Peter Slowik. Luke also represented Oregon in NYO2 2022 and was selected as an Assistant Principal Violist. In 2023, he served as the Principal Violist of both All-State and All-Northwest Honor Orchestras. In addition, Luke is the 2023 Oregon state champion for the Viola Solo category. He is also a winner of the 29th Young Artists Debut! presented by Cognizart by MetroArts Inc. Moreover, Luke loves performing chamber music: he is a member of the Westview String Quintet which is the 2023 Oregon state champion for the Large String Ensemble category. When not playing viola, Luke can be found on the basketball court or hiking with family.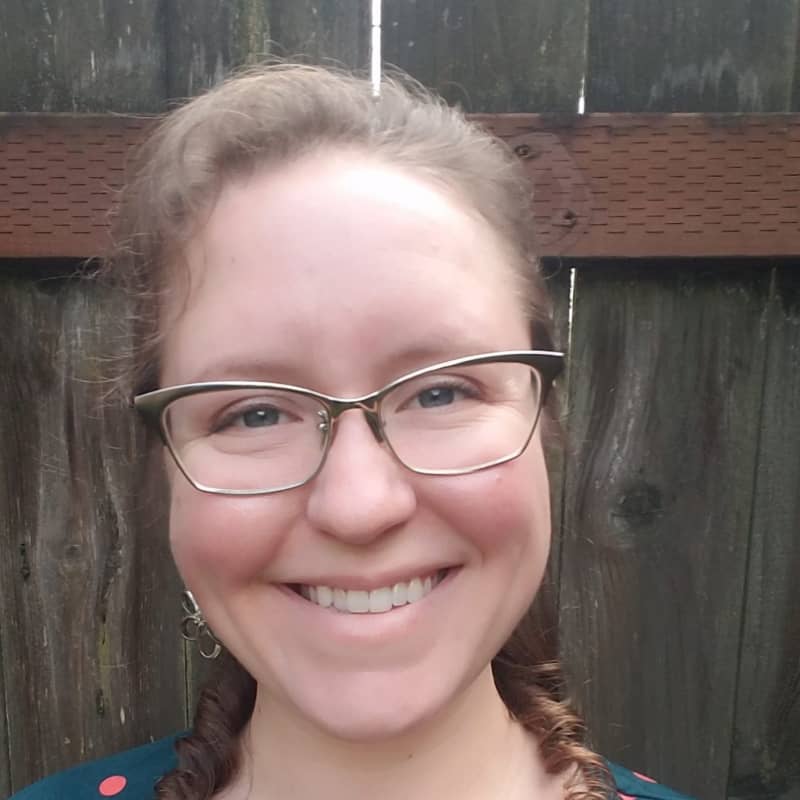 Lorely Dedrick
Dark Sisters: Stage Manager
Lorely Dedrick is excited to return to OrpheusPDX this season, having been stage manager for The Fall of the House of Usher in the 2022 season. Lorely has worked coast to coast stage managing for opera, ballet, and theater companies, and spent time this winter with Norwegian Cruise Lines installing shows. She spends the majority of her winter and springtime in Eugene, Oregon, as the Production Stage Manager for Eugene Ballet, and is coming from spending the summer in Santa Rosa, California, working to train the next generation of theater technicians and performers at Summer Repertory Theatre.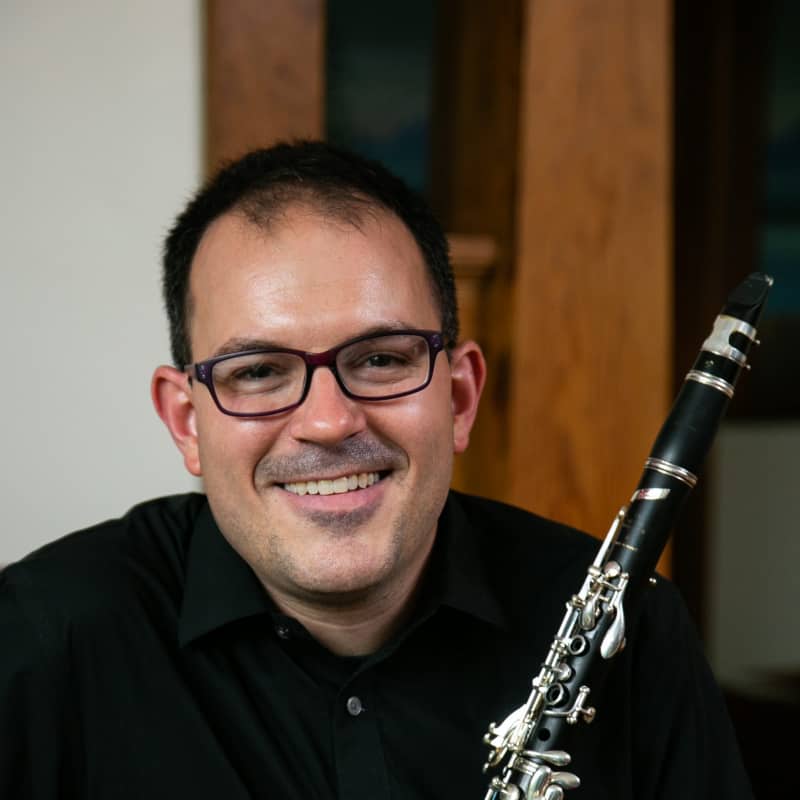 Louis DeMartino
Dark Sisters: Clarinet
Currently principal clarinetist of the Hawaii Symphony Orchestra, Oregon Ballet Theatre, and Portland Opera, Staten Island native Louis DeMartino also serves as the principal clarinetist of the Colorado Music Festival in Boulder, CO. Louis has also performed with the Oregon Symphony, Vancouver (BC) Symphony, Kansas City Symphony, and Boston Symphony Orchestra, as well as many other ensembles in the Portland area and nationwide. Louis was a member of the New World Symphony for three seasons and he was a member of the Chicago Civic Orchestra for one season. In addition, he performed for one year as the 2nd clarinetist of Orchestra Iowa in Cedar Rapids. Louis also served as guest principal clarinet with the Auckland Philharmonia in New Zealand.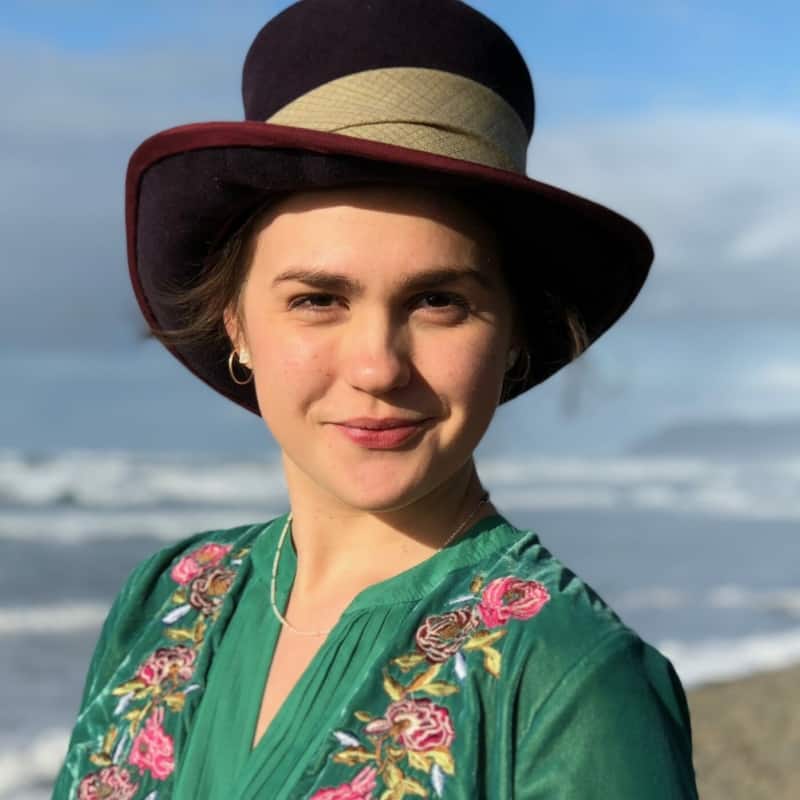 Sydney Dufka
The Royal Shepherd: Costume Designer
Sydney Dufka Forchielli is a visual storyteller and costume designer. She is interested in exploring the motivation of characters through the details in the clothing. Her work is rooted in research, and finding the silhouettes and shapes through sketching. Sydney believes art is a universal form of communication that is vital to humanity.
Sydney is also an accomplished craftsman and spends much of her spare time behind the sewing machine building her fashion designs. In addition to her own work Sydney is an Associate Designer with LDC Design Associates in NYC.
Educated in Chicago and based in Portland Oregon and New York City. Sydney holds a Bachelor of Fine Arts in Costume Design from The Theatre School at DePaul University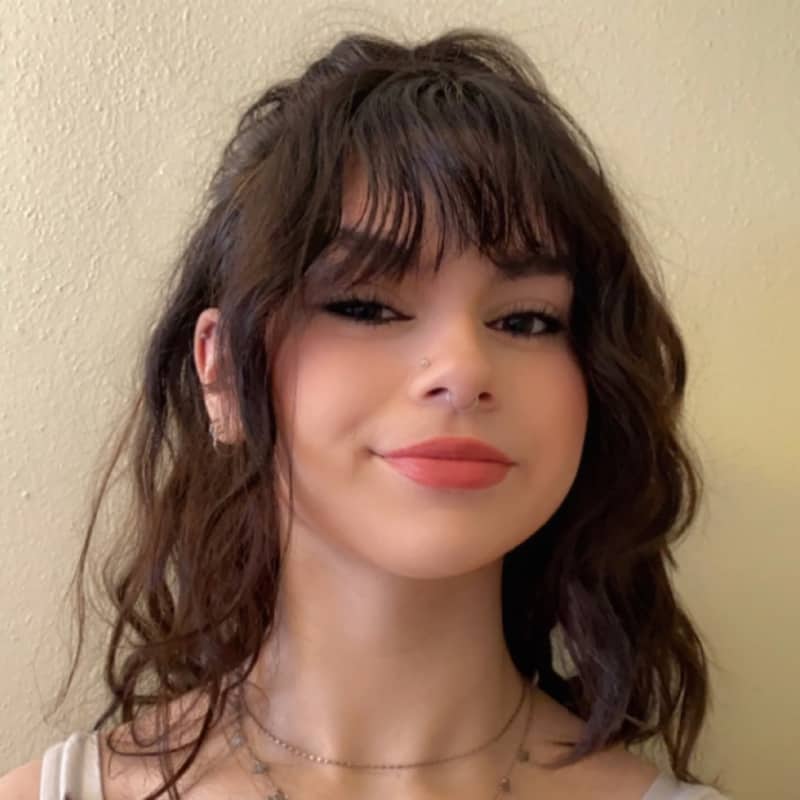 Rachel Errico
Assistant Lighting Designer (The Pathways Program)
Rachel is an aspiring Stage Manager and Lighting Designer currently studying at Portland State University. She is extremely grateful for the opportunity to work with OrpheusPDX, Solomon Weissbard and Connie Yun to continue learning more about the professional world of live performance.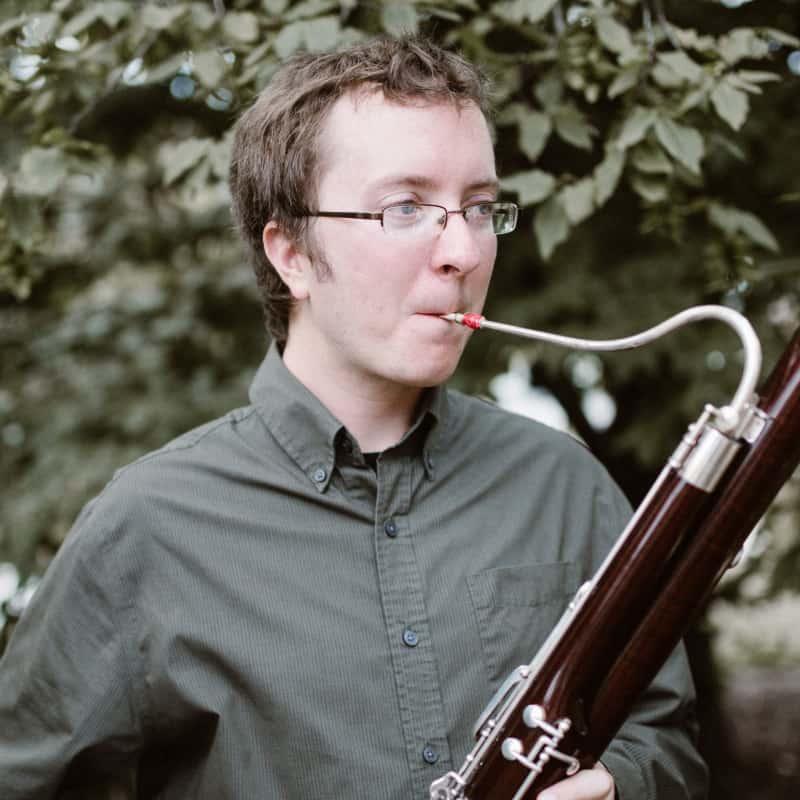 Adam Farmer
The Royal Shepherd: Bassoon
Adam Farmer is an active performer and teacher of orchestral and chamber music. As a bassoonist, Adam has performed with orchestras across the Pacific Northwest and Midwest including the Oregon Symphony, Oregon Festival Orchestra, Walla Walla Symphony, Newport Symphony Orchestra, Lansing Symphony Orchestra, Jackson Symphony Orchestra, and the West Michigan Symphony.
Adam received his Doctor of Musical Arts in Bassoon Performance from Michigan State University and also holds degrees from Kent State University and the University of Cincinnati College-Conservatory of Music. His primary instructors include Michael Kroth, David DeBolt, William Winstead, and Martin James.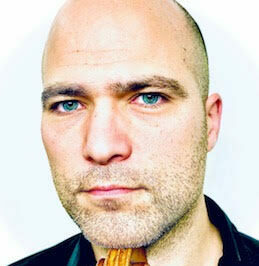 Trevor Fitzpatrick
The Royal Shepherd: Cello
Canadian/American cellist Trevor Fitzpatrick joined the Oregon Symphony in 2005 and has since imbedded himself into the musical community around him. He is an avid chamber musician, collaborating with groups such as: 45thparallel, Fear no Music, Third Angle New Music, Chatter New Mexico, and his own RTK Piano trio. A Graduate of the Glenn Gould School in Toronto, the Cleveland Institute of music, and the New World Symphony in Miami, Trevor has performed in major concert halls throughout the USA, Canada, South America and Europe. In addition to his orchestral and chamber career, Mr. Fitzpatrick now has fun teaching his own batch of future cellists with a private studio in Portland. He is the proud father of 2 little cellists and lucky husband to cellist Marilyn de Oliveira.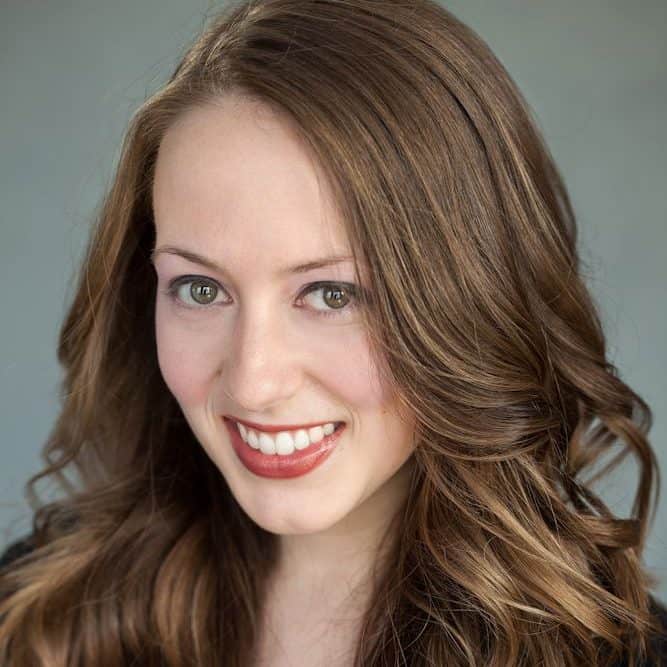 Holly Flack
The Royal Shepherd: Elisa
Holly Flack is a coloratura soprano with a unique range that extends beyond an octave above high C. Praised as an "explosive talent" with her warm, flowing middle voice, rippling coloratura, and effortless trills, she "wields an impressive range, effortlessly reaching higher than high notes" with her stratospheric vocal extension.
Ms. Flack's operatic roles include the title role in SEMELE, Gilda in RIGOLETTO, Queen of the Night in DIE ZAUBERFLÖTE, Ophélie in HAMLET, Morgana in ALCINA, Elvira in L'ITALIANA IN ALGERI, and Dinorah in DINORAH (Le Pardon de Ploërmel) for which she received a "Star-Making Performance" award from Mr. Fred Plotkin in his Seventh Annual "Freddie" Awards for Excellence in Opera, stating she, "sang the title role with astonishing fluidity and confidence… as if it was her birthright."
Internationally, Ms. Flack made her debut at the Trentino Music Festival in Mezzano, Italy singing the role of the Vixen in THE CUNNING LITTLE VIXEN. She has traveled multiple times to China with the iSing International Young Artists Festival for concerts in different cities around the country, and has performed on CCTV, Dragon TV, and Jiangsu Weishi TV for China's National Day Celebration and the Chinese New Year. In 2022, she singularly represented the USA singing in a promotional video for the Beijing Winter Olympics.
In orchestral concert, Ms. Flack has sung soprano soloist in Handel's Messiah, Bach's Magnificat, and Orff's Carmina Burana, where she "delighted, flawlessly climbed to the extremes of her register, and continued with effortless coloratura".
In 2019, she performed the highest note ever sung at Lincoln Center, a B-flat above high C, as a featured soloist in a Golden Night Concert celebrating China's Mid-Autumn Festival at David Geffen Hall in New York City. In 2021, she surpassed this record singing a B natural above high C in the East/West: A Symphonic Celebration concert at David H. Koch Theater.
Originally from Portland, Oregon, she holds a Bachelor's Degree in Vocal Performance from St. Olaf College, and a Master's Degree in Vocal Performance from the University of Kentucky, where she studied with renowned soprano Cynthia Lawrence.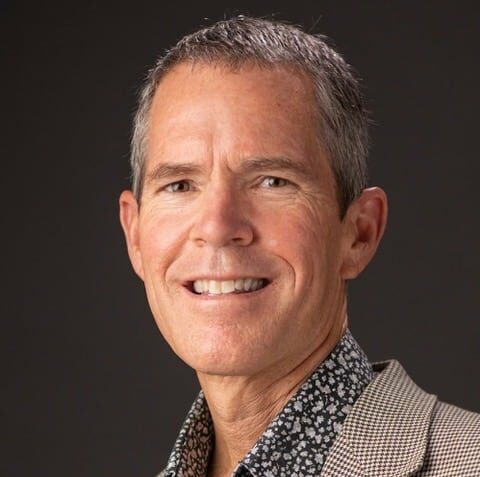 Paul Floyd
Dark Sisters: Piano & Celesta
Pianist Paul Floyd works as a collaborative artist, vocal coach and conductor. He has taught on the music faculties of Chapman University and the University of California,LosAngeles.
For sixteen years he served as an Assistant Conductor with the Los Angeles Opera where he often collaborated with some of the opera world's greatest singers and conductors, played in the opera orchestra and was regularly featured as a lecturer at pre-performance talks. During the summers he has coached singers or conducted at the Santa Fe Opera, Aspen Music Festival, Hawaii Performing Arts Festival and the Astoria Festival in Oregon. Paul frequently appeared as the official accompanist for the Western Region Finals of the Metropolitan Opera National Council Auditions. His movie credits include an appearance with Julie Andrews and Anna Netrebko in Princess Diaries II, and a Disney Hall performance with Vivica Genaux in Anthony Hopkins' Fracture.
Paul holds a doctoral degree in piano performance from the University of Colorado, Boulder, in addition to degrees from the Eastman School of Music and the University of Southern California, where he graduated summa cum laude.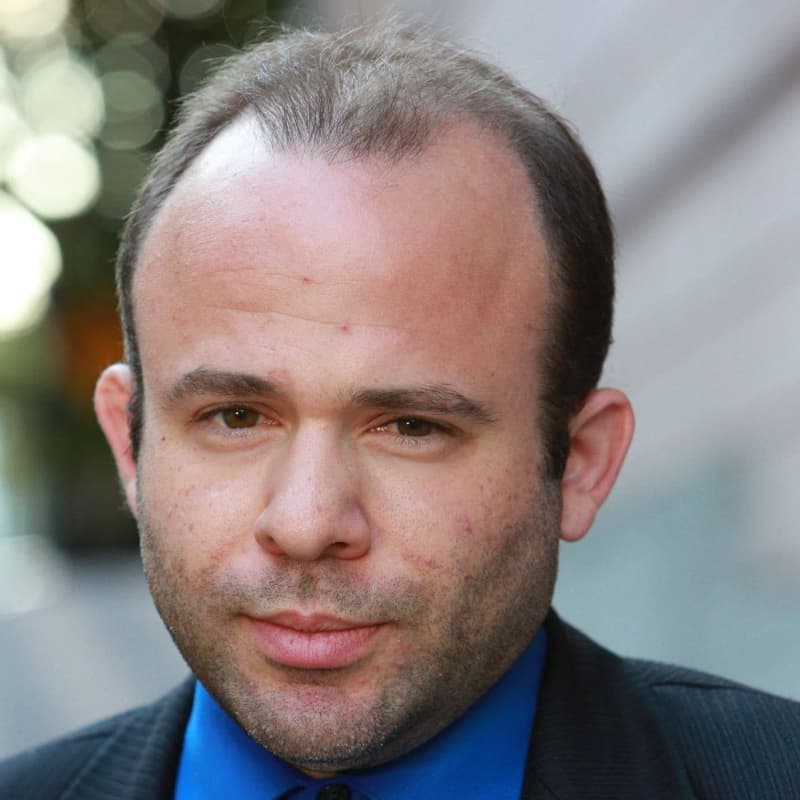 Nicholas Fox
The Royal Shepherd: Conductor & Harpsichordist
Conductor-pianist Nicholas Fox has been the Chorus Master and Assistant Conductor at Portland Opera since September 2013. In his time in Portland, he has prepared the chorus for over twenty mainstage productions, as well as serving as principal conductor for six mainstage productions. In his capacity as principal coach for the Resident Artist Program, he played for over thirty-full length recitals.
In September 2009, Mr. Fox was appointed Assistant Chorus Master at New York City Opera. In two seasons in that capacity, he helped prepare productions of Hugo Weisgall's ESTHER, DON GIOVANNI, L'ÉTOILE, MADAMA BUTTERFLY, L'ELISIR D'AMORE and the NY premiere of Leonard Bernstein's A QUIET PLACE. Mr. Fox was appointed Chorus Master at New York City Opera for the 2011-2012 season
A native of Los Angeles, Mr. Fox began studying piano and composition at the age of 12, and after a short time began performing both music from the standard repertoire and his own compositions. He gave numerous recitals in the Los Angeles area, and was a three-time gold medalist in the Southern California J.S. Bach festival.
Mr. Fox received his degree in orchestral conducting from the Mannes College of Music in New York, studying with David Hayes. After graduating from Mannes, Mr. Fox remained an extremely in-demand pianist, coach, teacher, and conductor in the New York area, both in private performance and at all of the major conservatories.
Since his relocation to Portland, Mr. Fox has quickly become a fixture in the musical life of the city as a coach, pianist, and musical advisor.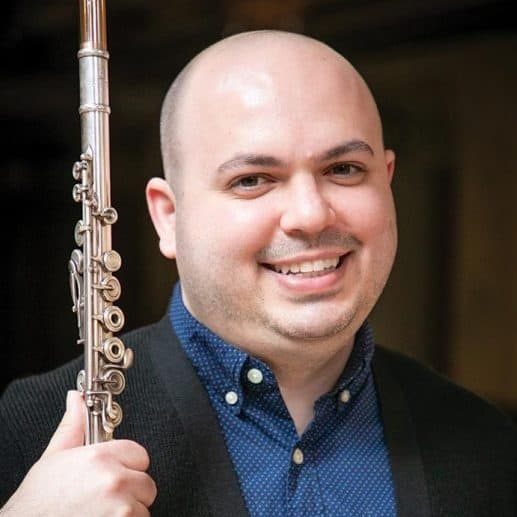 Zachariah Galatis
The Royal Shepherd & Dark Sisters: Flute
Zachariah Galatis' "irresistible energy, appealing tone, and dazzling technique" (The Oregonian) have cemented his place in Portland's music community. Serving as solo piccolo of the Oregon Symphony since 2012, you can also hear Zach playing with various other groups around town, including frequent appearances with 45th Parallel.
A native of LaGrange, NY, Zach graduated summa cum laude with performance honors from the Crane School of Music at SUNY Potsdam, where he studied with Kenneth Andrews. Zach received his Master of Music degree from Peabody Conservatory, studying with the Baltimore Symphony's solo piccolo Laurie Sokoloff and principal flute Emily Skala. He then pursued doctoral studies with world-renowned soloist Marina Piccinini at Peabody before moving to Oregon.
In 2009, Zach won first place in the Mid-Atlantic Young Artist Piccolo Competition, and was a winner of the National Flute Association's 2009 Piccolo Masterclass Competition. Zach was a fellow at the National Orchestral Institute in 2010 and 2012, and in 2011 was awarded the Piccolo Fellowship at the Aspen Music Festival. Zach won first prize in the National Flute Association's 2012 Piccolo Artist Competition, a competition for which he then served as coordinator for five years.
In addition to performing, Zach is a passionate educator, having given various masterclasses and seminars on piccolo technique, including at both of his alma maters. He maintains a private studio in Portland, working with students of all ages, and since 2016, Zach has been the Instructor of Flute at the University of Portland.
Zach has appeared as guest piccolo with orchestras around the country, including Baltimore, Detroit, and Seattle, and has appeared as guest principal flute with the Buffalo Philharmonic multiple times, including for their 2018 tour to Poland. He has also performed at various summer festivals, including the Astoria Music Festival and Oregon Bach Festival. Before Joining the Oregon Symphony, Zach played piccolo/third flute in the Virginia Symphony Orchestra, under music director JoAnn Falletta.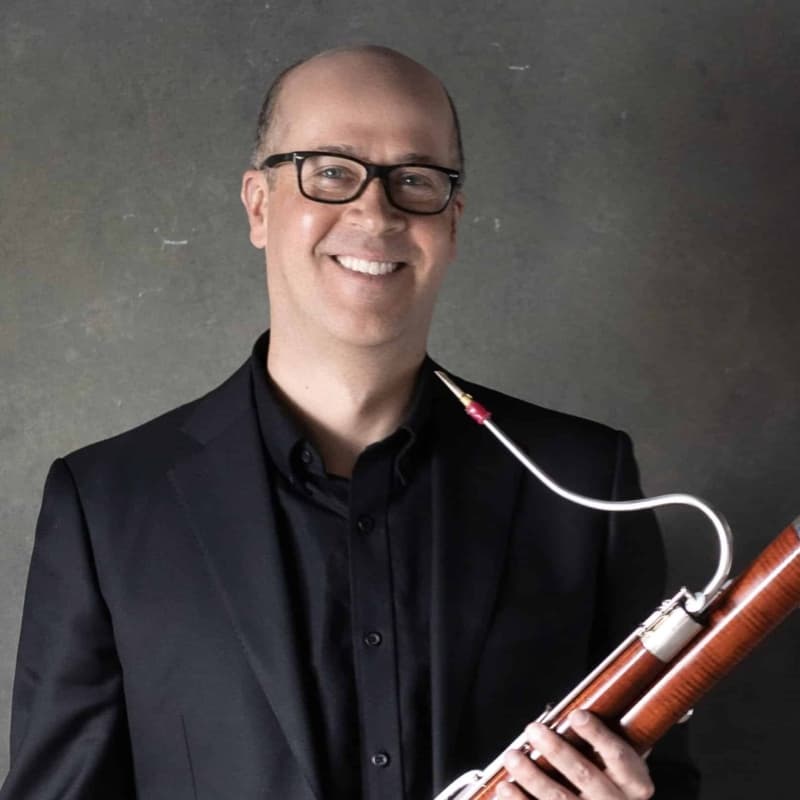 Benjamin Greanya
The Royal Shepherd: Bassoon
Ben Greanya is Principal Bassoon of the Eugene Symphony and Adjunct Professor at Lewis and Clark College. Before moving to the Pacific Northwest, he served as Principal Bassoon with the Annapolis Symphony in Maryland and was Assistant Professor of Bassoon at Gettysburg College. He has performed as a guest with the Baltimore and National Symphonies, as well as the Washington National Opera.
Since moving to Oregon, he has performed with the Oregon Symphony, Oregon Ballet Theatre, and the Portland Opera. Ben is a member of the Inscape Chamber Orchestra, a Washington DC based contemporary ensemble which has four recordings under the Sono Luminus label, including the Grammy-nominated album, Sprung Rhythm.
Originally from Michigan, Ben holds degrees in music performance from the University of Michigan and New England Conservatory. His principal teachers are Robert Williams, Richard Beene, and Richard Svoboda.
When not playing or making reeds, Ben enjoys exploring the outdoors and spending time with his wife, Dana, in their home in Portland.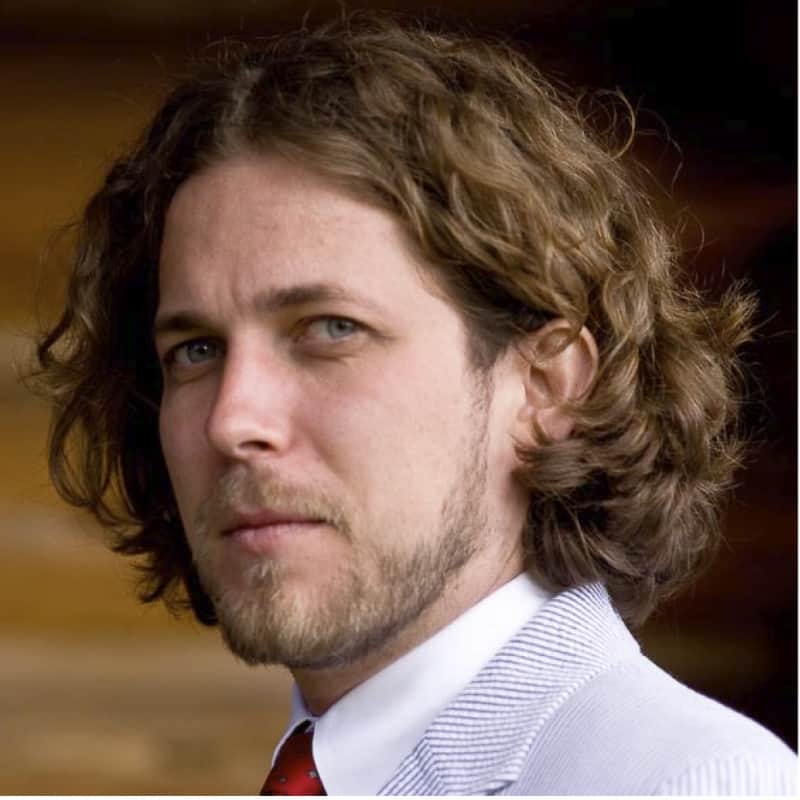 Brian Guerrero
The Royal Shepherd: Assistant Stage Manager
Brian's career in the arts has spanned almost 20 years and as many locations. Not one to stay with one field for very long, Brian has worked as a Stage Performer, Commercial and Music Video Production Manager, Stage Manager, Chamber Music Production Manager, Lighting Designer, Technical Director, and Stage Director. More recently, Brian has begun to teach at the University of Portland after receiving his MFA in Directing there. When not working, Brian spends most of his time with his wife, Eve, and their 8 year old triplets – Hector, Rosie and Ella.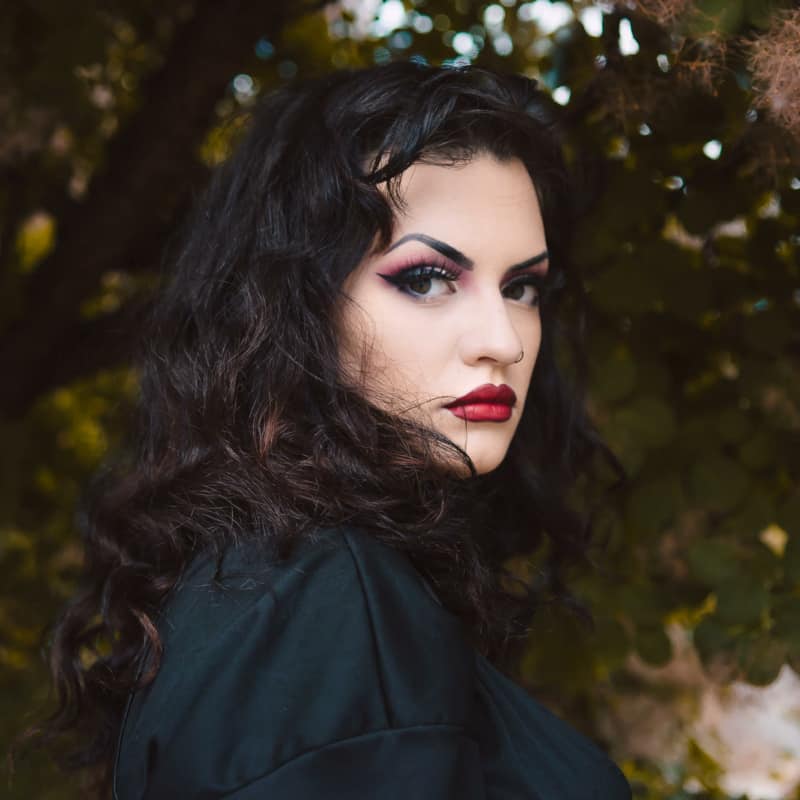 Paige A. Hanna
Assistant Costume Designer (The Pathways Program)
Paige A Hanna is a Syrian-American costume designer and educator based in Portland Oregon. She is the Costume Supervisor at Lakewood Theater Company and Portland State University where she also teaches. She has previously designed costumes for F****** A (Shaking the Tree), Murder on the Orient Express (Lakewood Theater), Leading Ladies (Lakewood Theater), No Exit (Portland State University), The God Cluster (Fuse Theater Ensemble) and Forbidden Fruit (Shaking the Tree). She would like to thank her partner, Oliver and brother, Parker for their constant support. @scarysyrian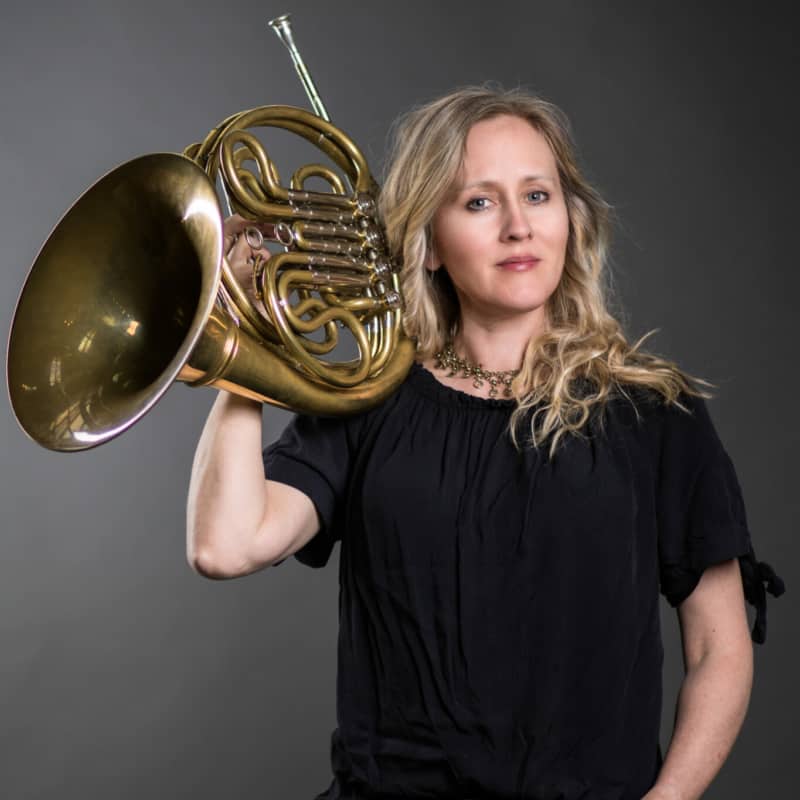 Jennifer Harrison
The Royal Shepherd: Horn
As the daughter of an opera singer and a music store owner it only followed that Jennifer Harrison would grow up to be a musician. Choosing the instrument which she felt possessed the most gorgeous tone, she began a life as a French horn player at the age of 11. As a teen she had the fortune of playing at the Tanglewood Music Festival in Massachusetts under the baton of Leonard Bernstein.
After her college studies at Northwestern University, Jen played with the New Mexico Symphony for one year and thoroughly relished working as a symphonic player. Since moving to Portland she has been freelancing across the Pacific Northwest region as a classical and pop rock horn player.
She is currently a member of the Portland Opera Orchestra, Eugene Symphony, Portland Chamber Orchestra, Portland Brass Quintet and Northwest Horn Orchestra. Jen is also a regular substitute with the Oregon Symphony and Oregon Ballet Theatre Orchestra. In the summertime Jen has been involved with the Sunriver Music Festival.
When she is not playing the horn, she can be found doing garden design, hiking the trails of the Pacific Northwest, and playing guitar and ukulele in rock bands.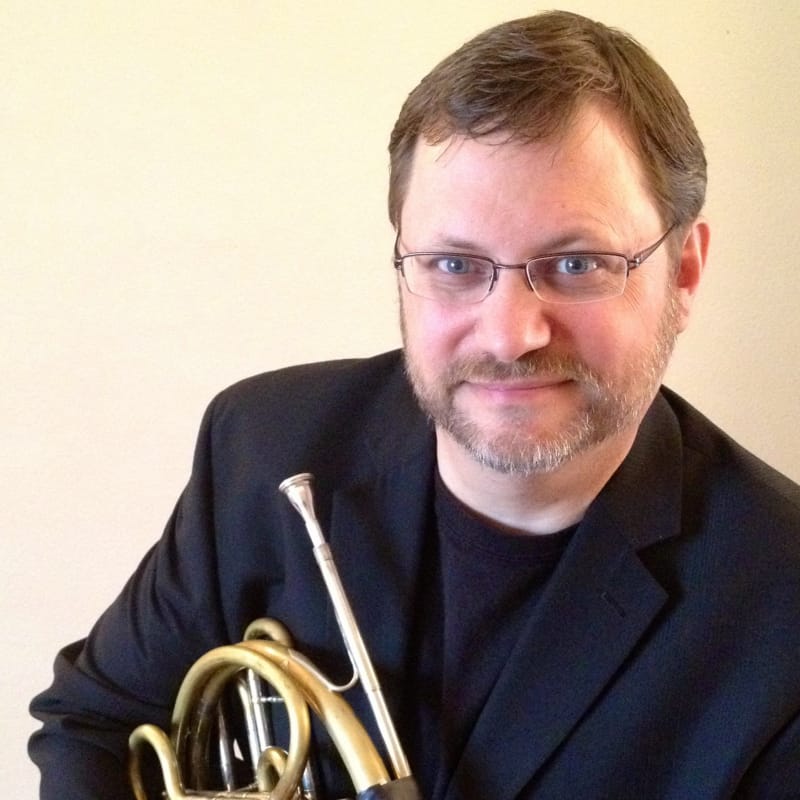 Michael Hettwer
The Royal Shepherd & Dark Sisters: Horn
Michael Hettwer has been a freelance horn player in the Northwest for 35 years. He holds positions with the Portland Opera and Oregon Ballet Theatre orchestras and frequently plays with the Oregon Symphony and Eugene Symphony orchestras. He serves as orchestra manager for Portland Opera and contractor for Portland's Best of Broadway series. Michael is also the horn professor at Willamette University. He has recently retired after 30 years teaching music in public schools. His wife, Kami, is a music educator and executive director of the Salem Youth Symphony. Together they have three adult children who are all professional musicians.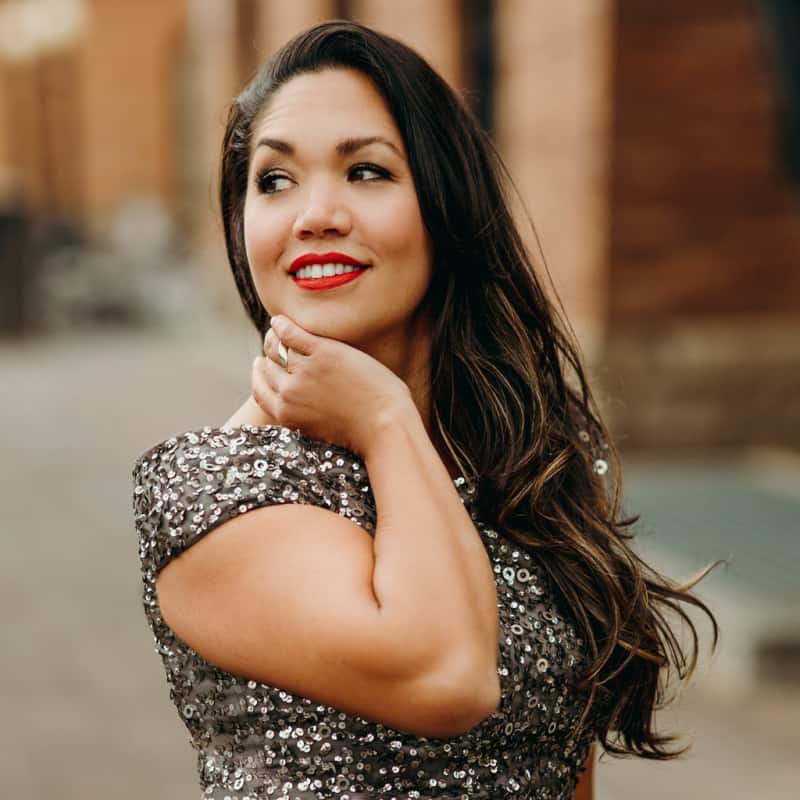 Vanessa Isiguen
Dark Sisters: Almera
Acclaimed by the New York Times as "radiant" American soprano Vanessa Isiguen recently joined the roster of the Metropolitan Opera to cover the dual role of Kitty/ Vanessa in the premiere of THE HOURS by composer Kevin Puts and librettist Greg Pierce, conducted by Maestro Yannick Nézet-Séguin and Maestro Kensho Watanabe. During the 2022-2023 season she made her Dublin debut in the title role of MADAMA BUTTERFLY with Lyric Opera of Ireland and had engagements as the soprano soloist with the Oregon Symphony conducted by David Danzmayr, Eugene Opera as Mimi LA BOHEME, and the Portland Youth Philharmonic as the Soprano Soloist in Beethoven's Symphony No. 9. She looks forward to singing the role of Almera in DARK SISTERS by Nico Muhly with OrpheusPDX this summer. Ms. Isiguen will return to the Metropolitan Opera in the 23-24 season to cover the role of Liù in TURANDOT in addition to Kitty/ Vanessa in the THE HOURS.
Ms. Isiguen has a great passion for new music and was thrilled to create the role of Nila in the world premiere of chamber opera TRES MINUTOS with the Seattle Symphony/ Music of Remembrance last summer. She worked closely with composer Nicolas Benavides and librettist Marella Martin Koch singing a tour of performances in Seattle and San Francisco. She looks forward to reprising the role with the San Diego Symphony in 2024. Ms. Isiguen began the 2021-22 season with her New Orleans Opera debut, reprising her signature role as Mimì LA BOHEME with Maestro Joseph Colaneri. Previously Ms. Isiguen made her Florida Grand Opera debut as Cio-Cio-San MADAMA BUTTERFLY garnering praise from Palm Beach Arts, "Isiguen's Butterfly was moving and beautifully sung… she has a big fresh voice with plenty of stamina f o r an opera that requires her almost constant presence, and serious acting chops that made her lovable, believable, and tragic on the stage «the performance was a triumph, and the audience loved her." Vanessa was subsequently featured as a soloist at the Royal Opera House at Covent Garden, UK singing the famous aria "Un bel dì vedremo", with Maestro Nicola Luisotti for the Insights Program Concert.
Other notable engagements include the starring role of Roberta Alden AN AMERICAN TRAGEDY by Tobias Picker and librettist Gene Scheer with Glimmerglass Opera Festival. She was featured in The New York Times video clip depicting her singing at the beginning of the eerily famous drowning scene. New York Arts wrote, "Vanessa Isiguen (Roberta) was completely convincing as the tragic heroine both vocally and dramatically", and Classical Voice America described Vanessa as "A strong, well rounded soprano who sang the fiendishly high and difficult role easily." She sang the role of Spirit in the Metropolitan Opera workshop of THE SORROWS OF FREDERICK by Scott Wheeler, conducted by Steven Osgood, and the New York City premiere of the Spanish opera IL POSTINO by Daniel Catan as Beatrice Russo.
Vanessa made her debut with the Oregon Symphony as a featured soloist under the baton of Maestro Carlos Kalmar, and her Portland Opera debut as Mimì LA BOHÈME with Maestro George Manahan to rave reviews. Opera News boasts, "Vanessa Isiguen brought to Mimì good looks, a lovely soprano, and loads of personality… 'Si, mi chiamano Mimì' had variety and nuance from spinto bloom to light chatter."
Other roles include Nedda I PAGLIACCI, Violetta LA TRAVIATA, Liù TURANDOT, Micaëla CARMEN, THAЇS, RUSALKA, La Contessa and Susanna LE NOZZE DI FIGARO, Donna Elvira DON GIOVANNI. Vanessa has performed with The Metropolitan Opera, Glimmerglass Opera, Royal Opera House Covent Garden, Florida Grand Opera, Portland Opera, New Orleans Opera, Sarasota Opera, Opera Tampa, Vashon Opera, Opera Idaho, and Eugene Opera. She has won top prizes from Metropolitan Opera National Council Auditions, The Gerda Lissner Foundation NYC, Connecticut Opera Guild, Jenny Lind Competition, and the Bel Canto Competition. Vanessa holds a Bachelor of Music from UNC Chapel Hill, a Master of Music from Boston Conservatory, and a Professional Studies Diploma from Mannes College of Music – The New School in New York City.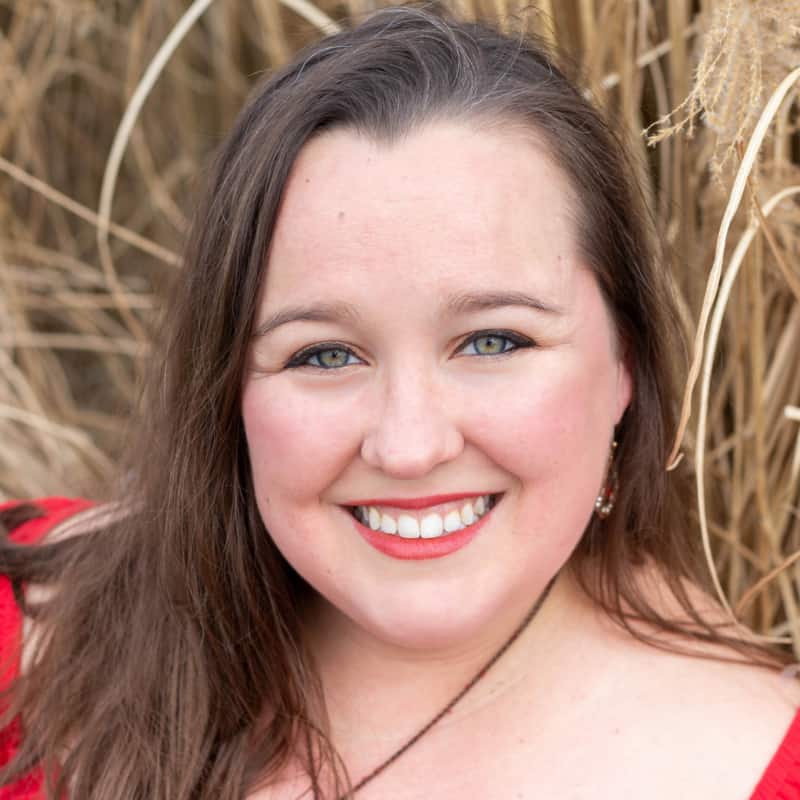 Lindsey Johnson
The Royal Shepherd: Surtitle Manager and Operator
Lindsey Rae Johnson (she/her) hails from Minnesota. After completing music degrees at Luther College and the University of North Texas, she relocated to Portland. Lindsey has performed locally with Portland Opera, Renegade Opera, Ping & Woof Opera, OperaBend, Lark Opera, Queer Opera, Opera on Tap, Portland SummerFest Opera in the Park, Mocks Crest Productions, Light Opera of Portland, Classical Revolution PDX, and the Dickens Carolers. She has also performed with Fort Worth Opera, Cedar Rapids Opera Theatre, Really Spicy Opera, Waffle Opera, Bay Area Summer Opera Theater Institute, San Francisco Symphony Chorus, Oberlin in Italy, Frost School of Music in Salzburg, Sieur Du Luth Summer Arts Festival, and Lamplighters Music Theatre. Lindsey has worked as a Supertitles Operator with Portland Opera, Opera Theater Oregon, and Anima Mundi Productions. She is a Musical Artist in Residence with St. John the Baptist Episcopal and serves on the AGMA Board of Governors and NW Area Committee. www.lindseyraejohnson.com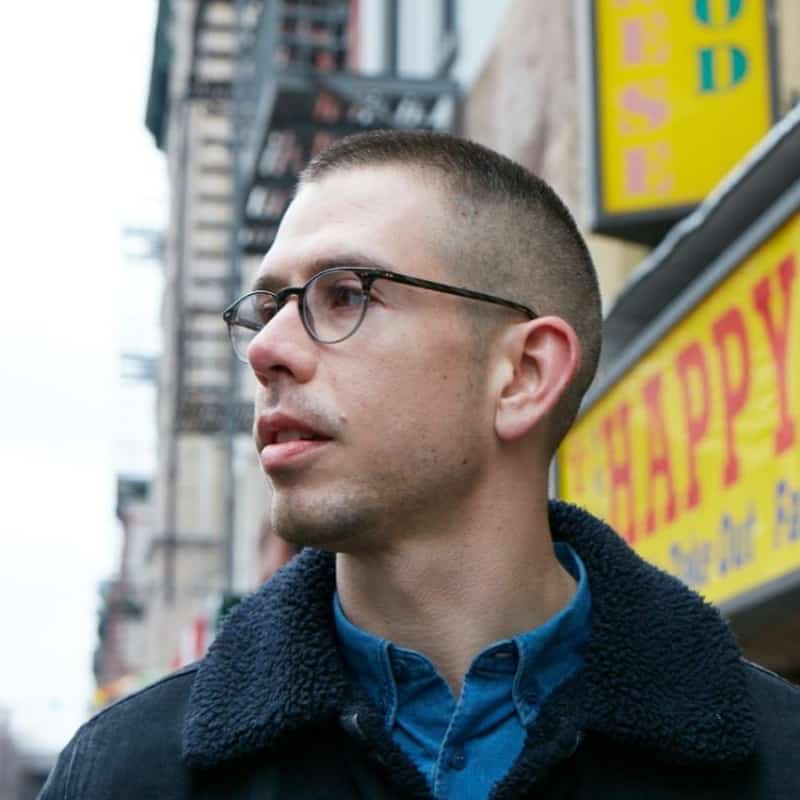 Stephen Karam
Dark Sisters: Librettist
Stephen Karam is the Tony Award-winning author of The Humans, Sons of the Prophet and Speech & Debate. For his work he's received two Drama Critics Circle Awards, an OBIE Award and is a two-time Pulitzer Prize finalist.
Stephen recently directed his first feature film, a rethought version of The Humans for A24 films, to be released in 2021. He wrote a film adaptation of Chekhov's The Seagull starring Annette Bening, which was released by Sony Picture Classics. His adaptation of Chekhov's The Cherry Orchard premiered on Broadway as part of Roundabout's 2016 season. Recent honors include the inaugural Horton Foote Playwriting Award, the inaugural Sam Norkin Drama Desk Award, two Outer Critics Circle Awards, a Lucille Lortel Award, Drama League Award, and Hull-Warriner Award.
Stephen teaches graduate playwriting at The New School. He is a graduate of Brown University and grew up in Scranton, PA.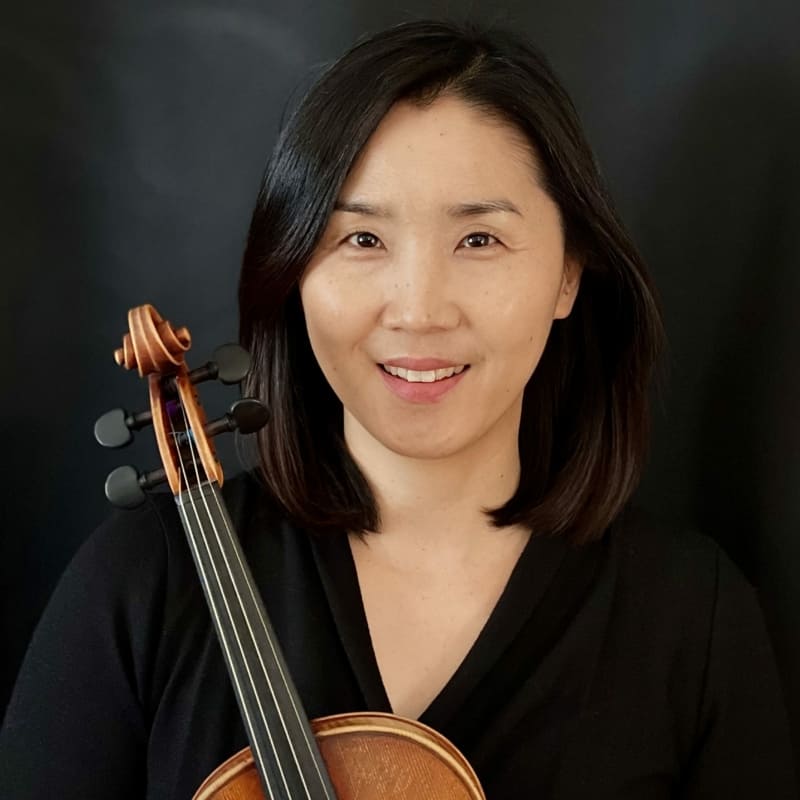 Hae-Jin Kim
The Royal Shepherd: Violin
Violinist Hae-Jin Kim received her Bachelor's and Master's Degree from the Eastman School of Music where she was awarded the prestigious Performer's Certificate and the Starling Foundation Award. She is currently an Assistant Concertmaster of the Oregon Ballet Theatre Orchestra, a member of the Portland Opera Orchestra, and the first violinist of the WildWood String Quartet.
As an active performer, Hae-Jin has served as Concertmaster of the Oregon Music Festival Orchestra, Portland Columbia Symphony Orchestra, Pearl Chamber Orchestra, Bridgetown Orchestra, MetroArts YAD Orchestra, and Oregon Repertory Singers Orchestra. She also plays with the Oregon Symphony, Portland Chamber Orchestra, and Amadeus Chamber Orchestra. She has played in the Astoria Music Festival, Camerata Musica Salem, Portland SummerFest Opera, Rochester Philharmonic Orchestra, Rochester Oratorio Society Orchestra, and Brockport Symphony.
As a chamber musician, she has appeared in numerous performances including Free Marz String Trio of March Music Moderne, NW New Music, Artesan String Quartet, Asiana String Quartet, and Pacifica Trio. Hae-Jin is a member of American String Teachers Association and Music Teachers National Association/Oregon Music Teachers Association.
She has a private teaching studio in NW Portland, coaches Portland Youth Philharmonic Association Chamber Music Groups, and is a faculty member of the Chamber Music Camp of Portland.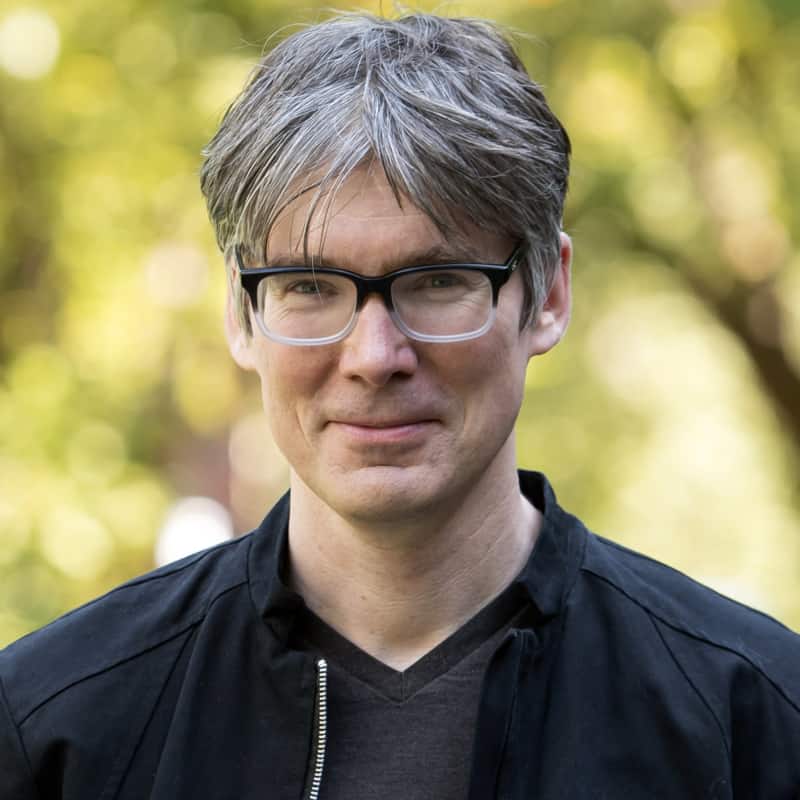 Peter Ksander
The Royal Shepherd: Set Designer
Peter Ksander is a scenographer and media artist whose work has been presented both nationally and internationally. He was a founding curator of the Incubator Arts Project in NYC, won an Obie award for the scenic design of Untitled Mars (this title may change), and a Bessie award for the visual design of This Was the End. Recent Portland credits include designs for The Americans, Apoptosis, It's a Wonderful Life, The Cherry Orchard, Sweat, Indecent, Fronteriza, The Weather Room, Arlington a love story, Our Ruined House. He holds a MFA from CALARTS and is a Professor at Reed College.
His work as a generative performance artist includes: Seeing the Elephant, The Sleeping Dane Effect (a collaboration with animator Melissa Chimovitz) and Apoptosis (developed with Catherine Ming T'ien Duffly and Rose Proctor for the Risk/Reward Festival). He is co-founder of Tiny Elephant, whose first piece, The Stupid Butterfly Project, was presented by Arts at St. Ann's, as part of Puppetlab. He was a member of TENT, a company rooted in image and performance-based ensemble generated work that questions theatrical tradition. Projects included Ugly Children do not get Cake, a rooftop performance exploring the distance between an individual and the dreams contained in the architecture of a city, as well as: Zero Winter, Oh Sweet Captain or the Ahab Stomp, Your Shipwreck is No Disaster, KG: Life in a Tin Can, and He bent his head and watched his steps, for this helped him avoid thinking.
Peter has continuing artistic relationships with Object Collection, for whom he has designed costumes or sets for four different new operas: Problem Radical(s), The Geometry, Innova, and It's All True; and with the Portland Experimental Theater Ensemble (PETE), where he is a company member, regular designer and occasional lead artist. In 2020 he developed The Weather Room, a performance piece where the environment serves as the source text or score for the performers.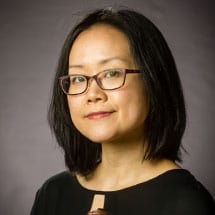 Shin-young Kwon
The Royal Shepherd: Violin
Shin-young has been a member of the Oregon Symphony orchestra since 2004 and served as acting assistant concertmaster from September 2016 through December 2018. She joined the Arnica String Quartet in 2005, and is a founding member of the Portland-based string quartet Mousai Remix since 2011.
In 1996, Shin-young transferred from Seoul National University to the Manhattan School of Music, where she studied with Sylvia Rosenberg and earned both her B.M. and M.M. She later completed her Doctor of Musical Arts at Indiana University as a student of Miriam Fried. Shin-young's dissertation is a survey of string quartets by minor composers of the Classical period.
Shin-young has been coached by Atar Arad, James Buswell, Isidore Cohen, Glenn Dicterow, Alexander Kerr, Peter Salaf, János Starker, Sheryl Staples, Alan de Veritch, Zvi Zeitlin, and members of the Orion, Juilliard, Chicago, and Takács quartets.
She has also participated in a number of music festivals, including the Aspen Music Festival, the Colorado Music Festival, and the Music Academy of the West, the New York String Seminar, the Sarasota Music Festival, the Tanglewood Music Center, and the Taos School of Music.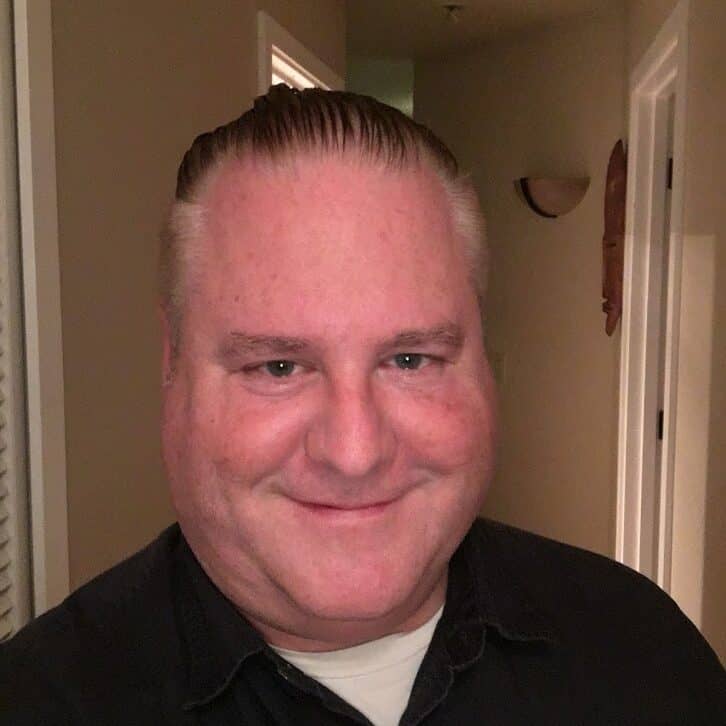 Brian Langford
The Royal Shepherd: Ensemble
Brian has a varied career background. Showing a proficiency in music in his youth, Brian studied piano, clarinet/bass clarinet, organ, and voice/choral singing. Attending Brigham Young University (BYU) on a piano scholarship, he was able to branch out and learn the long-standing LDS music tradition of church services with organ playing and singing/conducting the church choirs.
At BYU, he studied with the well-known Drs. Mack and Rebecca Wilberg, with choral singing and vocal instruction/opera, respectively. Mack Wilberg is currently the Music Director for the Mormon Tabernacle Choir, with Rebecca still serving as vocal coach. Brian was active in the BYU Opera department and performed several solo roles as an undergrad.
Currently, Brian is serving his 22nd contiguous season in the Portland Opera Chorus. It is said of his abilities, "Brian has excellent singing, musical precision, curiosity, commitment, and flexibility as a dramatic performer…". Brian is a bass/baritone and considers himself a collaborative musician.
Earning a B.A. degree in Japanese Literature at BYU, Brian developed a liking for adult education and creating lesson plans and technical writing focusing on language and computer applications trainings. By day, Brian works at Oregon Health & Science University (OHSU) in the Supply Chain & Logistics department where he developed the Oracle Requisitions Training program. To date, he has trained 1000s of internal staff in the Oracle software for Purchasing. He has worked at OHSU 22 years.
Brian enjoys cooking, dancing and tinkering with his Zuckermann kit harpsichord.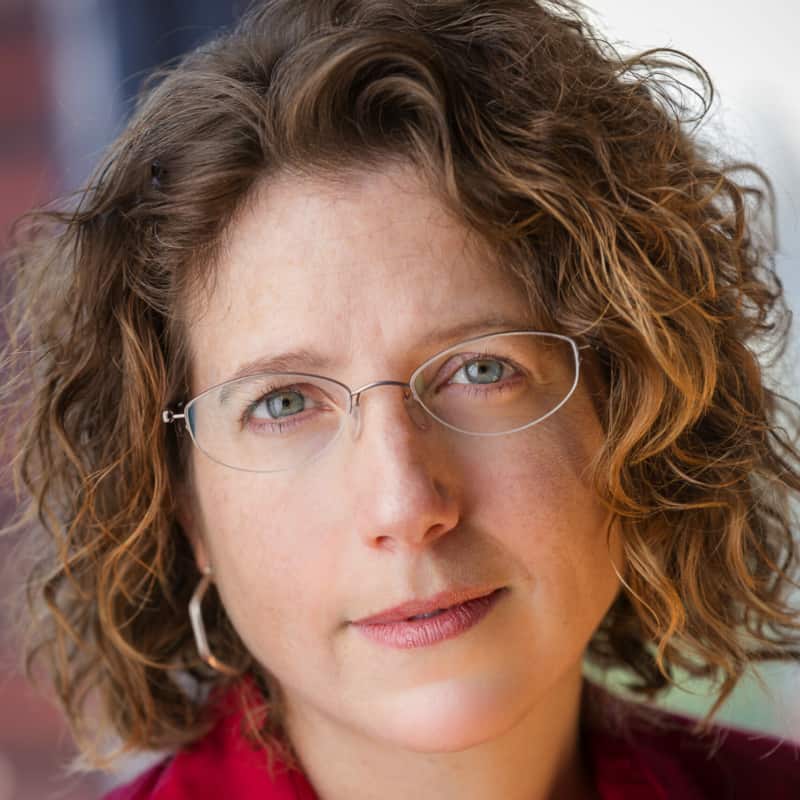 Kristine McIntyre
Dark Sisters: Director
Stage director Kristine McIntyre has directed more than 100 operas across the U.S.
with a focus on new, contemporary, and American works. Productions include Jake Heggie and Gene Scheer's Moby Dick (Utah Opera, Pittsburgh Opera, Chicago Opera
Theater, Opera San Jose); Dead Man Walking (Lyric Opera of Kansas City, Des Moines
Metro Opera, Madison Opera); the world premieres of Karchin's Jane Eyre (Center for Contemporary Opera), Mark Lanz Weiser and Amy Punt's The Place Where You Started (Art Share, LA) and Celka Ojakanga and Amy Punt's Mirror Game; new productions of Wozzeck, Billy Budd (regional Emmy award) and Peter Grimes as well as As One, Glory Denied and Soldier Songs (Des Moines Metro Opera, Urban Arias), Dove's Flight (Pittsburgh Opera, Des Moines Metro Opera, Austin Opera), Heggie's The End of the Affair (Lyric Opera of Kansas City) and Three Decembers (Des Moines Metro Opera); Florencia en el Amazonas (Madison Opera), Elmer Gantry (Tulsa Opera), Of Mice and Men (Utah Opera, Austin Opera, Tulsa Opera), the world premiere of Mechem's John Brown(Lyric Opera of Kansas City); new productions ofStreet Scene, The Tender Land (Michigan Opera Theater), Horovitz's Gentleman's Island (Utah Opera) and Lee Hoiby's Bon Appétit; and updated English-language version of Poulenc's The Human Voice (Utah Opera, Des Moines Metro Opera), a staged concert version of Vanessa (Toledo Opera) and the world premiere of The Canticle of the Black Madonna (Newmark Theater, Portland).
Kristine recently returned to Des Moines Metro Opera to stage the world premiere of Kuster/Puts' A Thousand Acres. Also in the 2022-2023 season, she creates a newly imagined production of The Magic Flute at Jacksonville Symphony, helms Rusalka at Pittsburgh Opera, returns to The Atlanta Opera for Don Giovanni, and returns to Madison Opera for their double-bill of Trouble in Tahiti/The Seven Deadly Sins. Highlights of the 2021-2022 season included Hometown to the World at Santa Fe Opera, revivals of her production of Flight at Utah Opera and Dallas Opera, a new production of Sweeney Todd for Des Moines Metro Opera (where she was recently appointed Artistic Consultant), the world premiere of Mark Lanz Weiser and Amy Punt's Galaxies in Her Eyes – the first opera ever written specifically for a planetarium – and UNKnown, the cinematic premiere of a dramatic song cycle by Shawn Okpebholo and Marcus Amaker, commissioned by UrbanArias.
Other recent directing credits include a film-noir style Don Giovanni (Utah Opera, Palm Beach Opera, Lyric Opera of Kansas City, Kentucky Opera, Pittsburgh Opera); an Emmy-award winning production of Manon (Des Moines Metro Opera, Opera Santa Barbara); Semele, Otello, La Cenerentola, Tosca, Le nozze di Figaro, Il ritorno d'Ulisse in Patria and La clemenza di Tito (Pittsburgh Opera); The Pearl Fishers (Utah Opera); Jenůfa, Eugene Onegin and La bohème (Des Moines Metro Opera); Lucia di LammermoorandMadama Butterfly(Arizona Opera);Cosìfan tutte,Norma,andThe Turn of the Screw(Lyric Opera of Kansas City); Il ritorno d'Ulisse, Lucia di Lammermoor and La traviata (Portland Opera); The Tales of Hoffmann, Un Ballo in Maschera, Cavalleria Rusticana/I Pagliacci and Così fan tutte (Madison Opera); Verdi's Un giorno di regno (Wolf Trap Opera); La bohème (New Orleans Opera); Don Giovanni, Madama Butterfly, Cavalleria Rusticana/I Pagliacci, Carmen and Werther (Kentucky Opera); Don Giovanni and Rigoletto (Tulsa Opera); Hansel and Gretel (Skylight Opera Theatre); Lucia di Lammermoor (Anchorage Opera); Tancredi (Opera Boston); La rondine (Oberlin in Italy); Béatrice et Bénédict and Viva la Mamma (Tacoma Opera), and Die Fledermaus, A Little Night Music, Nicolai's The Merry Wives of Windsor, and seven Gilbert and Sullivan operettas for Mock's Crest in Portland.
Kristine began her career at San Francisco Opera and then spent eight years on the staff of the Metropolitan Opera where she directed revivals of La traviata, Il barbiere di Siviglia, and Luisa Miller, and directed La traviata on tour in Japan and for HD broadcast as part of the Renée Fleming gala. She has trained opera singers in the studio programs at the Santa Fe Opera, San Francisco Opera, Portland Opera, and Pittsburgh Opera and has written and directed operatic adaptations for Portland Opera To Go, which reached over 100,000 people. Her recent bilingual adaptation of The Barber of Seville was produced to great acclaim at Atlanta Opera, Portland Opera, Fort Worth Opera, Houston Grand Opera/HGO CO and Chautauqua Opera.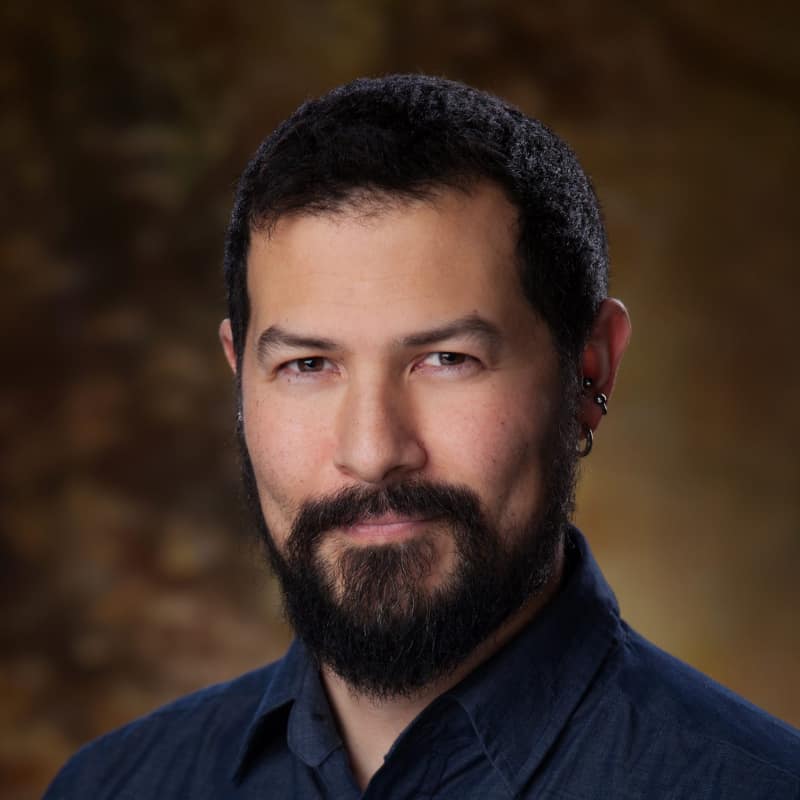 Brandon Michael
The Royal Shepherd: Agenore
Brandon Michael has been recognized for his beautiful and versatile tenor voice and has been a staple performer on Northwest stages for many years. Brandon studied voice and theater at Western Washington University and The Atlantic Theater Company in New York City.
Brandon made his Oregon debut with the OrpheusPDX production of L'ORFEO in 2022, and in the chorus at the Portland Opera for its 2022 production of Carmen directed by legendary Soprano Denyce Graves and Eric Sean Fogel. Brandon recently sang the tenor solo in Beethovens Ninth Symphony with the Spokane Symphony and debuted new compositions by renowned composers, Kenji Bunch, Judy Rose and Kimberly Osberg. In 2023 Brandon has performed with the Portland Symphonic choir, Resonance Ensemble, Portland Opera Vancouver Symphony and Spokane Symphony among others. Brandons signature opera roles include Goro, La Danciaro, The Witch, Basillio/Don Curzio, Fenton and Spoletta.
Brandon is a versatile performer and has appeared in many musical theater and stage productions in the Pacific Northwest, from Emile Debecque to The Beast in Disneys Beauty and the Beast. Brandon has sang leading roles at The Village Theater, Couer D'Alene Summer Theater and 2g theater in New York as well as many others. Brandon was featured on Sony Records recording of the new musical "Making Tracks" featuring Leah Salonga. Brandon is also a sought after stage director, with past credits including Sweeney Todd, Hunchback of Notre Dame and Wait Until Dark.
Career highlights include celebrating his Asian American heritage as a performer for the Remy Martin Concert of Excellence for Asian Americans at Carnegie Hall.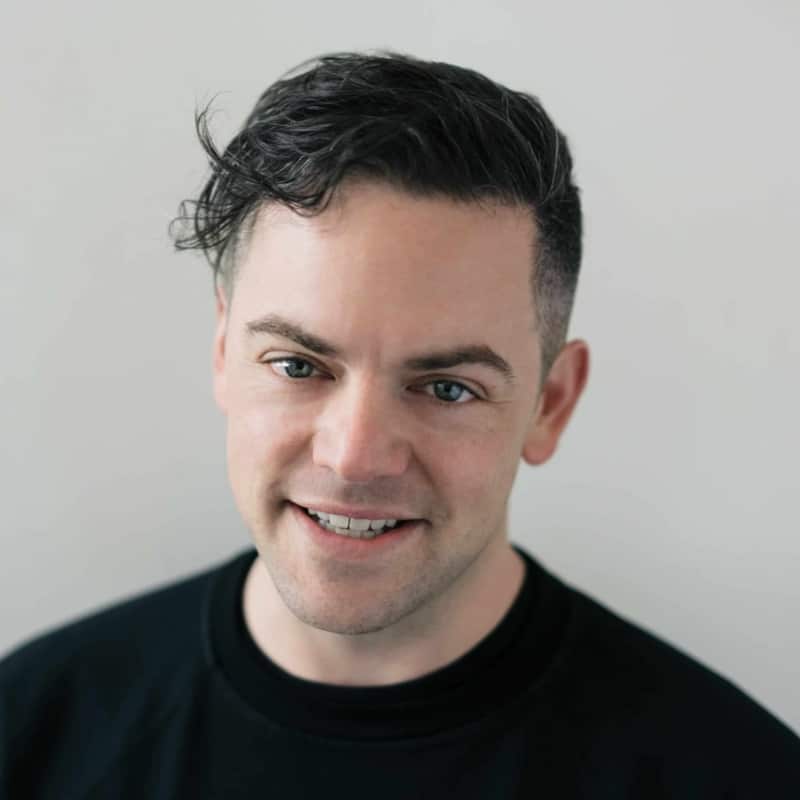 Nico Muhly
Dark Sisters: Composer
Nico Muhly (b.1981) is an American composer and sought-after collaborator whose influences range from American minimalism to the Anglican choral tradition. The recipient of commissions from The Metropolitan Opera, Carnegie Hall, St. Paul's Cathedral, the Philadelphia Orchestra and others, he has written more than 80 works for the concert stage, including the operas Two Boys (2010), Dark Sisters (2011), and Marnie (2017), which premiered at the English National Opera and was staged by the Metropolitan Opera in the fall of 2018; the song cycles Sentences 2015), for countertenor Iestyn Davies, and Impossible Things (2009), for tenor Mark Padmore; a viola concerto for violist Nadia Sirota; the choral works My Days (2011) and Recordare, Domine (2013), written for the Hilliard Ensemble and the Tallis Scholars respectively and most recently Register (2018), a work for organ and orchestra written for James McVinnie and premiered with the Los Angeles Philharmonic.
Muhly is a frequent collaborator with choreographer Benjamin Millepied and, as an arranger, has paired with Joanna Newsom and Antony and the Johnsons, among others. Planetarium, a large work co-written with Sufjan Stevens and Bryce Dessner, was released on 4AD records. He has composed for stage and screen, with credits that include music for the 2013 Broadway revival of The Glass Menagerie and scores for the films Kill Your Darlings; Me; the Academy Award-winning The Reader; and the BAFTA nominated BBC mini-series Howards End. Born in Vermont, Muhly studied composition with John Corigliano and Christopher Rouse at the Juilliard School before working as an editor and conductor for Philip Glass. He is part of the artist-run record label Bedroom Community, which released his first two albums, Speaks Volumes (2006) and Mothertongue (2008). He currently lives in New York City.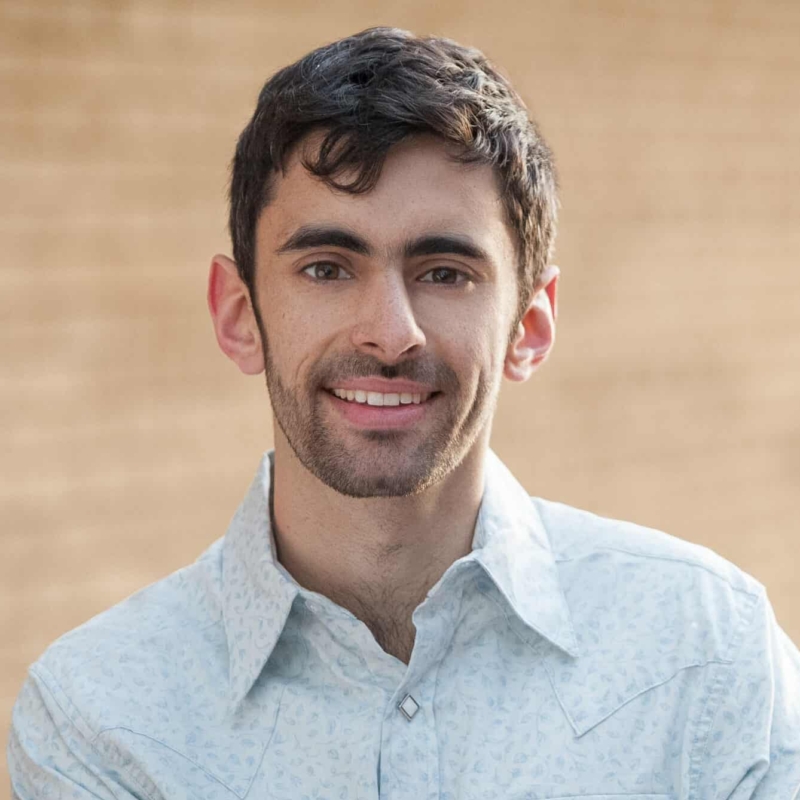 Omar Najmi
The Royal Shepherd: Alessandro
Boston-based tenor Omar Najmi splits his time between composition and performance, maintaining a busy schedule as an operatic tenor. Praised as "a world class voice in every respect," Najmi recent debuted in the in the title role of Joseph Summer's adaptation of Hamlet with Bulgaria's State Opera Rousse. Other recent and upcoming engagements include Rodolfo in La Bohème with Opera Steamboat, Astolfo in Furiosus with Mercury Opera, Shakur in Thumbprint with Portland Opera, Tybalt in Romeo and Juliet with Boston Lyric Opera, Spearmint Lodge in the world-premiere of The Artwork of the Future with Fresh-Squeezed Opera, Alfredo in La Traviata with MassOpera, Gastone in La Traviata with Boston Youth Symphony Orchestras, tenor soloist in St John Passion and Christmas Oratorio with Emmanuel Music, Tito in La Clemenza di Tito with Opera Steamboat, Bilal in This Is Not That Dawn with Catalyst New Music and Alessandro in Il re Pastore with Orpheus PDX.
Najmi enjoys a long-standing relationship with Boston Lyric Opera where he has performed in over 15 productions. He also served as their first ever Emerging Composer in the 2020/2021 season. Other credits include roles with Opera Colorado, Chautauqua Opera, Annapolis Opera, Opera Saratoga, Opera Maine, Opera Fayetteville, Opera NEO, Opera North, Odyssey Opera, American Lyric Theater, and more.
Omar Najmi made his Carnegie Hall debut in 2018 as the tenor soloist in Mark Hayes' Gloria. He has since returned as the soloist in Dan Forrest's Requiem for the Living, and as a soloist in Talents of the World Inc.'s Caruso Tribute Concert. He has toured with concert Video Games Live, including an appearance with the Colorado Symphony at the Red Rocks Amphitheater. Najmi has been the recipient of the Harold Norblom Award from Opera Colorado, the Stephen Shrestinian Award from Boston Lyric Opera, 2nd prize from the Wilkinson Young Singers Fund, Lorraine Hunt Lieberson Fellowship from Emmanuel Music, 2nd place nationally in the Handel Aria Competition, and was a regional finalist in the Metropolitan Opera National Council auditions.
Najmi began his composition career with the production of his first opera, En la ardiente oscuridad, in 2019. After a run of sold-out performances, he was invited to serve as the first ever Emerging Composer in residence with Boston Lyric Opera, where he worked with Boston Youth Poet Laureate Alondra Bobadilla in the creation of the song cycle my name is Alondra. The piece received its live premiere on BLO's Street Stage in 2021.
In 2022, his motet The Last Invocation was premiered by Emmanuel Music. His recently commissioned song cycle More Than Our Own Caves just received its premiere with Juventas New Music Ensemble. He is currently working on Jo dooba so paar – a short opera exploring the intersection of Queer and Muslim identity – which will be premiered as part of White Snake Projects' Let's Celebrate initiative. His opera-in-progress The Fermi Paradox is currently a semi-finalist with Opera Theatre of St. Louis' New Works Collective.
In 2022, Najmi and his husband Brendon Shapiro co-founded Catalyst New Music – an organization dedicated to fostering, developing, and producing new works. Catalyst's first project – presented with the support of The Boston Foundation's Live Arts Boston grant – was a concert performance of Najmi's new opera This Is Not That Dawn, a drama set during and after the Partition of India.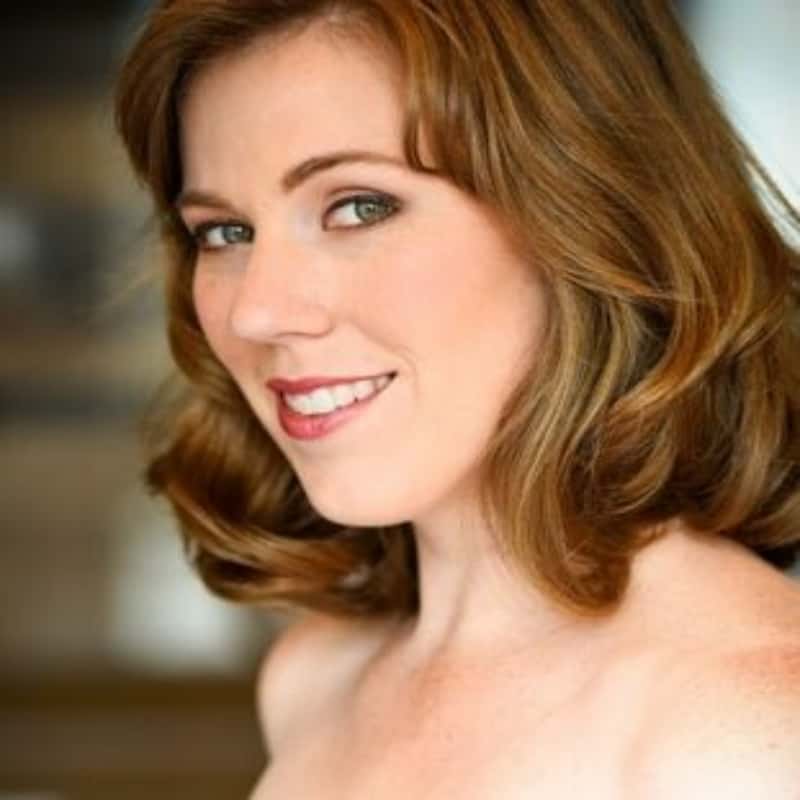 Lindsay Ohse
Dark Sisters: Eliza
Soprano Lindsay Ohse continues to illuminate four centuries' worth of repertoire with her "dazzling and crystal clear" voice. In 2022-2023, Ms. Ohse will return to the Metropolitan Opera as Papagena in The Magic Flute and cover Giannetta in L'elisir d'amore. She will also sing Musetta in La bohème with Annapolis Opera, Violetta in La traviata with Opera Delaware and Opera Baltimore, and Countess Adele in Le comte Ory with Opera Southwest.
During the 2021-2022 season, Ms. Ohse returned to the Metropolitan Opera as Naomie in Cinderella and reprised the role of Bekhetaten in the critically acclaimed Akhnaten. She also made her Bayerische Staatsoper debut singing 1st Niece in a new production of Peter Grimes – a role she will reprise with the company in 22-23.
During the 2019-2020 season, Ms. Ohse returned to the Metropolitan Opera to cover the Crowned Child in Macbeth, sing Bekhetaten in Akhnaten and cover Clorinda in La cenerentola as well as returning to Opera Delaware as the title role in The Coronation of Poppea (COVID19) and debuting the role of Violetta in La traviata with the Princeton Festival (COVID19). During the 2020-2021 season, Ms. Ohse was slated to return to the Metropolitan Opera to cover the Dew Fairy in Hansel and Gretel and Frasquita in Carmen as well reprising the role of Pamina in Die Zauberflöte at Opera Southwest. As part of the Opera Southwest COVID19 programming, Ms. Ohse did sing the role of Serpetta in La serva pedrona. In 2021, Ms. Ohse returned to Sarasota Opera to perform the role of Belinda in Purcell's Dido and Aeneas.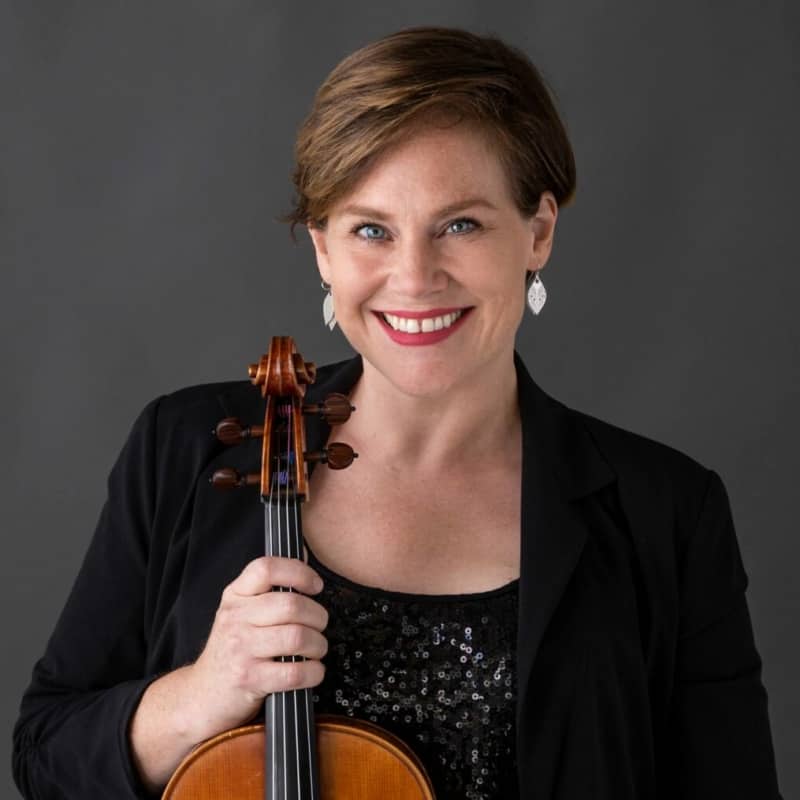 Hillary Oseas
The Royal Shepherd: Viola
Hillary Oseas, violist, is an Oregon native, and has been an active member of Portland's vibrant music community for over twenty years. She fell in love with orchestral playing as a teenager in the Portland Youth Philharmonic, and began working occasionally as a substitute violist in the Oregon Symphony, after taking a local audition at the age of 21. She has been the Principal Violist for the Portland Opera since 2012, and has continued to perform regularly with the Oregon Symphony, as well as being a highly sought out chamber music partner with many local groups, including 45th Parallel and Fear No Music. Ms. Oseas holds a Bachelor's Degree from the University of California, Santa Barbara, where she was recipient of the Young Artist String Quartet fellowship, an award usually reserved for graduate students, and was in the viola studio of Helen Callus. Ms. Oseas went on to obtain a Master's Degree from Rice University, where she served as Teaching Assistant to the incomparable James Dunham. Mr. Dunham introduced Hillary to the rich world of historically informed performance, and she quickly fell captive to its lean ensembles and risk taking performance styles. Hillary has been a core member of the highly esteemed Portland Baroque Orchestra since 2014, and she enjoys dividing her time up among her many and various ensembles: the maximum numbers that share the stage at the Keller Auditorium for Portland Opera, and the intimate and prestigious house concerts performed on period instruments for Portland Baroque Orchestra.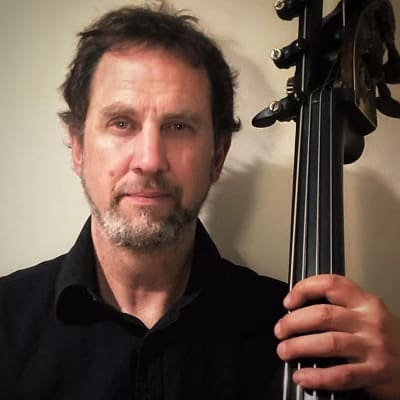 David Parmeter
The Royal Shepherd & Dark Sisters: Double Bass
David Parmeter, double bass, came from a musical family. He grew up in Southern California and graduated from UCLA; shortly after, David won a position with Pacific Symphony and landed a career as a studio musician playing film scores. Twenty-five years later, he continues to do both, even though in 2012 David and his family relocated to Portland Oregon, where he is currently Principal Bass of Oregon Ballet Theatre and a member of Portland Opera. David has also played with Los Angeles Opera, Los Angeles Chamber Orchestra, and the Oregon Symphony as a substitute musician. David plays in many summer festivals and enjoys riding his bike and brewing beer in his free time.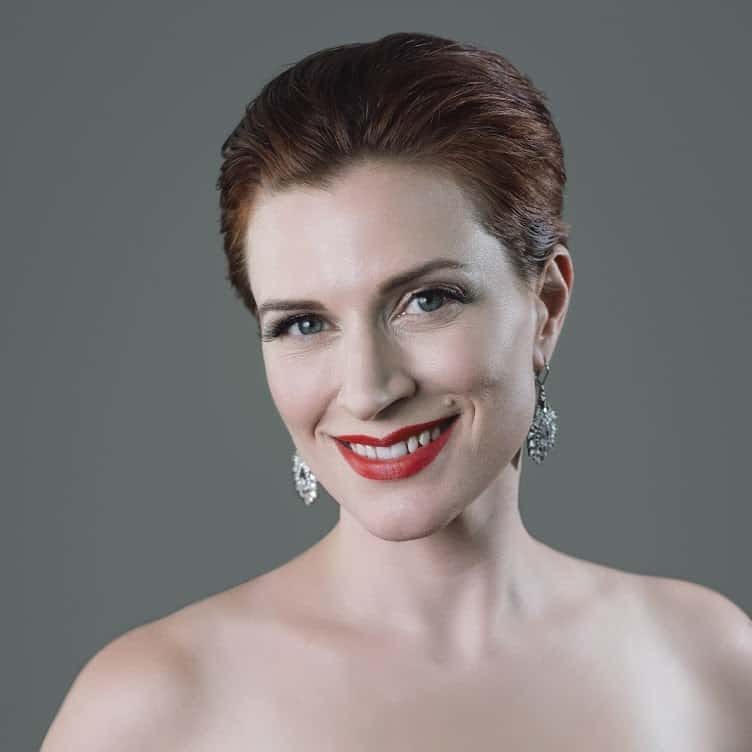 Hannah Penn
The Royal Shepherd: Assistant Director & Dark Sisters: Ruth
Hannah Penn, a mezzo-soprano, enjoys a diverse career as a performer of opera, oratorio, and recital literature. Frequently praised for her musicality and the timbre of her voice, Ms. Penn has recently been called "…a major talent", and "…an intelligent and wonderfully musical singer" by Portland's Willamette Week, and was praised for having "…intriguing colors at both ends of her range" by The Oregonian. She has sung more than twenty operatic roles with Glimmerglass Opera, Florida Grand Opera, Portland Opera, Tacoma Opera, Opera Bend, Eugene Opera, Opera Coeur D'Alene, and many other companies.
As a past member of Portland Opera's studio artist program, Ms. Penn sang the roles of Diana (LA CALISTO), Thisbe (LA CENERENTOLA), Mercedes (CARMEN), Flora (LA TRAVIATA), and Nancy (ALBERT HERRING). She also sang her first CARMEN with Portland Opera, which garnered critical acclaim and resulted in a chance to reprise the role following season with the Teatro National Sucre in Quito, Ecuador. Ms. Penn has since returned to Portland Opera many times as a guest artist, most notably as "Hannah After" in AS ONE, Julie in SHOW BOAT, and L'enfant in Ravel's L'ENFANT ET LES SORTILEGES.
A strong proponent of new works, Ms. Penn has performed in the American premiere tours of John Adam's EL NINO and Sven-David Sandstrom's HIGH MASS, and has been involved in the American premiers of several operas, including Anthony Davis' WAKONDA'S DREAM, Richard Rodney Bennett's THE MINES OF SUPLHUR, and David Carlson's ANNA KARENINA.
Ms. Penn also enjoys a full concert schedule, having been featured with orchestras around the country, including many appearances with the Oregon Symphony, the Portland Baroque Orchestra, the Sunriver Music Festival, the Florida Philharmonic, and the Seattle Baroque.
A dedicated and passionate teacher, Ms. Penn maintains a large private studio, in addition to positions on faculty at Portland State University, Linfield University, and Aquilon Music Festival. She has been Portland Opera's regular pre-show lecturer for the past six years. Ms. Penn received her doctorate of musical arts from New England Conservatory last fall, after rediscovering the manuscript parts and reconstructing the full score for a lost American opera, SHANEWIS, by Charles Wakefield Cadman. The semi-biographical piece tells the life story of Cadman's friend and colleague, Native American operatic mezzo-soprano Tsianina Redfeather.
This season's engagements include two concerts with the Portland Baroque Orchestra, concerts, and recording projects with Portland's medieval music group In Mulieribus, concerts with the Salem Festival Chorale and Salem Winds, and a series of Bach cantatas in Leipzig, Berlin, and Prague, with the Leipzig Bach Festival. Next season, Ms. Penn will perform Peter Maxwell Davies' one-woman show, MISS DONNITHORNE'S MAGGOT with Third Angle.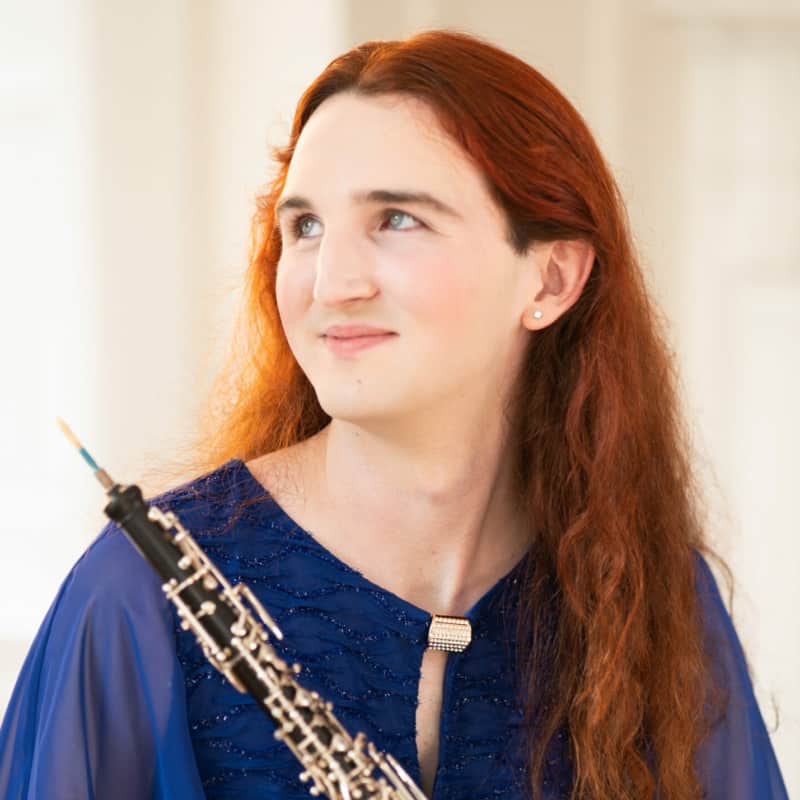 Ben Price
The Royal Shepherd: Oboe/English Horn
Ben Price is an oboist and creative whose mission is to create stories and memories through music. They currently hold the David H. Springman Memorial Fellowship at Philadelphia's Curtis Institute of Music, where they regularly perform as part of the Curtis Symphony Orchestra, and as a soloist and chamber musician in the Curtis Student Recital Series. While growing up in Portland, Oregon, Ben was an oboist with the Vancouver Symphony Orchestra USA (VSO) and principal oboist of the Portland Youth Philharmonic. They are also a three-time member of Carnegie Hall's National Youth Orchestra of the United States of America, and toured Europe with the orchestra in summer 2022.
An avid contributor in the sphere of multimedia, Ben performed as part of the launch of Site-Specific Dances at the Paul Taylor Dance Company in New York City, a video installation with live dancing that highlights the relationship between music, dance, and nature. Ben has also recorded tracks for the Barnes Foundation and Curtis Institute's joint presentation of John Dowell: A Public Intimate Space, a project that celebrates the heritage of Philadelphia's Rittenhouse Square neighborhood and contemplates architecture and urbanism.
Ben Price is a first-prize laureate of competitions with the VSO, Metropolitan Youth Symphony, and Oregon Sinfonietta, and has appeared as concerto soloist with them and with the Portland Youth Philharmonic. They have also performed as guest Principal Oboe with Symphony in C, Pink Martini, and the MYSfits Chamber Orchestra.
Ben currently studies with Katherine Needleman and Philippe Tondre at Curtis, and owes an enormous debt to their former teachers Karen Wagner and Dagny Rask Regan in Portland, without whom they would not have gotten very far. When not immersed in the metaphysical experience of music, Ben thoroughly enjoys a good map, a good book, and a good journey at sunset.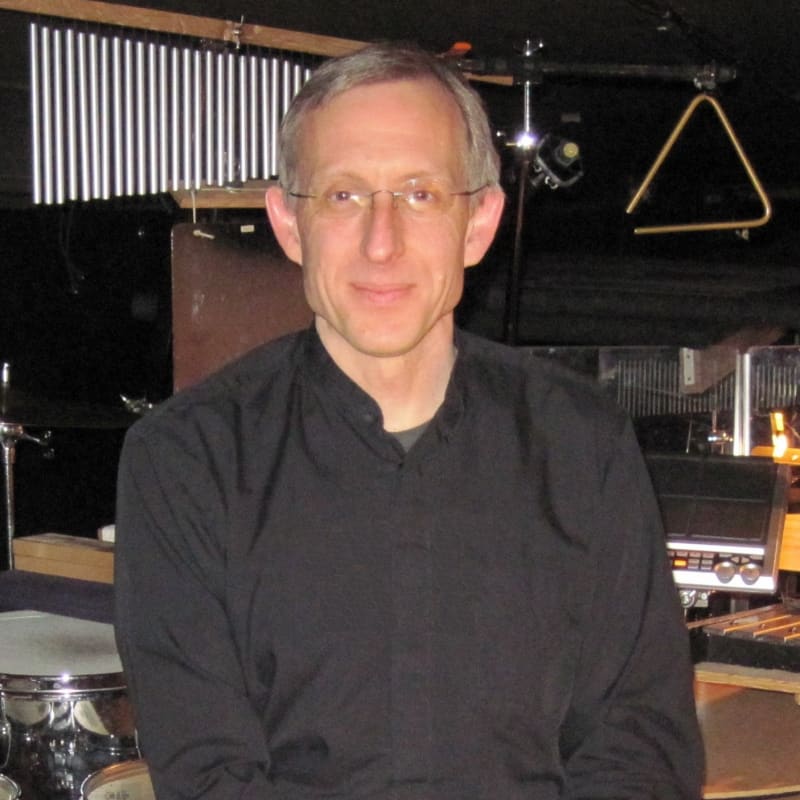 Gordon Rencher
Dark Sisters: Percussion
Gordon Rencher is one of the Northwest's most versatile percussionists. A skilled drum set player and orchestral percussionist, he also performs professionally on latin percussion and steel drum. He is the principal percussionist for the Portland Opera and Oregon Ballet Theater, and has been principal for several area summer music festivals, including the Oregon Bach Festival. He performs frequently with The Oregon Symphony, and is Portland's "first call" show player for touring Broadway musicals. He has performed with Chick Corea, Jason Alexander, Natalie Cole, Johnny Mathis, Bernadette Peters, Roberta Flack, Olivia Newton-John, Peter Cetera, The Indigo Girls, Bela Fleck, The Pointer Sisters, Jerry Lewis, Dave Brubeck, Randy Newman, along with many others. In addition to recordings of the Oregon Symphony (3 Grammy nominations), Gordon can be heard on recordings for The Portland Opera, the Third Angle New Music Ensemble, Oregon Catholic Press, and folk-rock-blues artist, Martha Schuyler Thompson.
Mr. Rencher teaches drum set and percussion in his own studio, and has taught for Western Oregon University, Linfield College, Portland State University, Warner Pacific College, Marylhurst University, the University of Alaska Fairbanks, and many area high schools. Mr. Rencher has published a method book for beginning snare drum, a method book for beginning jazz drum set, and several pieces for concert percussion, marching percussion, and steel drum band through Alfred Music, Matrix Music, and Drop6 publications. Originally from Boise, Idaho, and a graduate of the University of North Texas and veteran of NT's renowned Lab bands, he worked on cruise ships as a drummer and band leader before moving to the Portland area in 1989.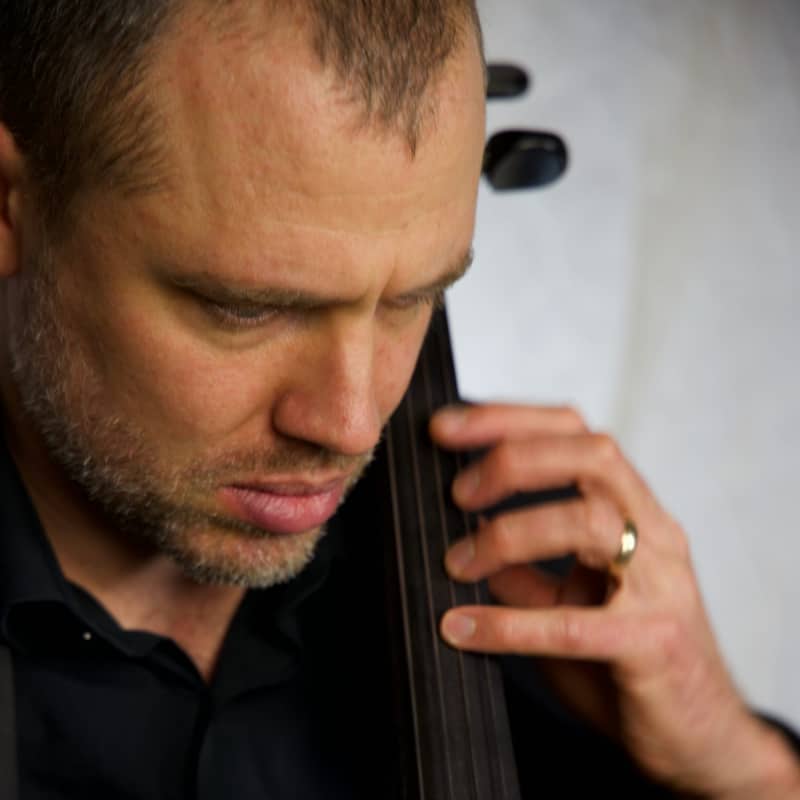 Dylan Rieck
The Royal Shepherd & Dark Sisters: Cello
Dylan Rieck, a cellist and composer, is principal cellist for the Portland Opera orchestra. He has performed over 800 concerts in 15 countries globally. Dylan's original compositions span a wide range of musical styles and convey a sense of exploration and urgency. An avid collaborator, Dylan finds inspiration from working with artists in many fields to blend ideas into rich tapestries of new work. His work can be heard on television, film, video games, and in live performances in many unique environments.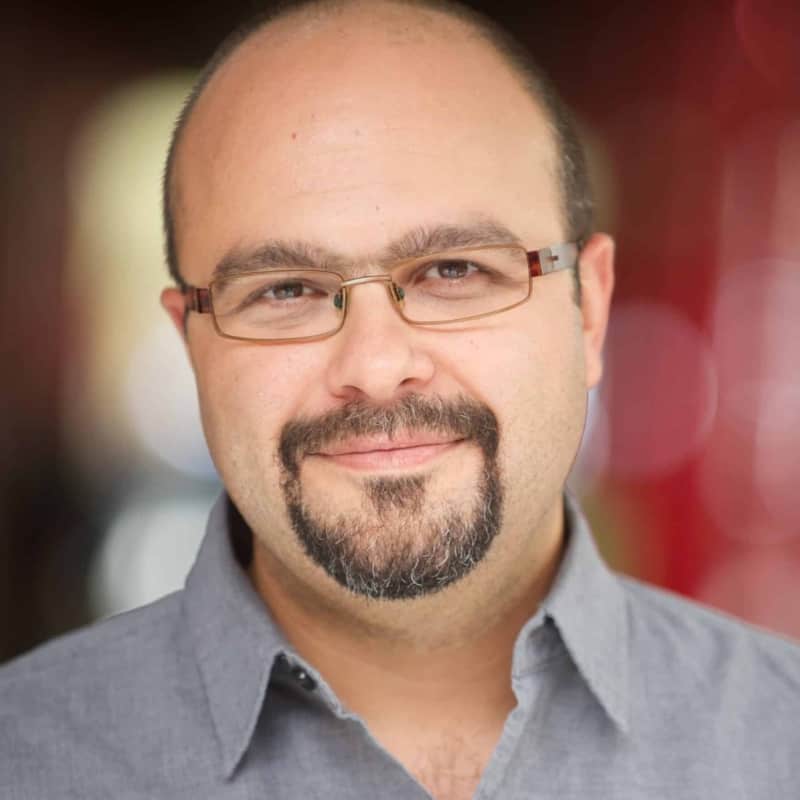 Dan Rigazzi
The Royal Shepherd: Director
Dan Rigazzi has been directing theater and opera for over twenty years—from Shakespeare and Puccini to contemporary plays and musicals. In addition to his work at theaters and universities around the country, Dan has been on the Directing Staff at the Metropolitan Opera since 2008.
This season, Dan has directed revivals of Idomeneo and La Traviata at the Met, and will return to Pittsburgh Opera for Il trovatore, and to Madison Opera for Le nozze di Figaro. This summer he will make his debut at OrpheusPDX, directing Mozart's Il Re Pastore.
In November of 2021, Dan's production of The Magic Flute was Pittsburgh Opera's first show in the Benedum Theater since the pandemic began. And in May of 2021, he helped re- open the Lyric Opera of Kansas City with Baseball: A Musical Love Letter, a revue celebrating the National Pastime, which he created with Kathleen Belcher. Just before the world shut down in the winter of 2020, he directed a revival La Cenerentola at the Met and of Bart Sher's Romeo et Juliette at Teatro alla Scala.
In the 2018-2019 season, he made his debuts with the Boston Symphony Orchestra at Tangelewood and Opera Omaha, directing La bohème in Concert and serving as Revival Director for I Pagliacci. Other recent highlights include his Carnegie Hall debut directing The Secret Lover, with the New York based Early Music Ensemble, TENET, The Magic Flute for Madison Opera and Carnegie Mellon University, and ESPN's Up- Front at the Minskoff Theatre, collaborating with INVNT, Austin McCormick, and Sugartone Brass Band.
Favorite projects include Xerxes and Julius Caesar for the Pittsburgh Festival Opera, Madama Butterfly and La bohème for Ash Lawn Opera, The Beggar's Opera for Carnegie Mellon University, and The Magic Flute for Arizona Opera. In 2014, he made his international debut at Teatro alla Scala, assisting Mary Zimmerman with Lucia di Lammermoor. Other notable projects include new productions of The Tales of Hoffmann for Wolf Trap Opera, The Rape of Lucretia for Pittsburgh Opera, and a Triple Bill for Bard's Graduate Vocal Arts Program, which included Song from the Uproar, by Missy Mazzoli, the premiere of David T. Little's Vinkensport, and Maurice Ravel's L'enfant et les sortilèges.
As an associate and assistant director, Dan has worked for the Metropolitan Opera, The Lyric Opera of Chicago, Teatro alla Scala, Houston Grand Opera, The Castleton Festival, The New York Shakespeare Festival, Theatre for a New Audience, Pittsburgh Opera, The Ridge Theater Company, and the Berkshire Opera Company. During his career, he has been fortunate to assist six Tony Award-winning directors: Susan Stroman, Mary Zimmerman, Bartlett Sher, Darko Tresnjak, Diane Paulus, and Jack O'Brien. He is an alumnus of the Drama League Directors Project and the Carnegie Mellon School of Drama.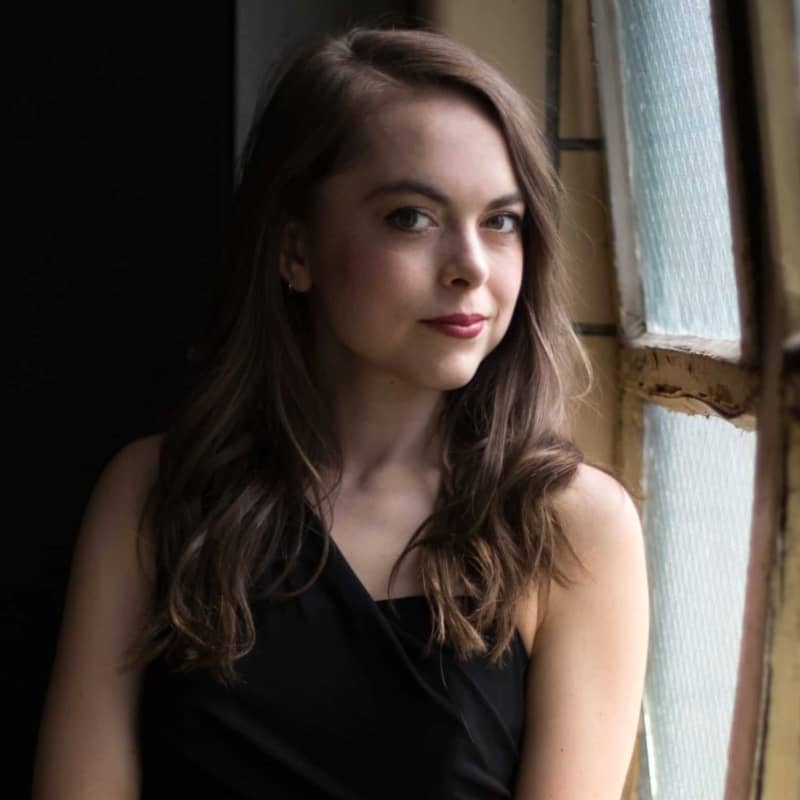 Madeline Ross
The Royal Shepherd: Tamiri & Dark Sisters: Lucinda
Praised for her exquisite tone, enthralling stage presence, and thrilling versatility, Madeline Ross made her Carnegie Hall debut in 2019 as a jazz soloist where she "scatt[ed] to beat the band" (NY Concert Review). She has performed with Portland Opera, Resonance Ensemble, The Oregon Symphony, 45th Parallel, Portland Opera To Go, and Opera Theater Oregon, and was recently hailed for "effortlessly nailing" her performance as Queen of the Night in Mozart's Die Zauberflöte (Oregon ArtsWatch). She won first prize at the National Association of Teachers of Singing classical voice competition in 2020 and has recently returned from a performance at the Kennedy Center in Washington D.C. premiering An African American Requiem with Resonance Ensemble and NEWorks Philharmonic Orchestra. She is the Founder and Executive Director of Renegade Opera, Portland's unconventional opera company. Upcoming engagements include an experimental theater production with Shaking the Tree Theatre and a role debut as First Wood Sprite in Dvorak's Rusalka with Portland Opera (Spring 2023).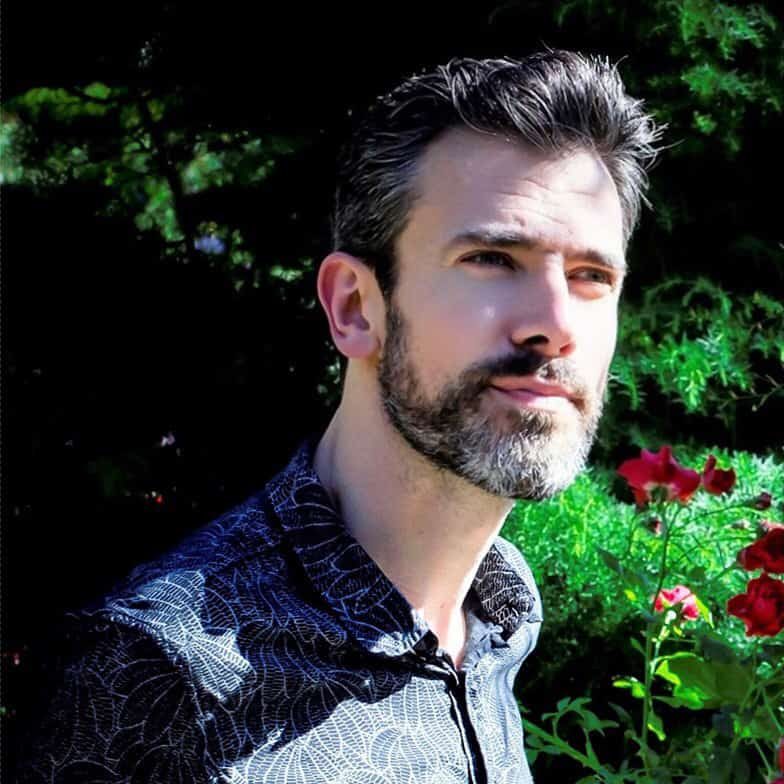 Sequoia
The Royal Shepherd: Rehearsal Accompanist
As a classical pianist, British-born Sequoia has worked for such companies as the Royal Opera House, English National Opera, Rambert Dance Company, the BBC Singers and the acclaimed music theater group, the Clod Ensemble. Since his arrival in Portland, he is now working for Portland Opera & Opera Theater Oregon. He also enjoys working in progressive music outside of the classical box, and has performed and collaborated with the likes of rock legends Mark E Smith (The Fall), Damo Suzuki (Can), and jazz/improvising luminaries Meredith Monk, Jacqui Dankworth and Barb Jungr.
James Sherman
The Royal Shepherd & Dark Sisters: Ensemble
Jim entered the theatrical world late in life. Shuttling four children to and from ballet, choir and orchestra for years led to getting engaged backstage for ballet productions for Oregon Ballet Theater. And when his two boys performed in Madame Butterfly in 2004 for Portland Opera, Jim was pulled in for his first Supernumerary role for Portland Opera's amazing production of Nixon in China. Thirty-Five productions and four opera companies later, Jim eagerly jumps at any opportunity to be on stage or backstage for an opera production. When not on stage and not busy with his day job and parenting, Jim manages a 1,500 square foot music studio he built in his home to provide teaching, rehearsing and recital space for Portland area teachers to teach to old and young alike at no cost to teachers. Jim's goal is to connect teachers and students in a warm, friendly and stress-free environment.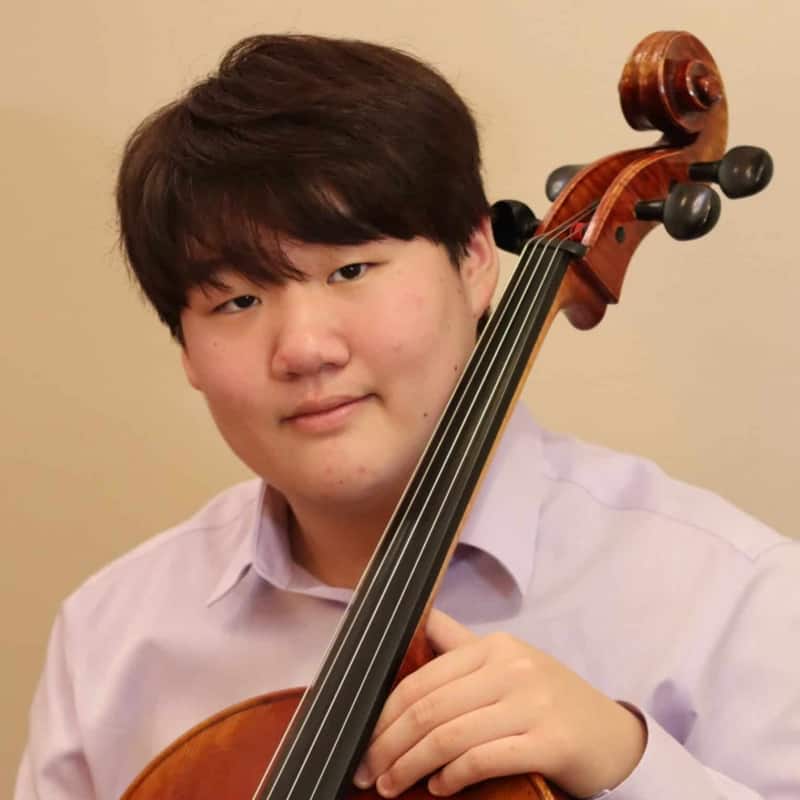 Andy Shin
The Royal Shepherd: Cello (The Pathways Program)
Andy is an eighth-grader at BASE (The Beaverton Academy of Science and Engineering) middle school in Portland, Oregon. He started cello at age nine and has been playing for four years. Since then, he has been involved in a variety of ensemble platforms such as PYP (Portland Youth Philharmonic Orchestra), Camerata PYP, and Portland Summer Ensemble. Andy has participated in several competitions; he is a winner of the 2023 MetroArts Young Artist Debut! Competition and will perform a solo with members of the Oregon Symphony Orchestra in May. He is a second-place winner in the 2023 American Protégé International Competition, winner at the 2022 Baroque Festival, finalist for the 2022 Oregon Mozart Player soloist competition, and was selected to perform at the 2022 ASTA National Conference master class. He also performed at masterclasses with guest artists such as Peter Prosser from the Mannes School of Music (NYC), Ben Hong, Joshua Roman, and Ted Nelson. As a winner of the MetroArts YAD competition, he has been interviewed by All Classical Portland radio station's On Deck With Young Musicians program. Currently, he is studying with Maria Shim. Outside of music, Andy enjoys many hobbies. He loves to cook, bake, and hang out with friends.
Nathan Stark
Dark Sisters: Prophet/King
Praised by the Washington Post for his voice of "unearthly power," The Houston Press as a "blow away singer," and the San Jose Mercury News as a "natural comic actor," the award-winning bass-baritone Nathan Stark has performed on opera, concert stages throughout the United Staes, Europe and China.
Mr. Stark has performed over 50 professional roles with opera houses throughout North America, including the Metropolitan Opera, Cincinnati Opera, Arizona Opera, Atlanta Opera, Virginia Opera and Opera San José. Some of his noted operatic roles have included Mustafà in L'Italiana in Algeri, both Don Basilio and Don Bartolo in il Barbiere di Siviglia, Leporello and il Commendatore in Don Giovanni, Monterone and Sparafucile in Rigoletto, Colline in La Bohème, Banco in Macbeth and Bottom in A Midsummer Night's Dream. Stark has performed as a concert soloist with the Symphony Orchestras of Boston, Detroit, Atlanta, Cincinnati, Holland, and San Diego, as well as with the Cincinnati Chamber Orchestra, Long Beach Symphony, and Chicago Philharmonic.
This season he is at the Metropolitan opera covering Angelotti in Tosca, Prison Guard in Lady Macbeth of Mtsenk, and Fourth Noble in Lohengrin. Last summer, he sang the role of Moscone in Harvey Milk for Opera Theatre of Saint Louis. During the 2020-2021 season, Stark was an artist in residence with Opera San José, writing and constructing on line music programs and fundraisers for the company during the height of the COVID-19 pandemic. The season also saw his return to Dayton Opera for the role of Leporello in Don Giovanni; Opera Santa Barbara for Fasolt in Das Rheingold; and Opera Theatre of Saint Louis for Simone in Gianni Schicchi. He also appeared in a digital recital with Opera Modesto. Cancellations included company returns to the Valdosta Symphony Orchestra as the bass soloist in The Defiant Requiem and Opera Theatre of Saint Louis as Dr. Podsnap for the world premiere of Tobias Picker's Awakenings.
In the 2021-2022 season, Stark is scheduled to make his company debut as Nerbulone in Cavalli's Eliogabalo with West Edge Opera. He will return to Opera San José as the Sorcerer in Dido and Aeneas.
Stark has given recitals throughout the United States and Germany, concerts at the Great Wall of China, the U.S. Colombian Embassy, U.S. French Embassy, U.S. Austrian Em- bassy and the Washington National Cathedral. In 2005 he was chosen to be the featured soloist for the nationally televised opening ceremonies of the Air Force One exhibit at the Ronald Reagan Library for former First Ladies, Laura Bush and Nancy Reagan, members of the United States Senate and Congress, and President George W. Bush.
Stark has been a recipient of awards from the 2010 Fort Worth Opera Marguerite McCammon Competition, the Opera Columbus Vocal Competition, the Brentwood Artist of Tomorrow Competition, the Sun Valley Opera Competition, the Westwood Vocal Competition, the Burbank Aria Competition, the Palm Springs Opera Guild Vocal Competition, the Pasadena Opera Guild Competition, and the Opera Buffs Competition. He took first place in the Cincinnati College-Conservatory of Music's Corbett Scholarship Opera Competition and the Classical Singers Association Vocal Competition in Los Angeles, and was the 2006 San Diego District winner of the Metropolitan Opera National Council Competition.
A native of Hughson, California, Stark holds degrees in vocal & opera performance from California State University, Long Beach (B.M. & M.M.) and the University of Cincinnati College-Conservatory of Music (A.D.) His voice teachers have included Dr. Lewis Woodward, Dr. Cherrie Llewellyn, Ms. Shigemi Matsumoto, Ms. Marilyn Horne and Mr. Kenneth Shaw.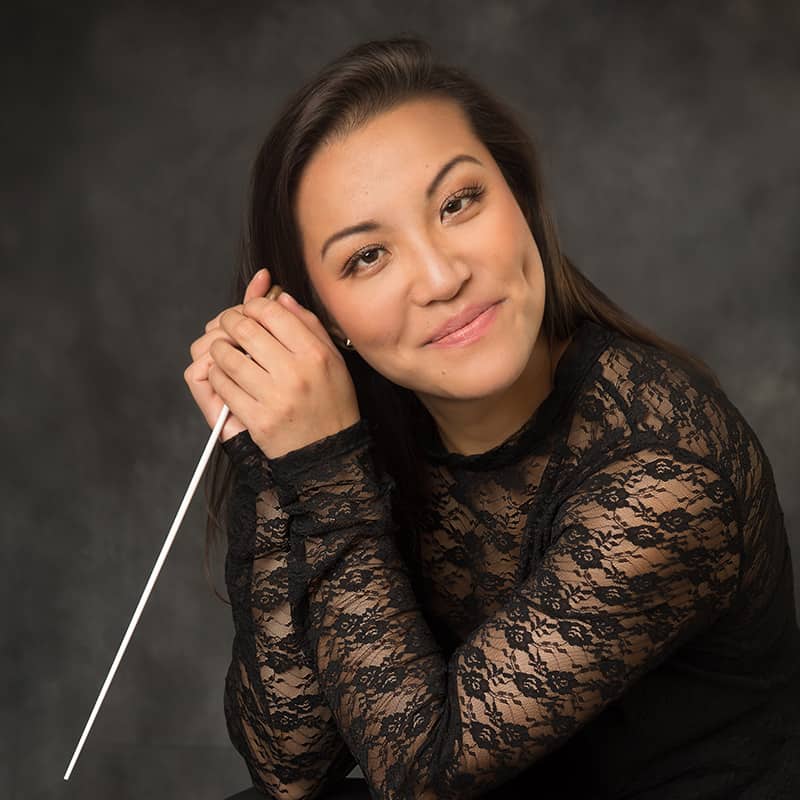 Deanna Tham
Dark Sisters: Conductor (The Pathways Program)
Powerfully compelling, Deanna Tham is known for her captivating and tenacious spirit on and off the podium. She is currently Associate Conductor of the Oregon Symphony and Music Director of the Union Symphony Orchestra.
Previously, Tham was the Assistant Conductor of the Omaha Symphony, following her tenure as Assistant Conductor of the Jacksonville Symphony and Principal Conductor of the Jacksonville Symphony Youth Orchestras. She has performed at the Proms in Royal Albert Hall, Elbphilharmonie Hamburg, and Seiji Ozawa Hall at the Tanglewood Music Center working with Maestros James Ross, Joseph Young, and Sir Antonio Pappano, as well as renowned artists Isobel Leonard and Joyce DiDonato. Highlights of the 2019-2020 season included leading the Jacksonville Symphony's first educational Martin Luther King Jr. tribute concert and the Union Symphony's first city-community Pops on the Plaza collaboration of Latin American pop and classical music. Additional recent engagements include Assistant Conductor of the National Youth Orchestra (NYO-USA and NYO2) and Assistant Conductor of the Chicago Sinfonietta with Maestro Mei-Ann Chen. Tham has also regularly guest conducted with the Boise Philharmonic and Ballet Idaho, is a cover conductor for the San Francisco Symphony, and has worked with world-renown soloists in a variety of genres including Melissa White, Capathia Jenkins, and Cherish the Ladies. Her past positions include those with the Boise Philharmonic Youth Orchestra, Louisville Youth Orchestras, and American Chamber Opera.
Tham is also equally at home with a variety of musical genres. These projects include full-feature blockbuster movie scores, collaborations with Cirque Musica, Broadway artists, pop cover groups like Jeans 'n Classics, and independent artists like Silent Film Score connoisseur and composer, Ben Model.
Tham is a staunch advocate of music education from school education engagement and youth orchestral performing opportunities to lifelong learning. In 2018, Tham and the Jacksonville Symphony Youth Orchestras made their debut at Walt Disney Concert Hall in Los Angeles, California. Previously, she has worked with the Louisville Youth Orchestras and the Boise Philharmonic Youth Orchestra. Tham has also created and presented educational concert series in a variety of formats. She has written original school-curriculum-based programs for numerous symphony orchestras and collaborated with organizations including Really Inventive Stuff, the Louisville Ballet Academy, and the International Culinary Arts and Sciences Institute.
Tham is a second-place winner in the Youth Orchestra Conductor division of the American Prize. She was invited as a scholarship participant to the 2015 Conductors Guild Conductor/Composer Training Workshop at the Cabrillo Festival of Contemporary Music working with renowned conductors Marin Alsop and James Ross. Additionally, she was the recipient of the 2015 Wintergreen Summer Music Academy Conductor's Guild Scholarship where she worked with Master Teacher Victor Yampolsky. In 2013, Tham's work with the National Music Festival was featured on National Public Radio as well as American Public Media. She has also made appearances at the Cadaques Orchestra International Conducting Competition.
Tham has been the Music Director of the American Chamber Orchestra. Her work with the company includes a groundbreaking semi-staged version of Mendelssohn's Elijah, and Mozart's Don Giovanni, staged in English for the South Chicago community. During her time with the company, she worked with many talented musicians, including those who sing with the Lyric Opera of Chicago. She made great strides making the company a strong presence in the Chicago area and has sold recordings of her work with the company on iTunes.
Tham holds a Professional Studies Certificate from the Cleveland Institute of Music in Orchestral Conducting studying with Maestro Carl Topilow. She received her Master of Music in conducting with conducting program honors from Northwestern University studying with Dr. Mallory Thompson. There, she additionally worked with Dr. Robert Harris, Victor Yampolsky, and Dr. Robert Hasty, making her equally at home in wind, orchestral, and vocal settings. Tham received her Bachelor of Fine Arts degree in horn performance studying with Dennis Abelson, Zachary Smith, Bob Lauver, and Steven Kostyniak at Carnegie Mellon University.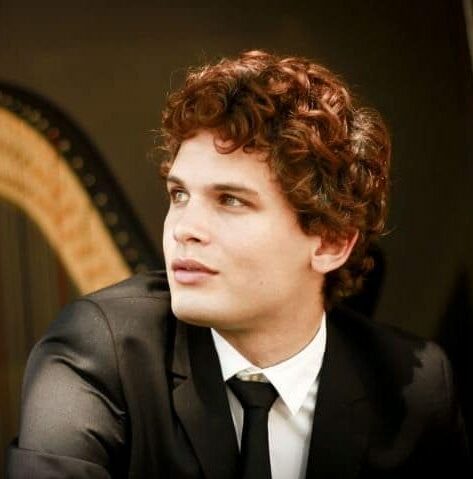 Matthew Tutsky
Dark Sisters: Harp
Matthew is currently Principal Harpist with New Mexico Philharmonic, Portland Opera, Oregon Ballet Theatre, and Boise Philharmonic, while also serving first call 2nd Harpist with Oregon Symphony. His performances have been acclaimed at premier concert venues such as Carnegie Hall in NYC and Harpa in Iceland. He has served as Acting Principal Harpist with the Utah Symphony/Utah Opera and permanent guest artist and substitute harpist with Iceland Symphony, Seattle Symphony, Utah Symphony/Utah Opera, Oregon Symphony, Spokane Symphony, Louisiana Philharmonic Orchestra, and Anchorage Symphony.
He has performed with James Taylor, Andrea Bocelli, Renée Fleming, Kristin Chenoweth, Ben Folds, The Mormon Tabernacle Choir, Johnny Mathis, Emmanuel Pahud, and other leading musical icons.
Matthew regularly performs at prestigious summer music festivals including Grand Teton Music Festival, Oregon Bach Festival, Lakes Area Music Festival, Deer Valley Music Festival, and McCall Summer Musicfest. He participated in a premier of John Luther Adams' "Become Desert" with Seattle Symphony and joined them on tour with this work. He has recorded with Seattle Symphony and Utah Symphony. As a member of the American Harp Society and Vice-President of the Boise Chapter, he gave honorarium recitals with Connecticut Chapter of the American Harp Society and Lyon & Healy West. Matthew has performed concertos with Utah Symphony, New Mexico Philharmonic, Boise Philharmonic, Boise Baroque Orchestra, Chamber Music of the Springs, Washington Idaho Symphony, and Nova Chamber Music Series. He received a perfect score for a grant from the Idaho Commission on the Arts in 2012.
Matthew holds teaching posts as Adjunct Professor of Harp with The University of Portland and Reed College. Matthew is a graduate of the Manhattan School of Music and Juilliard's Pre College and is tremendously grateful for his mentors, especially Deborah Hoffman, former Principal Harpist of the Metropolitan Opera, and Emily Oppenheimer, former Juilliard Pre College Harp Professor.
Matthew is based in Portland, Oregon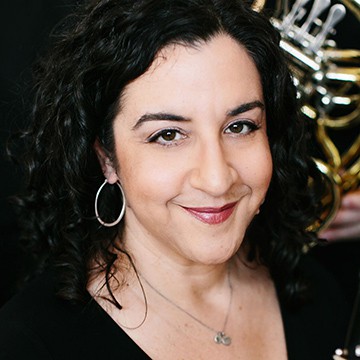 Karen Wagner
The Royal Shepherd & Dark Sisters: Oboe/English Horn
Karen Wagner joined the Oregon Symphony in 1999 as Assistant Principal/Second Oboe. Before moving to Portland she played with the Louisville orchestra and was a fellow with the New world Symphony.
Karen holds a Bachelors Degree in Oboe Performance from the State University of New York at Buffalo and a nearly completed Masters from the University of Southern California. Karen's most treasured mentors include Allan Vogel, John de Lancie and Ronald Richards.
For over 20 years she has enjoyed an active playing career and a robust private teaching studio. Karen is a member of 45th Parallel Universe Chamber Orchestra and a founding member of the Arcturus Quintet. Karen was honored to serve as the Principal Oboist of the Cabrillo Festival of Contemporary Music from 2001-2018.
She lives in Southeast Portland with her husband Dave where they enjoy all that the Pacific Northwest has to offer.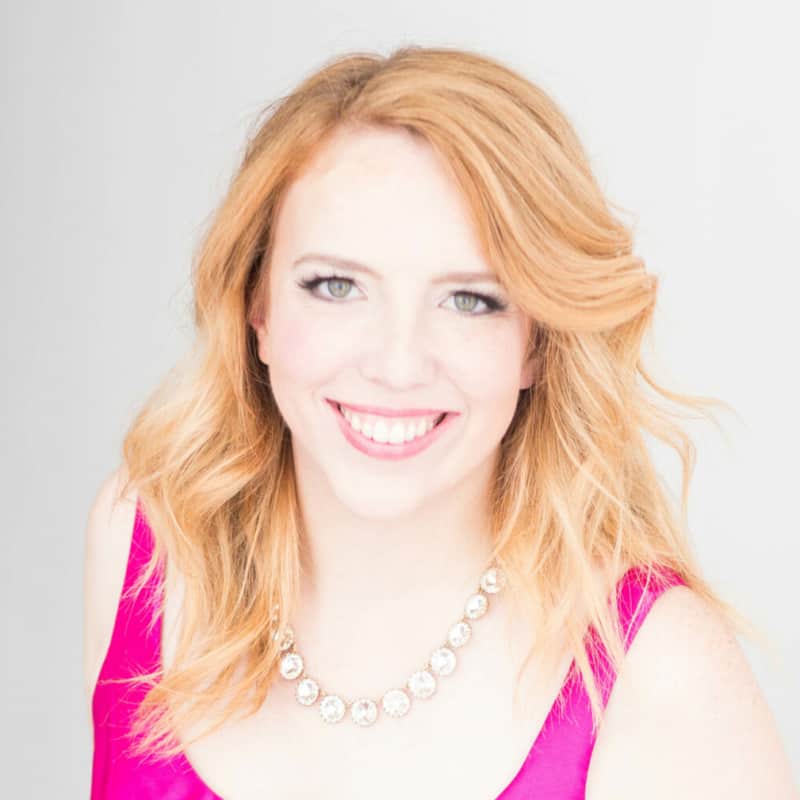 Emily Evelyn Way
Dark Sisters: Zina
Hailed as "captivating in her performance" (The Register-Guard, Eugene OR) and "lovely… with a well-focused tone" (Opera News), Emily Evelyn Way is a lyric coloratura soprano based in the Pacific Northwest. She was most recently seen as Madame Herz in Der Schauspieldirektor in a joint production with Opera Bend and the Central Oregon Symphony, in recital at Oktoberfest in Mt. Angel, Oregon, and in concert with Ping and Woof Opera, singing works from L'Elisir d'Amore, Don Pasquale and La Traviata. Past roles include Adina in L'Elisir d'Amore (Opera Bend), Adele in Die Fledermaus (Eugene Opera), Laurie in The Tender Land, Héro in Berlioz's Béatrice et Benedict (Eugene Opera), Beth in Little Women (Eugene Opera, Astoria Music Festival), Flora in The Turn of the Screw (Eugene Opera, Opera on the Avalon), and Carrie Pipperidge in Carousel (Opera on the Avalon). Ms. Way has also served as the cover for Violetta in La Traviata (Amore Opera) and Lucia in Lucia di Lammermoor (New York Opera Exchange). Other notable operatic roles include Königin der Nacht, Nanetta, and Zerlina, among others. This season, Ms. Way is thrilled to make her debut with OrpheusPDX in Portland, OR.
An active recitalist and a frequent presence on concert stages, she was recently seen as the Soprano Soloist in Pergolesi's Stabat Mater in the Portland area. Notably, Ms. Way made her Mexican debut as the Soprano Soloist in Carmina Burana with the Festival Alfonso Ortiz Tirado in Alamos, Mexico, which was broadcast nationally. She has performed in concert with Music at the Gate in Queens, NY as the Soprano Soloist in Mozart's Requiem and Exsultate, Jubilate, as well as Bach's Cantata No. 51. Other notable concerts include Pergolesi's Stabat Mater at Immaculate Conception Church in Bronx, NY, and a recital series based at St. Martin and St. Luke's Episcopal Church in Manhattan.
In addition to singing, Ms. Way is an accomplished church musician and organist, currently serving as Director of Music at St. Mary Catholic Church in Mt. Angel, Oregon. She leads their Parish Choir and Children's Choir, and founded their Schola Cantorum, which focuses on Renaissance polyphony. Ms. Way is a graduate of Manhattan School of Music and St. Olaf College. She currently resides in Portland, Oregon with her husband and two daughters.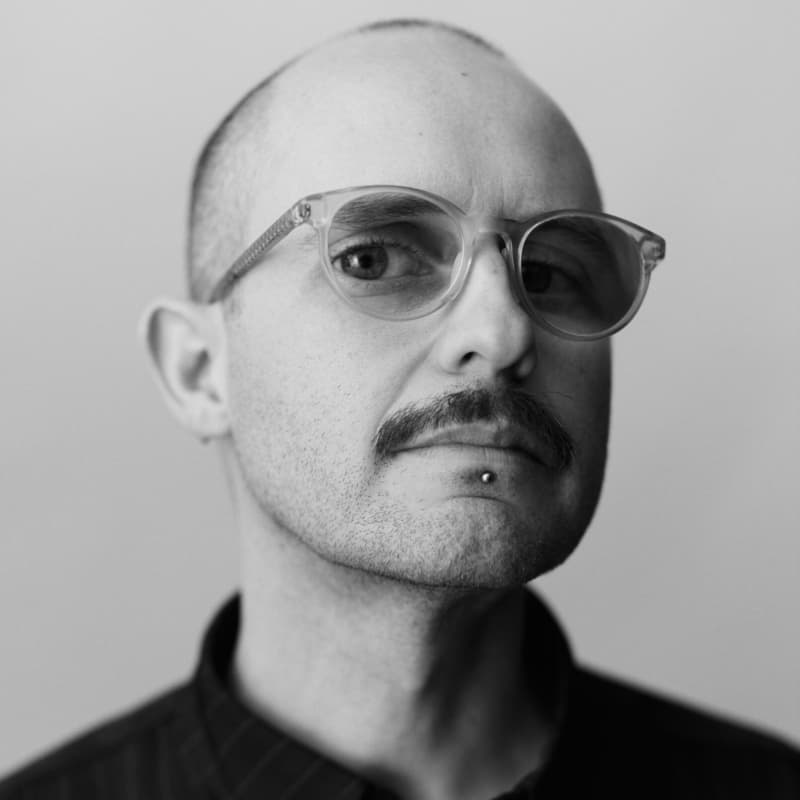 Solomon Weisbard
Dark Sisters: Lighting Designer
Originally from Portland, Solomon has created original works in drama, opera, dance, and music across the U.S., Canada, Dominican Republic, Germany, Greece, Italy, Russia, and Slovenia. Highlights include Otello (Festspielhaus Baden Baden, Germany); Il Trovatore (Teatro Comunale di Bologna and Teatro Regio di Parma, Italy); Oedipus (Ancient Theatre of Epidaurus, Greece; Ancient Theatre of Pompeii, Teatro Olimpico di Vicenza, and Teatro Mercadante di Napoli, Italy) all with Robert Wilson; Macbeth (directed by John Doyle at Classic Stage Company, NYC); The Shape of Things (created by Carrie Mae Weems at the Park Avenue Armory, NYC); Duat (Soho Rep, NYC); and Men on Boats (World Premiere: Playwrights Horizons/Clubbed Thumb, NYC).
Solomon's work in dance, dance/theatre and avant-garde music includes original full-length pieces with Alethea Adsitt, Jennifer Archibald, Jonah Bokaer, Christine Bonansea, Joshua Beamish/MOVE, Maria Chavez, Ximena Garnica/Leimay, Lane Gifford, Invisible Anatomy, LoudHound Movement, Martha Graham Dance Company, Ofelia Loret de Mola, Patrick Lovejoy, Belinda McGuire, Stefanie Nelson, Patricia Noworol, The Nerve Tank (as resident designer), Jennifer Harrison Newman, Jen Shyu, Waxfactory, and four major works as associate set designer with Bill T. Jones.
Solomon was the associate lighting designer on the Broadway production of Jitney and its national tour, which earned lighting designer Jane Cox a tony nomination. Other associate credits include two seasons at the Festival dei Due Mondi in Spoleto, Italy (with AJ Weissbard); the Holland Festival in Amsterdam (for Tyler Micoleau); and at Minnesota Opera (with Steve TenEyck) among many others.
With students, Solomon served as a guest artist with Bard, Barnard, Connecticut College, City College, Columbia, DeSales, East Stroudsburg, Fordham, NYU/Tisch, The New School, Princeton, University of the Arts, University of Rochester, Quinnipiac, Willamette, and Yale. He is Assistant Professor of Scenic/Lighting Design at Portland State University.
He holds a BFA from Ithaca College and an MFA from the Yale School of Drama, where he was a Stanley R. McCandless Fellow and a George Harrison Senie Scholar.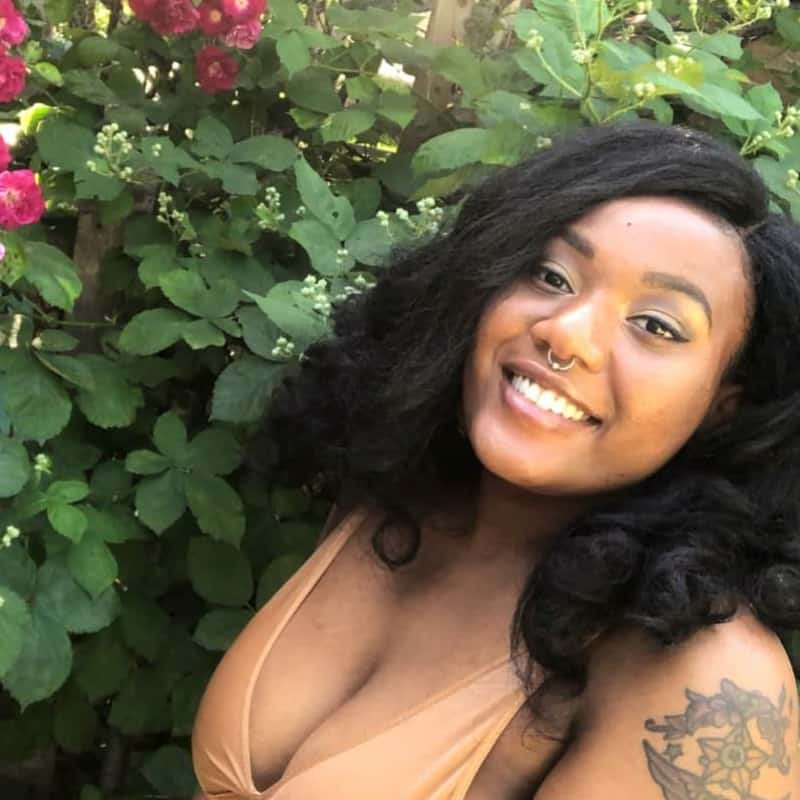 Lucy Wells
Costume Shop Manager & Dark Sisters: Costume Designer
Lucy is a Portland-based theatrical costume designer and is thrilled to join Orpheus PDX. Lucy is originally from Jackson, Mississippi and holds a B.F.A. from the University of Southern Mississippi. Lucy spent the early years of her career working freelance as a costume designer, costume stitcher, and wardrobe supervisor at such theaters as Oregon Shakespeare Festival, Idaho Shakespeare Festival, Berkshire Theatre Group in Massachusetts, TheatreWorks Silicon Valley, The Rev Theatre in upstate New York, and Shakespeare & Company in Massachusetts. Lucy is currently the costume shop supervisor/resident costume designer at Portland Center Stage. Lucy is always thankful and excited to be a part of the collaborative processes of bringing a production to life. Lucy is a member of IATSE local 154.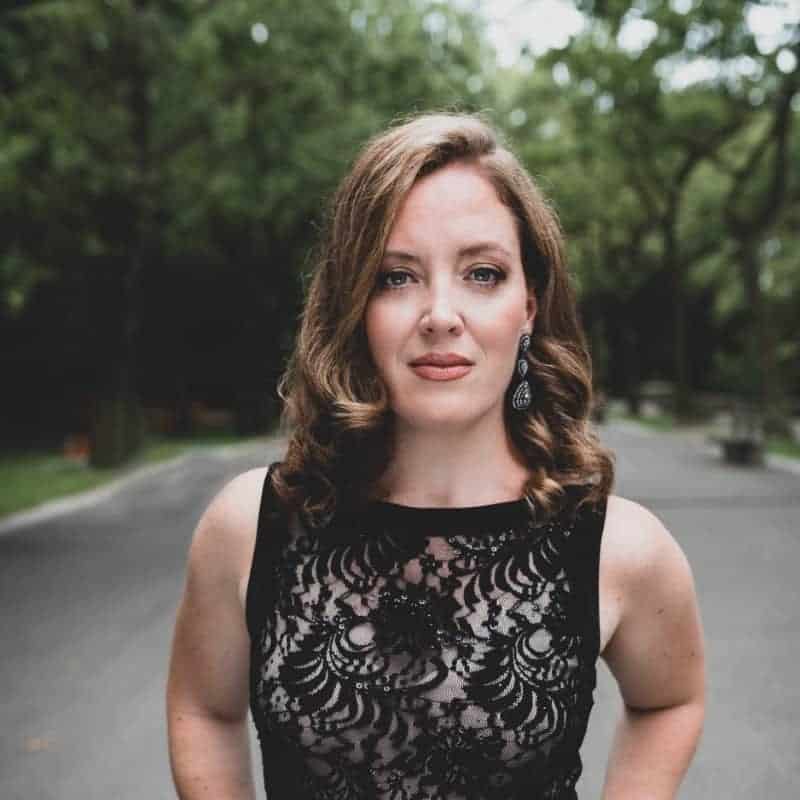 Katherine Whyte
The Royal Shepherd: Aminta
Katherine Whyte has delighted audiences and critics alike on opera and concert stages across her native Canada, the United States and Europe. Opera Today has praised her "keen artistic sensibility" while the San Francisco Classical Voice singled out "her glamorous, vibrato-rich voice". Following her Metropolitan Opera debut in 2007 in Strauss' Die Ägyptische Helena, she has returned to the company for productions of Iolanta, Rigoletto, Jenufa, The Gambler, The Enchanted Island, Two Boys, Parsifal, Don Giovanni, Così fan tutte, and Suor Angelica.
Recent and upcoming engagements for Ms. Whyte include her celebrated Countess Almaviva in Le nozze di Figaro with Intermountain Opera Bozeman; her debut with Syracuse's Symphoria performing Poulenc's Gloria; a return to New Choral Society as soprano soloist in Carmina Burana; a solo recital at Gordon College, her debut with Heartbeat Opera as Agathe in Der Freischütz; and Fiordiligi in Così fan tutte with Opera Grand Rapids.
The 2018-19 season for Ms. Whyte included Beethoven's Ninth Symphony with the Louisiana Symphony, joining Opera Hong Kong as Donna Anna in Don Giovanni, Adina in L'elisir d'amore with Grand Junction Symphony Orchestra, and returning to The Metropolitan Opera for their production of Suor Angelica. The 2017-2018 season saw her back at The Metropolitan Opera for Parsifal as well as appearing in concert with the Mountain View International Festival of Song and the Orquesta Sinfonica Mineria for Beethoven's Ninth Symphony. Additionally, she appeared with both Charlottesville Opera and the Norwalk Symphony as the Countess in Le nozze di Figaro. The 2016-2017 season included her return to The Metropolitan Opera for productions of Jenufa and Rigoletto, a debut with the Edmonton Symphony for Handel's Messiah, Fauré's Requiem with Manhattan Concert Productions at Carnegie Hall, and her debut with the Qingdao Symphony Orchestra in China. The 2015-2016 season saw her debut with the Dallas Opera as Pousette in Manon, a return to the Metropolitan Opera for their production of Rigoletto, the Countess in Le nozze di Figaro with Opera Saratoga, and concerts with the Kaohsiung Symphony Orchestra and the Orchestra of China's National Opera at the Meet in Beijing Arts Festival.
Other notable operatic appearances include the title role of Iphigénie en Tauride and Iris in Semele with Canadian Opera Company, the Countess in Le nozze di Figaro with the Princeton Festival, her Vancouver Opera debut as Donna Anna in Don Giovanni, Gilda in Rigoletto with English National Opera, the Countess in Le nozze di Figaro with Virginia Opera and Opera Hamilton, Pamina in Die Zauberflöte with Michigan Opera Theatre, Euridice in Gluck's Orfeo ed Euridice with Atlanta Opera, and Iphis in Handel's Jephta with Opéra National de Bordeaux.
Ms. Whyte's appearances on the concert stage include Beethoven's Mass in C Major, Stravinsky's Pulcinella, Mozart's Requiem, and Handel's Messiah with the Houston Symphony, Neilsen's Symphony No. 3 with the San Francisco Symphony, Carmina burana and Beethoven's Symphony No. 9 with the National Chorale, Beethoven's Symphony No. 9 with the Arkansas Symphony Orchestra, Mozart's Mass in C-minor with the Vancouver Symphony, Brahms' Ein deutsches Requiem with the Orquesta Sinfónica Nacional de Costa Rica, Mendelssohn's A Midsummer Night's Dream with the Colorado Symphony, Handel's Messiah with the National Symphony Orchestra, Beethoven's Ninth Symphony with the Orquesta Sinfonica Nacional, Mozart's Requiem with the Alabama Symphony Orchestra,
and Handel's Messiah with the New Choral Society. The winner of the 2007 Alice Tully Recital Competition, Ms. Whyte made her Carnegie Hall debut in Solo recital at Weill Hall in 2008.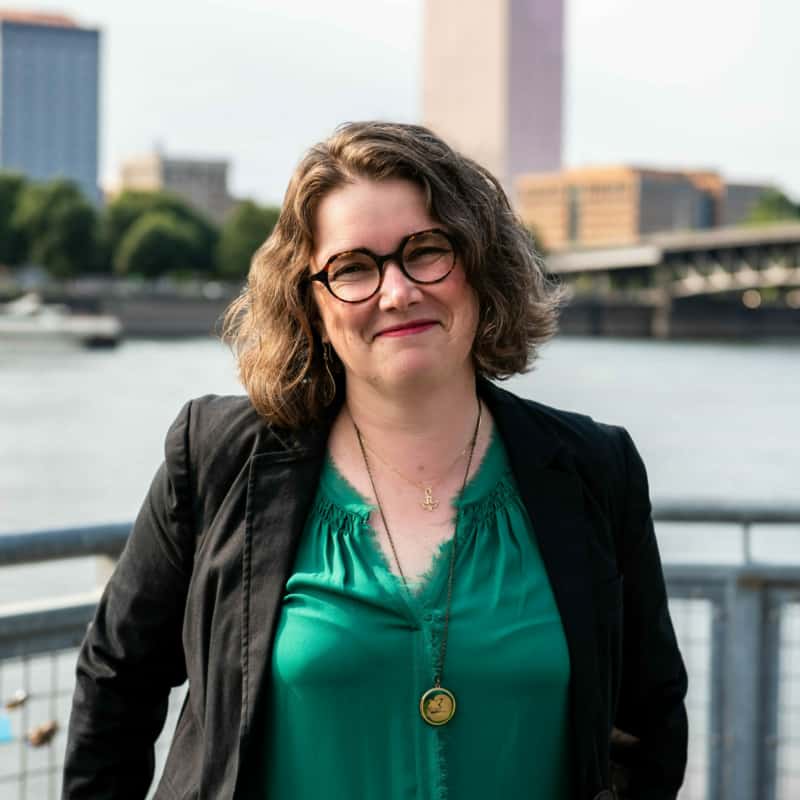 Megan Wilkerson
Dark Sisters: Set Designer
Megan is a Resident Artist at Artists Repertory Theatre and a member of Chicago's only women's theatre, The Rivendell Theatre Ensemble. Megan was a founding member of the artistic collective Bad Soviet Habits and was a Recipient of Chicago's After Dark Award for Outstanding Scenic Design for her "thoroughly creepy" set for Marisa Wegrzyn's PSALMS OF A QUESTIONABLE NATURE. Her Design work has also been recognized by The Chicago Tribune, The Oregonian, The Austin Critics Circle, and The Milwaukee Journal Sentinel.
Regionally, Megan has worked with The Oregon Shakespeare Festival, The Milwaukee Repertory Theatre, Third Rail Repertory Theatre, The New Conservatory, Renaissance Theaterworks, Milwaukee Chamber Theatre, Profile Theatre, Bag & Baggage Productions, Broadway Rose, Teatro Milagro, deFunkt Theatre, Theatre Vertigo, Northwest Classical Theatre, Next Act Theatre, The Skylight Opera, First Stage Children's Theatre, The Michigan Opera Theatre, Pittsburgh Public, Portland Center Stage, and the Portland Opera.
In addition to her theatre work, Megan has worked as an art director and designer for companies such as LAIKA, Jack Morton, Sparks, and Derse Exhibits.
Megan is a member of United Scenic Artists 829 and holds an MFA in Design for the Theatre from the University of Texas at Austin. She has taught theatre, design and art courses at Lewis & Clark College, Michigan State University, The University of Wisconsin Milwaukee, St. Norbert College, Randolph-Macon Women's college, Carroll University, Central Michigan University, the Milwaukee High School for the Arts, and The University of Minnesota in Minneapolis/ St. Paul.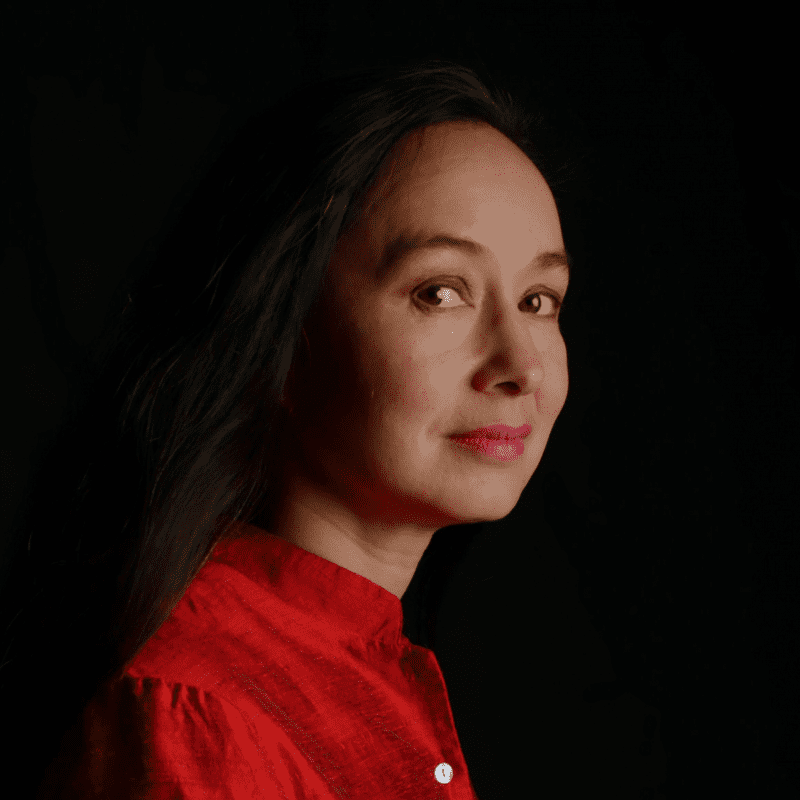 Sumi Wu
Properties Master & Videographer
Sumi is a sculptor and designer whose works include large-scale public commissions in metal and glass. She creates properties and costumes for dance and theatre and has designed original and experimental works with Imago Theatre and world premieres with Milagro Theatre. She designs and builds kinetic sculptural sets for dance and opera, including Skinner|Kirk Dance Ensemble and Portland State University's opera program. She is resident properties designer for Oregon Ballet Theatre and PSU. Sumi is delighted to collaborate with OrpheusPDX.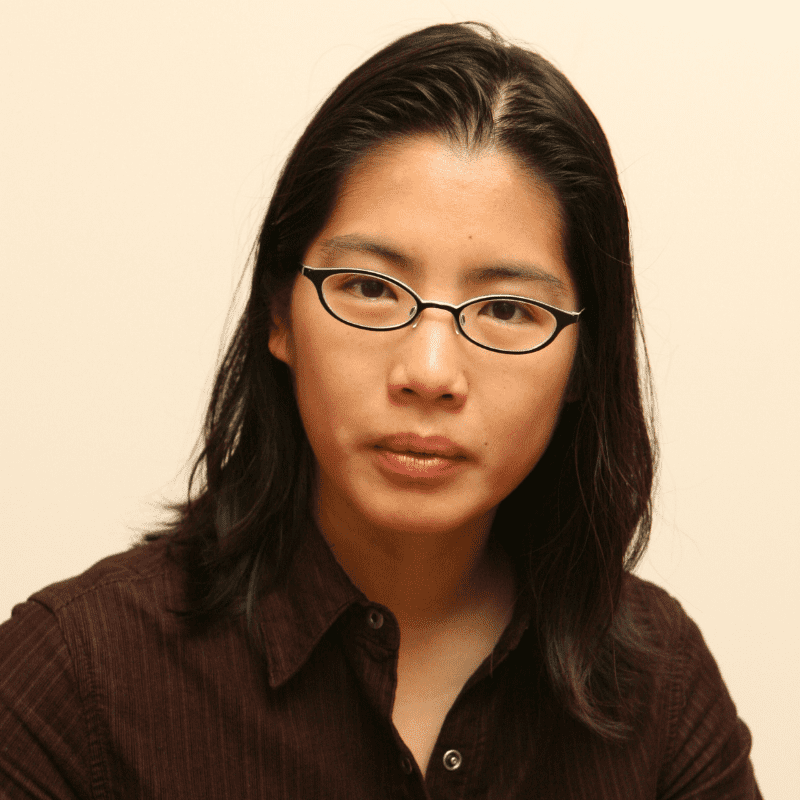 Connie Yun
The Royal Shepherd: Lighting Designer
Connie Yun is pleased to be part of the OrpheusPDX 2023 season. Recent PNW designs include THE THIN PLACE for ACT Theatre, RED RIDING HOOD for Seattle Children's Theatre, Disney's BEAUTY AND THE BEAST for 5th Avenue Theatre, and TOSCA for Portland Opera. Other recent designs include THE ELIXIR OF LOVE for Palm Beach Opera, LUCIA DI LAMMERMOOR for Madison Opera, and the world premiere of THE RISE AND FALL OF HOLLY FUDGE at Merrimack Repertory Theatre. She has also previously designed for Seattle Rep, On the Boards, Tacoma Opera, Pacific Musicworks, The Cabiri, Cornish College, Bellevue College, University of Puget Sound, San Francisco Conservatory of Music, Kentucky Opera, Arizona Opera, Minnesota Opera, and Canadian Opera Company. This spring, her designs will be seen at Hawaii Opera Theater for MADAMA BUTTERFLY, Seattle Opera for LE NOZZE DI FIGARO, and Des Moines Metro Opera for A MIDSUMMER NIGHT'S DREAM.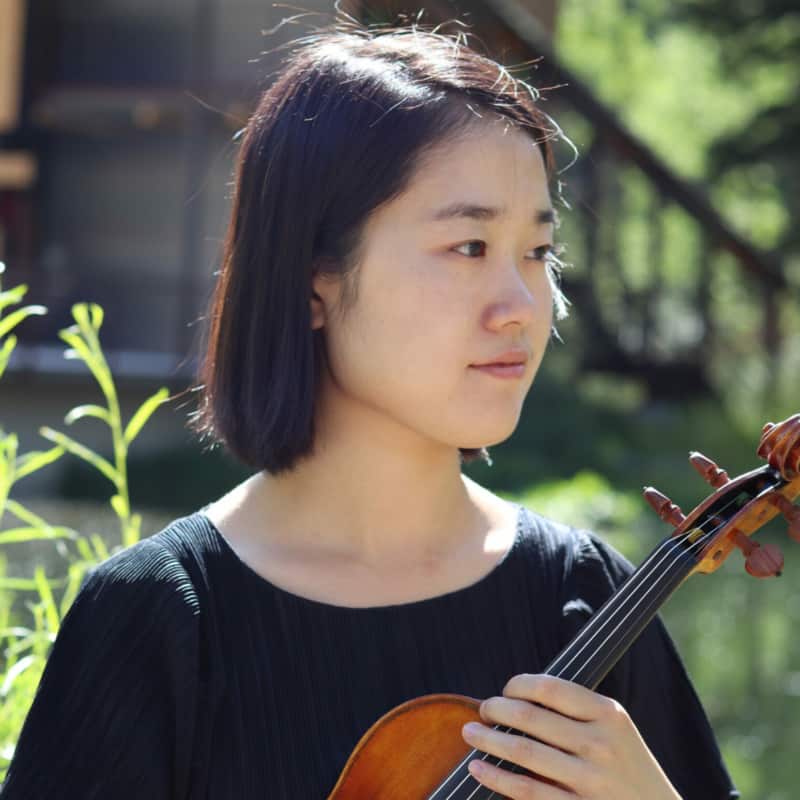 Shanshan Zeng
The Royal Shepherd: Violin
Shanshan Zeng, who is originally from Chengdu, China, began learning to play the violin at the age of four with her great aunt Wenyuan Chen at the Sichuan Conservatory of Music.
While studying in Boston, she was a member of the Boston Philharmonic Orchestra, the Atlantic Symphony Orchestra, and Phoenix (The Orchestra Reborn). She has also played in the American Youth Symphony, was the assistant concertmaster of the Debut Chamber Orchestra in Los Angeles, and has played as a substitute with the Milwaukee Symphony Orchestra.
Shanshan participated in the Tanglewood Music Center Festival in 2011 and 2012, serving as concertmaster under the baton of Maestro Kurt Masur. Her other festivals have included the Valdres Festival in Norway, the Gonggeng Academy in China, the Schleswig-Holstein Musik Festival in Germany, and the Aspen Music Festival. She has collaborated with Maestro Christoph Eschenbach, Maestro Edo De Waart, cellist Qiang Tu of the New York Philharmonic, and violist Yunjie Liu of the San Francisco Symphony Orchestra. In addition, she performed with Yo-Yo Ma at the 38th Kennedy Center Honors (2015) honoring Maestro Seiji Ozawa.
Shanshan earned her bachelor's degree at the San Francisco Conservatory of Music, studying with Wei He and Ian Swensen, and her master's degree from the New England Conservatory of Music, studying with Lucy Chapman. She graduated from the Thornton School of Music at the University of Southern California in May 2019 with a graduate certificate, studying with Bing Wang.
Shanshan has been a member of the Oregon Symphony since the fall of 2019.