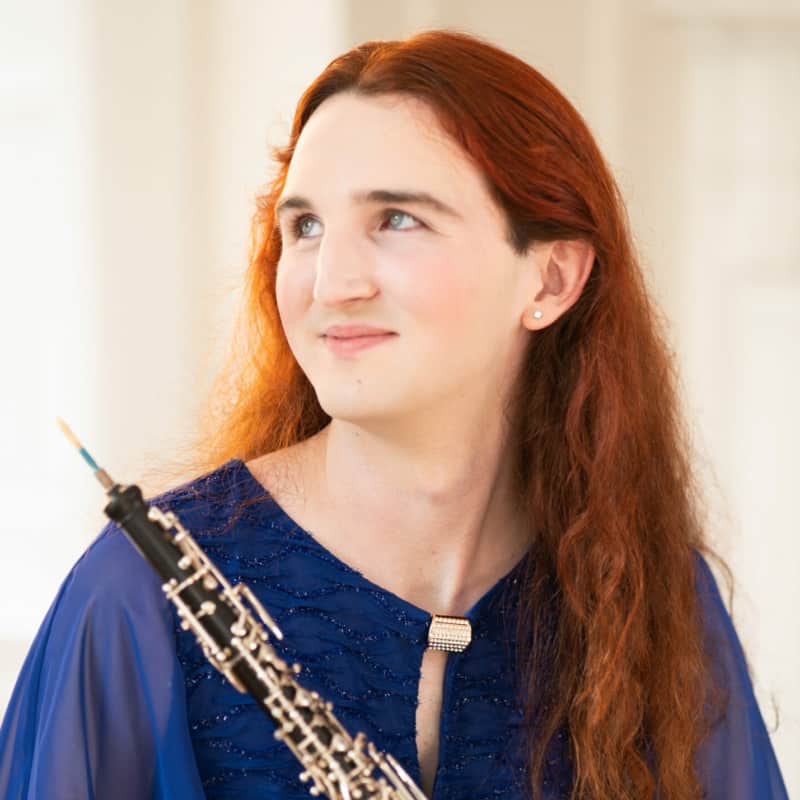 The Royal Shepherd: Oboe/English Horn
Ben Price is an oboist and creative whose mission is to create stories and memories through music. They currently hold the David H. Springman Memorial Fellowship at Philadelphia's Curtis Institute of Music, where they regularly perform as part of the Curtis Symphony Orchestra, and as a soloist and chamber musician in the Curtis Student Recital Series. While growing up in Portland, Oregon, Ben was an oboist with the Vancouver Symphony Orchestra USA (VSO) and principal oboist of the Portland Youth Philharmonic. They are also a three-time member of Carnegie Hall's National Youth Orchestra of the United States of America, and toured Europe with the orchestra in summer 2022.
An avid contributor in the sphere of multimedia, Ben performed as part of the launch of Site-Specific Dances at the Paul Taylor Dance Company in New York City, a video installation with live dancing that highlights the relationship between music, dance, and nature. Ben has also recorded tracks for the Barnes Foundation and Curtis Institute's joint presentation of John Dowell: A Public Intimate Space, a project that celebrates the heritage of Philadelphia's Rittenhouse Square neighborhood and contemplates architecture and urbanism.
Ben Price is a first-prize laureate of competitions with the VSO, Metropolitan Youth Symphony, and Oregon Sinfonietta, and has appeared as concerto soloist with them and with the Portland Youth Philharmonic. They have also performed as guest Principal Oboe with Symphony in C, Pink Martini, and the MYSfits Chamber Orchestra.
Ben currently studies with Katherine Needleman and Philippe Tondre at Curtis, and owes an enormous debt to their former teachers Karen Wagner and Dagny Rask Regan in Portland, without whom they would not have gotten very far. When not immersed in the metaphysical experience of music, Ben thoroughly enjoys a good map, a good book, and a good journey at sunset.