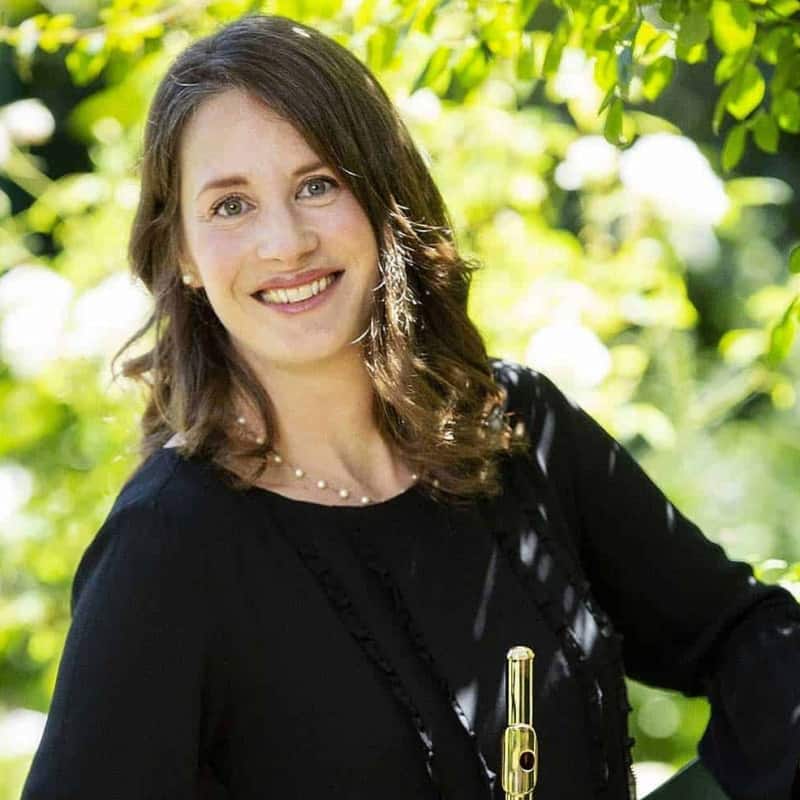 The Royal Shepherd: Flute
The Dailyfreeman newspaper of Rhinebeck, New York writes,"Curiosity and
courage light her discoveries; seeking the infinite with virtuosic agility, her tone
wakes the eternal…and holds us in thrall". Dr. Emily Stanek is an active freelance
musician with various orchestras and chamber groups throughout Oregon
including the Oregon Symphony, Eugene Symphony, Eugene Opera, Corvallis
Symphony, Oregon Mozart Players, 45th Parallel Universe, and the Oregon Bach
Festival. Her past positions include principal flute with the Akron Symphony,
associate principal flute with the Muncie Symphony, second flute with the
Anderson Symphony, and third flute/piccolo with the Lafayette Symphony.
 
As a chamber and concerto soloist, Dr. Stanek has performed with orchestras and
collaborative pianists throughout Indiana, Ohio, Maine, New Jersey, New York,
Virginia, California, and Oregon. She is the winner of numerous national
competitions, including the San Diego Young Artist Gold Competition, the National
Flute Association Orchestral Excerpt Competition (2003), the NFA Masterclass
Performers Competition (2011), and the NFA Convention Performers Competition
(2020). 
Dr. Stanek is the flute instructor at Chemeketa Community College, Corban
University, and the Artist Associate in flute at Willamette University. Her teaching
extends to invitations to lead masterclasses at Portland State University,
University of Oregon, California State University (Fresno), the University of
Southern Maine, Shenandoah Conservatory, Kent State University, and Ball State
University. She is a sought-after adjudicator for various solo and ensemble
competitions throughout Portland and Salem, the state solo competition, and the
all-city honor band audition in Salem. Emily is the Secretary for the Greater
Portland Flute Society. She holds a Bachelor of Music degree from Shenandoah
University (graduating magna cum laude) and her Masters and Doctoral degrees
from Ball State University, graduating with honors.