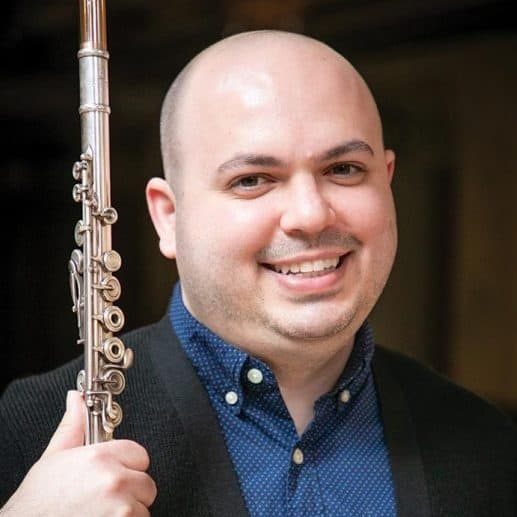 The Royal Shepherd & Dark Sisters: Flute
Zachariah Galatis' "irresistible energy, appealing tone, and dazzling technique" (The Oregonian) have cemented his place in Portland's music community. Serving as solo piccolo of the Oregon Symphony since 2012, you can also hear Zach playing with various other groups around town, including frequent appearances with 45th Parallel.
A native of LaGrange, NY, Zach graduated summa cum laude with performance honors from the Crane School of Music at SUNY Potsdam, where he studied with Kenneth Andrews. Zach received his Master of Music degree from Peabody Conservatory, studying with the Baltimore Symphony's solo piccolo Laurie Sokoloff and principal flute Emily Skala. He then pursued doctoral studies with world-renowned soloist Marina Piccinini at Peabody before moving to Oregon.
In 2009, Zach won first place in the Mid-Atlantic Young Artist Piccolo Competition, and was a winner of the National Flute Association's 2009 Piccolo Masterclass Competition. Zach was a fellow at the National Orchestral Institute in 2010 and 2012, and in 2011 was awarded the Piccolo Fellowship at the Aspen Music Festival. Zach won first prize in the National Flute Association's 2012 Piccolo Artist Competition, a competition for which he then served as coordinator for five years.
In addition to performing, Zach is a passionate educator, having given various masterclasses and seminars on piccolo technique, including at both of his alma maters. He maintains a private studio in Portland, working with students of all ages, and since 2016, Zach has been the Instructor of Flute at the University of Portland.
Zach has appeared as guest piccolo with orchestras around the country, including Baltimore, Detroit, and Seattle, and has appeared as guest principal flute with the Buffalo Philharmonic multiple times, including for their 2018 tour to Poland. He has also performed at various summer festivals, including the Astoria Music Festival and Oregon Bach Festival. Before Joining the Oregon Symphony, Zach played piccolo/third flute in the Virginia Symphony Orchestra, under music director JoAnn Falletta.